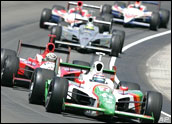 Sunday's Indianapolis 500 will mark the first time a racing team will utilize wireless and Voice over IP (VoIP) technology at the world's biggest car racing event. Cisco Systems and Red Bull Cheever Racing today announced that they have joined forces and will use the technology at the 89th annual racing spectacle.
The technology will allow engineers, pit crews and ultimately the race car drivers immediate access to real time information and statistics during the race.
Two Chances for Victory
Red Bull Cheever Racing has two cars entered in this year's event — No. 51 Toyota-powered Dallara driven by Alex Barron and the No. 83 Toyota/Dallara driven by Patrick Carpentier. Both teams will be utilizing the innovative WiFi technology solution.
The technology being used in this high-tech approach to the race includes Cisco Aironet 1100 and 1300 Series Access Points, the Cisco Mobile Access Router and Cisco 7920 Wireless IP Phones with VoIP capabilities.
"Cisco is changing the way our team communicates and analyzes data," said Eddie Cheever Jr., owner, Red Bull Cheever Racing. Cheever added that using the Cisco solutions will give his team "nearly double the amount of coverage, in the transmission of data from car to engineers, than any other team."
The Future of Racing
Cheever, a well-known name in the Formula One circuit, has worked with Cisco for more than a year to develop WiFi gear specifically designed for Formula One racing.
"This is the wave of the future and we are extremely excited to partner with Cisco in this project," Cheever said.
Cisco is hoping it can help lead Red Bull Cheever Racing back to the winner's circle at Indianapolis for the first time since 1998.
"Cisco is excited to be teaming with Red Bull Cheever Racing to bring this first-of-its-kind technology solution to the Indianapolis 500, the biggest spectator sporting event in the world," Greg Akers, SVP and CTO of Cisco's Global Government Solutions Group said in a statement. "By utilizing Cisco wireless and VoIP technology, Red Bull Cheever Racing can be more mobile, have real-time access to data, and finally, optimize its race car performance."