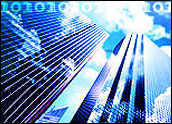 For decades, sci-fi writers have painted a picture of utopia as a crystal-domed city appointed with shiny-steel accents, ultra-modern furniture and gadgets ranging from food replicators to floor-hugging maintenance drones. Tranquility and efficiency extend from work to sex, and the human aging process is "curable," as is every other form of disease.
Since the first word of predictive text hit the first page on a printer's press, architects and city planners have tried to paste the dream onto the 3-D parchment of reality.
The results to date have been pitted and pitched by the decidedly inefficient and totally anti-tranquil aspects of the messy side of human existence. Still, gallant efforts persist, and with the skyrocketing costs of gas and oil, the blinding increase of ecological disasters, and a future that looks downright threatening to man's very existence, many are once again heralding the idea.
Building huge cities and hyperstructures that can house hundreds of thousands of people is once again seen as a good shot — perhaps our best shot — at preventing or overcoming ecological disasters of our own making.
Poop Hits the Fan
However, is building up really our way of getting out?
"I don't know, but, I don't want to be one of the facility managers for it," Melanie Perry, CADD (computer-aided design and drafting) coordinator, facilities engineering at BJC HealthCare, told TechNewsWorld.
"Seriously, I work on a 6 million square foot facility spread out over 10 city blocks. It's a pain getting around it. You'd have to have a huge facility staff stationed throughout the structure, and have a very advanced [building automation system] and excellent [computer-aided facility management] system," adds a concerned Perry, who supports engineering and construction with blueprints and CAD files for the near-century-old mega facility.
"Just the fire protection issues alone wobble my mind … the thoughts of what a major plumbing leak could do if it goes undetected … the [cubic feet per minute], massive [heating, ventilating and air-conditioning] systems… you'd have to have ductwork running everywhere … at least I think the ductwork would be the biggest thing … as you say, waste management would be pretty important, both liquid/solid human waste, as well as trash waste. I picture the back halls in the malls, where all of the shops put their trash bins for the property managers to empty at the end of the day," says Perry.
If the boots on the ground find the idea of a mega city too mind-boggling to put into practice, how do the dreamers and designers picture the idea as an actual working model?
Scaling the Dream
"An ideal city is difficult to illustrate, and I don't think any one person can decide that; rather, it should be the product of the combination of many ideas," Erin Jeffries, spokesperson for the Arcosanti Project of the Cosanti Foundation, told TechNewsWorld.
"Instead of looking for a utopia, we should develop alternatives and build prototypes to test theories so we can see how people use spaces and form communities. Here, Arcosanti serves as an urban laboratory where we do exactly that," adds Jeffries.
Arcosanti is in the high desert of central Arizona near Cordes Junction and Phoenix. The complex is designed according to the concept of arcology, a philosophy combining architecture and ecology as one integral process, and a term coined by Italian-born architect and urban planner Paolo Soleri. Soleri and his late wife, Colly, founded the Cosanti Foundation in 1965.
Arcosanti is a prototype that will house 5,000 people when complete. In this complex environment, apartments of which no two are alike, businesses, production, technology, open space, studios, educational and cultural events are all accessible, even while privacy is paramount in the overall design. Its large, compact structures and large-scale solar greenhouses will occupy only 25 acres of a 4,060-acre land preserve, keeping the natural countryside near urbanites.
"Future cities should be compact habitat alternatives to urban sprawl and the single family housing concept. Local resources would be maximized and logistical systems for people, goods and services would be especially efficient," explains Jeffries.
At the present stage of construction, Arcosanti consists of a dozen mixed-use buildings that house 60 to 80 residents, who are workshop alumni, and work in planning, construction, landscaping, maintenance, cooking, carpentry, metal work, ceramics, gardening, communications and administration. They produce the world-famous Soleri Bells, and are visited by 50,000 tourists every year.
While critics bash Arcosanti, citing the project's failure to reach completion since its start in 1970, it's hard to buy into the cynicism poured onto a visionary architect who began to build an answer well before Hurricane Katrina, the tsunami in India and US$100-a-barrel oil prices ever formed the question.
Building in the Now
Co-op City in the Bronx in New York is another experiment functioning in the now. Billed as the largest single residential development in the United States, it sits on 320 acres, but only 20 percent of the land is developed, leaving tons of room for natural green spaces.
It houses 15,372 residential units in buildings ranging from 24 to 33 floors high; eight parking garages; three shopping centers; a 25-acre "educational park" with a high school, two middle schools and three grade schools; a power plant; a 4-story air conditioning generator and firehouse; six day care centers; four basketball courts; five baseball diamonds; a 13-plex movie theater; and its own public safety department complete with armed cops and plain-clothes detectives.
The United Housing Foundation, an organization Abraham Kazan and the Amalgamated Clothing Workers of America established in 1951, sponsored and built the project. Cooperative architect Herman J. Jessor designed the project, and Marion Scott Real Estate now manages it. It has been deemed largely successful, yet critics forcefully point out the many maintenance problems the development continuously battles, the scandals surrounding misappropriated funds leading to several felony charges, and the continually sinking land surrounding Co-op's structures which creates cracks in sidewalks and entrances to buildings.
A Completely Green Approach
On the other side of the globe, Dongtan caught the eye of the United Nations World Urban Forum. Touted as a gleaming example of an eco-city, it is scheduled to open in 2010 on the island of Chongming near Shanghai, China.
It will eventually house a population of 500,000 and will only allow vehicles powered by electricity or hydrogen. It is the first of four planned cities by Arup to be built in China and has been met with mixed hopes: some herald its completely green approach; others say it will make little impact on the huge city populations that already exist in China and pollute the environment on a world scale.
Bottom-Line Bounce
However, this is a time when change is mandated by Mother Nature herself, and something has to give. For once, professionals from several disciplines are seriously grappling to find an answer.
"Architects are our true visionaries — they draft the ideal story which without cost constraints or engineering limits would fulfill our hearts and minds; and inspire us to live and work in utopia," Anthony Graziano, an associate managing director of Integra Realty Resources, told TechNewsWorld.
"Developers, bankers, lawyers, market analysts, brokers, etc. are the 'editors' of this perfect story. We carve it up and water it down so it can be profitable. We shape the vision around feasibility and demand economics until the architect's vision is a shadow of the original story; and we mold the cityscape into something that can feasibly be justified as 'profitable,'" bemoans Graziano.
"Make energy and materials ubiquitous and money unimportant, and the foundations of cities, and their design form, will fundamentally change," he added.
Just maybe, some of that is already happening, for there — just over the horizon — is a glimpse of new possibilities.
Cities of the Future, Part 2: If We Build Them, Will We Stay?