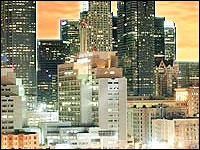 Homo sapiens are a fast-growing species: The world's population is expected to double in 61 years, putting further pressure on our resources and, as countries become increasingly urbanized, on our cities.
The infrastructure of today's cities won't be able to cope, and governments, scientists, architects and engineers are looking for new solutions.
Some are looking to building cities that are environmentally friendly; others are looking to create urban marvels to rival Dubai, a desert city where water flows lavishly and some of the world's tallest buildings stand.
Take Masdar City, for instance, which GE is planning to build in partnership with the government of Abu Dhabi. It's being designed as the world's first carbon-neutral, zero-emission city. It won't have automobiles, it will be powered by the elements, it harvests rainwater and it recycles waste to provide energy.
Making Growth Stable and Sustainable
Other cities focus on fostering sustainable growth. One such city is Dublin, Ireland, which has commissioned a study looking at ways to integrate the region's economic, cultural and social needs while helping growth.
Another is New Orleans, where the city's Office of Recovery Management is working with the Massachusetts Institute of Technology and various engineering and consultancy firms on a reconstruction plan that will result in a sustainable city.
Earlier this month, a group of researchers and policymakers got together at the Cities of the Future 2010 conference and workshop to look at ways of creating the massive urban developments where future generations may live.
"Ideally, we should be moving towards an arcology type of structure, particularly in situations such as those which existed in New Orleans after Hurricane Katrina or in Haiti after the earthquake," Rob Enderle, principal analyst at the Enderle Group, told TechNewsWorld. "The trouble is, even in the face of catastrophic disaster, people seem unwilling to change how we do things in favor of more efficient forms."
Slouching Toward Arcology
Arcology is a set of architectural principles for designing huge hyperstructures with very high populations. These structures would be self-contained or economically self-sufficient (the two are not incompatible) and consist of residential and commercial facilities. They would minimize the impact of humans on the environment.
Video games such as "Sim City 2000" and "Shadowrun" have elements of arcology in them. Science fiction writers like Robert Silverberg and Isaac Asimov have described arcological structures in their books.
Architect Paolo Soleri, a proponent of arcology, established the Arcosanti Project in Arizona to explore the concept. Work on Arcosanti began in 1970. Its primary function is to serve as an urban laboratory.
The High-Tech Solution
Yet another approach is to go high-tech. Perhaps the best-known experiment along these lines is EPCOT, the Experimental Prototype Community of Tomorrow at Disneyland in Florida. The city was to incorporate all the newest technologies and change constantly. The project came to a halt after Walt Disney's death, but elements of it still survive in the theme park.
Recently, IBM began pushing the concept of smarter cities and smarter buildings as part of its Smarter Planet initiative. The idea is to get cities to link up their applications to create one interconnected infrastructure.
This approach relies heavily on Service Oriented Architecture (SOA) and cloud computing technologies to connect and manage disparate systems on different platforms across various environments. It will help cities realize business benefits more rapidly from technology, IBM executive Dom Cottone told TechNewsWorld.
Clients will be able to use much of their existing hardware and software, although they might have to upgrade their older technologies.
Big Blue's Vision
IBM's vision is to have a city's applications to talk to one another so that the city can be better managed. For example, buildings can be powered down or up as needed, and the cities can use their lighting and power systems more efficiently. The interconnected apps could also make cities safer.
"By connecting and providing visibility into disparate systems, cities and buildings can operate like living organisms, sensing and responding quickly to potential problems before they occur to protect citizens, save resources and reduce energy consumption and carbon emissions," reads the invitation to IBM's PULSE 2010 event, held in earlier this month.
IBM's technologies include "advanced technologies and smarter approaches to help municipalities and facility managers collect data on the efficiency of processes that could not be previously measured, drawing upon dynamic data analysis to lead to more informed decision making and planning, and drive greater business value," the invitation reads.
A Poke in the Eye
IBM isn't the only company offering applications for this purpose. "Smart management applications at this level for buildings have been in the market for some time from companies like Echelon, and even Google is getting into the act," Enderle pointed out.
For example, Senart en Essone, an area about 22 miles south of Paris that includes four cities, has reduced the energy consumption of its 3,100-streetlight network by 35 percent using Echelon's LonWorks technology.
Meanwhile, Google and Microsoft have begun offering technology that lets consumers monitor their household electricity consumption.
Newly rolled-out technologies, however, sometimes have a habit of not working perfectly right away. For example, what will happen if a glitch in the system causes city residents to be overbilled — what recourse will they have? Right now, several users in California in whose houses Pacific Gas & Electric has installed smart meters have reportedly seen their utility bills skyrocket. Several have complained to the media, and some are talking about petitioning Congress.
PG&E's stance is that its older meters weren't measuring power consumption accurately enough.
How will consumers in smart cities approach problems like this? "There's not enough clarity in this question to provide an answer," IBM's Cottone responded.
"As with any automated billing system, they would file a complaint and wait indefinitely for someone to get back to them," Enderle said. "System problems would need to be anticipated and a method for resolving discrepancies created."
Cities of the Future, Part 2: Building a Central Civic Nervous System