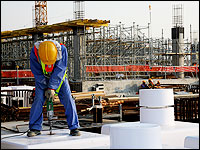 Part 1 of this series discusses the different approaches being taken to design more efficient urban landscapes.
Technologists tend to think of so-called smart cities as being tied together by technology. Their focus is on using technology to change our lives and make cities more efficient and smarter.
The problem with this approach is that it only focuses on making application management more efficient and tying applications together. Ants are efficient, and their nest's structure ties them together quite well. There are sections for worker ants, soldier ants, larvae and the queen, and they emit chemicals to tell each other what to do and where they have located food. In other words, ants are efficient at making other ants and maintaining their quality of life.
The needs of a city or any other segment of human society extend beyond the efficient to the compassionate, the human, the moral and the ethical. How can a city whose apps are all tied together into one vast network deal with the needs of its residents?
Domo Arigato, Mr. Roboto
A summary of the technological approach to the problem was articulated by William J. Mitchell in an article in Metropolis Magazine in March 2006. As cities evolved from the preindustrial to the industrial era, acquiring increasingly elaborate flow systems for water and utilities supplies, sewage, ventilation and trash removal, they began resembling living organisms, wrote Mitchell, who was at the time director of the Design Laboratory at MIT at that time.
The cities of today, he wrote, are in a way developing their own artificial nervous systems, and as they grow smarter, they become programmable. The design of their "software" takes on greater and greater importance.
That's pretty much the view IBM takes of smart cities and a smart planet. At Pulse 2010, held in Las Vegas in February, IBM a major partnership with JohnsonControls aimed at making buildings smarter and more efficient by providing integrated building systems management. This will improve operations, energy use and water consumption in buildings.
Smart Cities = Smart Spending?
IBM's contention is that by helping cities reduce energy and water waste and greenhouse gas emissions, it will free up funds that city admins can put to better use. "IBM assists its clients in building intelligent and interconnected infrastructures that enable them to save money and provide new and better products and services to their customers," IBM executive Dom Cottone told TechNewsWorld. "The money they save and the value they provide allow our clients to achieve even greater value and savings, well beyond the price of purchase of the product or service."
The data collected by smart city systems will help provide city managers clear direction on how to most effectively spend their funds, IBM contends.
Of course, more data won't help if it's not properly used, pointed out Rob Enderle, principal analyst at the Enderle Group. "This assumes that the data is used effectively, which, given that cities rarely use data effectively, is a bit of a stretch," he told TechNewsWorld.
It's not enough to collect data; decision makers must weigh political realities as well. Take the healthcare bill for example: Proponents argue that it's essential to provide health care to every American, while opponents argue that this will cost too much and will lead us to socialized medicine. The merits of either side's case are not at issue here; the point is that political realities must be taken into account when figuring out how to allocate funds.
Technology Isn't the Whole Story
Technological solutions in and of themselves form only part of the answer. One of the functions of a city government is to ensure the well-being of all the city's residents, and here's where things could get interesting.
Take, for example, the city of San Francisco, whose aid programs for the homeless provided benefits that were generous enough that transients and homeless people from other California cities and even other states sought to take advantage of them.
The city's coffers were being strained, and in 2002, San Francisco residents passed a ballot measure known colloquially as the "Care Not Cash" initiative proposed by mayor Gavin Newsom to deal with the issue.
The program requires homeless recipients of aid from San Francisco to declare themselves as homeless residents of the city. It directs San Francisco's Department of Human Services to offer these people housing and meals in lieu of part of the maximum cash payment. It also expanded services to these individuals, including development of affordable housing, and services such as support for mental health and substance abuse issues.
Although controversial, the program cut the number of homeless individuals receiving welfare assistance from the city 73 percent by 2005.
Could applications tied together into an efficient network have come up with this program? Would city administrators who have the experience and maturity to look at the whole picture be around to ask the right questions and look at humanistic, as distinct from technical, solutions in the era of the computerized city?
Wisdom Is for the Owls
Possibly not. "Technical efficiencies should result in fewer total employees," Jack Vonder Heide, president of Technology Briefing Centers, told TechNewsWorld. "As more functions are automated, there will be a reduced need for the wisdom and guidance of older workers who have mastered antiquated, manual processes."
To a certain extent, Heide is correct. The city admin staff of tomorrow may not need to remember exactly which form needs to be filled in for any particular issue because they'll be able to call them up by just keying in a keyword or two. They won't have to worry about the process, either — that will be handled by the automated workflow.
Perhaps more techies will be on the city admins' payroll in the future.
However, the need for city admin staff with the experience and maturity to look at issues beyond the merely technical will always remain.