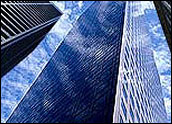 In the beginning, man adapted to the environment; shortly thereafter, the environment adapted to man. Al Gore's "inconvenient truth" is fast becoming an uncomfortable reality, and the race is on to find new ways to cope before nature hands us the ultimate eviction notice.
However, are the super-cities and hyperstructures under consideration today really new and improved ways for man to exist?
Part 1 of this two-part series discusses multiple mega-city projects that are existent or currently under construction and how they serve as urban laboratories.
Parking the Past
"The 'city of the future' will be found in the models of the past. Historically through time, man has sought to live in proximity to one another. The Romans and early American Incas and Aztecs existed in cities with high densities; impressive, really, given their technological construction limitations," Arthur Neudek, an independent real estate consultant, told TechNewsWorld.
In the context of time, it is the automobile and not mixed-use city living that is a short-lived trend.
"The advent of cheap transportation to allow sprawl has really been a 20th Century issue," explains Neudek.
Since transportation is not so cheap today, with oil hovering around the US$100-a-barrel mark and slated to rise in the face of dwindling supply and Middle East unrest, the one-century fling with the automobile is fast becoming the equivalent of a one-night stand in the eyes of Father Time.
"Consequently, planners and architects should heed the historic desire of people to live 'near the action' and help create environments which would foster pedestrian transportation linkages," adds Neudek.
A Return to Center
Where once human society exploded outward to suburbia, now it is imploding inward to utopia.
"The old model of urban planning and cities was to separate industrial, commercial and residential. Most cities in the U.S. were characterized by a single urban core. The model created areas of blight and areas in need of urban renewal over time due to the development of suburban areas that were principally residential and commercial," John Fox, vice president of research at Kite Realty Group, told TechNewsWorld.
"The newer model is the mix of residential, commercial and, to the extent we have it, industrial. The live, work and play approach is based on the notion that cities can have multiple nodes that might revolve around a central core, but they successfully coexist with it," he explains.
"This newer model has several potential advantages of reducing commuting times, [cutting] pollution and limiting blight and creating more vibrant, livable communities," concludes Fox.
Unfortunately, the model gets modified into something less desirable.
"Currently, architects and city planners do not approach projects with minimal impact in mind. Very little planning differs from the status quo. Officials in this field generally seek more profitable projects rather than being concerned with communities as whole entities," Erin Jeffries, spokesperson for the Arcosanti Project of the Cosanti Foundation, told TechNewsWorld. Arcosanti is as an urban laboratory in Arizona that is experimenting with a variety of eco-friendly city mega-structure designs.
Bigger, Better Buffs
The great Aztec and Egyptian structures are undisputed ancient wonders that shape the foundation of dense population living. However, the hyperstructures pinned to the drawing boards of today far exceed the mighty titans of lore. Just how big can these structures get?
Theoretically, there appears to be no limit.
Take, for example, the proposed "vertical city" called "The Bionic Tower," a massive building designed for human habitation by Spanish architects Eloy Celaya and Cervera & Pioz for about $15 billion. It would have a main tower nearly 3,940 feet high, with 300 stories that would house about 100,000 people. Both Shanghai, China, and Hong Kong have reportedly expressed interest in the concept.
Then there is the Sky City 1000 concept consisting of a building about 3,280 feet tall and 1,312 feet wide at the base, with a total floor area of 1976.8 acres. Proposed in 1989 by Takenaka, the design provides for 35,000 full-time residents and 100,000 workers in 14 concave dish-shaped "Space Plateaus" stacked one upon the other, containing residences, offices, commercial facilities, schools, theaters and other modern amenities. The Tokyo Metropolitan Government and some of Japan's largest corporations are reportedly seeking to build this behemoth within a decade.
The X-Seed 4000 is the tallest building contemplated to date. Its proposed 13,123-foot height, 19,685-foot wide sea-base, and 800 floor capacity could purportedly accommodate as many as one million inhabitants. Designed for Tokyo by the Taisei in 1995, the Mount Fuji-shaped structure would actively protect its occupants from considerable air pressure gradations and weather fluctuations along its massive elevation and use solar power to maintain internal environmental conditions.
In comparison, the real Mount Fuji is 12,467-feet high, nearly 700 feet shorter than X-Seed 4000. The projected cost to build the structure is estimated between $300 billion and $900 billion.
Unhinging the Building Blocks
It all sounds so very futuristic, of course. However, do we have the means to build these monster-scale cities now?
"Current construction technologies already allow for such growing populations. It's not a matter of new technology," Matteo Di Michele, spokesperson for the Arcosanti Project of the Cosanti Foundation, told TechNewsWorld.
The proposed Shimizu TRY 2004 Mega-City Pyramid would seem to prove the point. The structure would be 12 times higher than the Great Pyramid at Giza, Egypt, and would house 750,000 people. If built, it will be the largest man-made structure on Earth and sit on Tokyo Bay. The structure would be 6,575 feet high. The pyramid structure would be composed of 55 smaller pyramids stacked five high. Each of these smaller pyramids would be roughly the size of the Luxor hotel in Las Vegas.
First, the pyramid's foundation would be formed by 36 piers made of special concrete. OK, so we have that.
The trusses would be coated with photovoltaic film to convert sunlight into electricity and help power the city. We have that technology as well.
Air bladders would be used to elevate trusses above the first layer using a construction system proposed by Italian architect Dante Bini. Spheroid nodes at the connections between trusses would provide structural support and serve as transfer points for travelers. We also have Bini and his magic as well as numerous other intellectuals with their various inventions and perfections of existing materials and gadgets to build this part.
Transportation within the city would be provided by accelerating walkways, inclined elevators, and a personal rapid transit system where individual driverless pods would travel within the trusses. Yes, we have these too — the entire gamut from GPS (global position system) to lane-departure warning systems, motion and proximity detection, self-guiding parking controls, automated driving tools, etc.
Housing and office space would be provided by 30-story-high skyscrapers suspended from above and below, and attached to the pyramid's supporting structure with nanotube cables.
Now there's a bug that will take some work: nanotechnology.
The external structure of the Mega-City Pyramid would be an open network of mega-trusses supporting struts made from carbon nanotubes to allow the pyramid to stand against high winds, earthquakes and tsunamis.
In fact, the entire design relies on the future availability of super-strong lightweight materials based on carbon nanotubes. While we do have that technology, we have yet to perfect the means to manufacture carbon nanotube materials on a mass scale. That may prove a bit troublesome for the moment.
Mind Does Matter
Notice that most of these structures are planned for Asian countries. It's not that American cities do not have sufficient populations to attract more of such efforts; it's more a matter of mind — Americans mind and that matters.
"The American mindset should shift the focus from materialism and hyper-consumption to knowledge and architectural experimentation," advises Di Michele.
However, that just sounds like another way to smack down the American way of life and tell us we have to give something up — not a real palatable concept to the people who roam wide open spaces from "amber waves of grain, for purple mountain majesties."
Americans understand why landlocked cultures must live nose to cheek, but in the land that spreads from "sea to shining sea," we do not feel the need to nuzzle closer to our neighbors.
Besides, to the American ear, moving into a massive sea of humanity sounds a lot like living in the world's biggest box.
However, that's the ironic twist in American thinking: We live, work and shop in boxes now.
"I used to work pretty closely with an architect who had wonderful conceptual ideas. We shared some similar stylistic interest in shape and style and content. I bemoan the fact that after all these years in construction, I've never really built anything interesting," Mark Ernest, owner of KFK South, a full-service commercial general contracting firm, told TechNewsWorld.
Truth be told, there is no reason to box anyone in, at least not in the new designs of the future where the automobile packs its asphalt and hits the road for good.
Driving the Box
"Paolo Soleri has ventured away from traditional, square buildings in order to better suit people, rather than the automobile. Overall, the amount of land required for human developments is reduced by eliminating automobiles from within the city and with effective design; this allows for vast nature preserves, allowing people within the city to have a connection with nature, unlike urban centers today," says Jeffries.
Future structures range from ribbons to pyramids — but they definitely are never shaped like a box.
Take, for example, Soleri's most recent design: Solare, a "Lean Linear City."
"Solare proposes a continuous urban ribbon, designed to intercept wind patterns of the region. It will also be sensitized to the sun's radiation — both photovoltaic and greenhouse," notes Jeffries.
Most likely, Americans will eventually make the move en masse, but for many reasons, not just one or two. Ironically, the city of the future is already described in one of America's oldest songs, America The Beautiful:
"O beautiful for patriot dream,That sees beyond the years,Thine alabaster cities gleam,Undimmed by human tears!"