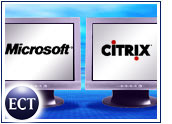 Citrix Systems, a provider of application delivery products, unveiled on Monday its expanded virtualization technology strategy, which it said will extend its reach from datacenter to desktop.
The company's new virtualization strategy allows it to offer an application delivery infrastructure that leverages server, applications and desktop virtualization to make the entire IT infrastructure more flexible and dynamic, according to Citrix officials.
Citrix also announced the introduction of two new product lines resulting from its recent acquisition of XenSource, a provider of enterprise-grade virtual infrastructure solutions: Citrix XenServer for server virtualization and Citrix XenDesktop for desktop virtualization.
At Citrix Forums, held Oct. 22 in Las Vegas, the company also announced the release of three products to its application delivery infrastructure. SmartAuditor provides enterprise users with new tools for monitoring security risks. PowerSmart provides the datacenter with greater functionality over application traffic levels. EasyCall integrates communications into any application.
"The biggest challenge today is the fast-paced delivery to mobile users and outsourcing operations," Wes Wasson, chief strategy officer of Citrix, told TechNewsWorld about the intended impact of the company's new products.
End-to-End Virtualization
Virtualization has become one of the most talked-about technologies in recent years because it breaks the hard-coded link between hardware and software. This allows individual computing components to be dynamically combined and reassembled for maximum efficiency and agility, Wasson explained.
The acquisition of XenSource allows Citrix to extend its use of virtualization into the logic and data tier of applications, improving overall customer value and enhancing its position as the market leader in end-to-end application delivery infrastructure, said company officials. Two rebranded products from that acquisition, added to Citrix's existing portfolio, gives the company a comprehensive end-to-end virtualization portfolio, they added.
"These products are installed between a corporate network and the end users via Application Service Provider software (ASP)," Wasson said.
Virtualization Highlights
The new Citrix XenServer product line is an enterprise-class platform for managing server virtualization in the datacenter as a flexible aggregated pool of computing and storage resources. Based on the high-performance Xen virtualization engine, Citrix XenServer combines server virtualization capabilities with scalability and performance. Its availability ranges from Citrix XenServer Express Edition, a single-server solution available for free download, to the more comprehensive Citrix XenServer Enterprise Edition (formerly XenEnterprise).
Citrix Presentation Server is a platform for delivering Windows applications with performance, security and cost savings. Presentation Server stores all Windows application clients in a single central store in the datacenter, then delivers them to end users on-demand via innovative application virtualization technology. Server-side app virtualization stores clients on the server and virtualizes the application's presentation layer to end users, while client-side app virtualization streams clients to the desktop and runs them in a protected virtualization environment at the end point.
Citrix XenDesktop, scheduled to ship in the first half of next year, will target the need to overcome the challenges of cost, complexity and user experience that have prevented virtual desktops from becoming a mainstream enterprise reality in the past, noted Citrix. Citrix XenDesktop will deliver Windows desktops to any office worker over any network.
Citrix's virtualization strategy is based on a partnership with Microsoft and a commitment to continued innovation on the Windows platform. The two companies share a strategic relationship in server and desktop virtualization aimed at interoperability between Citrix's products and the upcoming Microsoft Windows hypervisor, code named "Viridian," according to Citrix officials.
Curbs Wasted Power
Citrix's PowerSmart will be available as part of the company's flagship Citrix Presentation Server product line. It will enable customers to set policies that automatically dial server power down based on application traffic levels, allowing companies to more effectively manage power during non-peak hours.
"This feature will allow companies to more fully participate in green computing. It will power up or power down servers based on application usage," said Wasson.
PowerSmart can adjust power needs as usage spikes and wanes. This can save data center operators 30 to 40 percent of their electricity budget, he said.
Easier Calling
EasyCall lets users initiate instant click-to-call capabilities from any telephone number within any application using a company's existing corporate phone system. This will increase worker productivity and save costs on phone charges for mobile workers, said Citrix officials.
The new EasyCall capability is included as a standard feature in the Platinum Editions of Citrix NetScaler for Web applications and Citrix Presentation Server for Windows applications.
EasyCall provides a click-to-call enabled corporate directory that automatically synchronizes with an organization's main directory, as well as a call log that provides a simple way to redial commonly used numbers. It works with both legacy and IP-enabled telephone systems, providing advanced communication capabilities without the need to switch to IP telephony.
Citrix customers receive entitlement to a specific number of EasyCall licenses when purchasing or upgrading to the Platinum Edition of either product. EasyCall licenses are activated via a Citrix Communication Gateway appliance that plugs easily into any corporate phone system and can normally be installed in under an hour. The suggested retail price of a Communications Gateway appliance is US$3,500 and can support approximately 10,000 end users.
Better Monitoring
SmartAuditor, a new feature of Citrix Presentation Server, helps enterprise customers monitor, record and play back specific application sessions as part of their ongoing risk management and regulatory compliance measures.
By incorporating user activity auditing as a core property of a company's existing application delivery infrastructure, SmartAuditor gives corporate users the ability to insure that employees are meeting established guidelines for information access, transaction integrity and intellectual property protection, said Citrix officials.
SmartAuditor also allows IT departments to provide a regulatory compliant environment that satisfies both corporate and end-user requirements, said Citrix. SmartAuditor can be used with any Windows application without modification.
SmartAuditor is now available as a standard feature of Citrix Presentation Server, Platinum Edition at no additional charge.