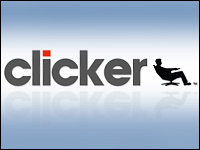 Clicker Media on Thursday publicly launched Clicker.com, its programming guide to Internet television.
This comes less than a year after the company began building what it describes as the "ultimate programming guide for Internet television."
Clicker catalogs the broadcast-quality movies, music videos and Web videos available online on more than 1,200 networks.
Stuff That's Just One Click Away
Clicker offers listings on more than 400,000 full episodes from more than 1,200 sources in more than 1,200 categories, according to the company. It also offers over 30,000 movies from Netflix Instant Streaming and Amazon Video On Demand. In addition, Clicker catalogs more than 50,000 music videos from over 20,000 artists.
"Clicker wants to be able to point to any content that's available online and let people know where it's available," company spokesperson David Speiser told TechNewsWorld. "We don't want to be the destination where people come to view content, we just want to point people in the right direction."
The service only points to broadcast-quality videos and full episodes, Speiser said. "We won't point to partial clips and illegally posted ones."
New shows are added as they come online, Ryan Massie, Clicker's executive vice president of product, told TechNewsWorld. Some, like "Pigeon Impossible," are Web originals.
Any content host is a viable option, including studios such as NBC and CBS. Clicker has some YouTube content, but not much because the site doesn't carry a great deal of broadcast-quality videos, Speiser said.
What Clicker Does
Clicker's core functionality is a combination of a directory, a search engine, a DVR recorder, a wiki, and an entertainment guide. The directory consists of a browsable list of all programs by title, category, popularity, date of airing, and the network it was aired on.
The search engine directs navigation to a specific show or video, while a playlist uses the search engine feature to let users track which episodes of a show they have watched, set season passes for high-priority content, and receive alerts when new content becomes available. The wiki lets fans post comments.
For Thursday's launch, Clicker included several features that participants requested during the site's 58-day beta, which kicked off in September.
These include Facebook Connect integration. This lets anyone create a Clicker account on the social networking site and tie that account into their Facebook profile. It also includes Search Within, which lets users restrict a search to topics within a specific broadcast program that's been cataloged.
Clicker also has tools that let people share content on Twitter, Digg and Facebook, Massie said. "Over time, you'll see Clicker itself become a more social experience and leverage communities like Facebook and Twitter," he added.
In addition, Clicker is developing programming for iPhone users. "The first step is making sure that people can find content on their phone that's reliable and will play," Massie said. "Then you'll see a version for the iPhone."
The Big Picture
Clicker has probably hit the sweet spot, Carl Howe, director of anywhere research at the Yankee Group, told TechNewsWorld. "In many ways, the IPTV (Internet protocol television) market is a natural for this type of service, unlike analog TV and HDTV," Howe pointed out. "The content's already in bit form and on the Internet, and that makes it much easier to create program guides. Clicker's latched on to a very useful service."
It's not just a useful service, but one that shows growth potential as well. There are now about 5.25 million IPTV users in the United States, according to the Yankee Group's figures. That number will hit just over 13 million in 2013 — a compound annual growth rate of 101.5 percent.
However, it's not enough to latch onto a service with strong growth potential. As Google has found out with YouTube, there must be a way to monetize that service. Clicker will be able to do so, assured Massie.
"Clicker is playing in a very monetizable space," he said. "We will make money through advertising, lead generation, and a professional or upgraded version of the site with premium features, among other methods."