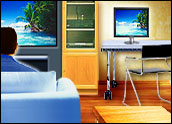 Canadian company Kik Interactive, creator of the Kik Messenger smartphone texting app, has announced a new product called "Clik."
Clik lets smartphone users take over any screen that's connected to a browser.
Smartphone owners can simply use their devices to scan a code found on the screen they want to take over and immediately connect. The screen must have an Internet connection.
"There's no doubt that mobile technology will infiltrate and eventually consume the living room," Jim McGregor, chief technology strategist at In-Stat, told TechNewsWorld. "The same processors driving laptops are going into TVs, set-top boxes and everything else to make all these devices work better together."
That's leading to "dozens of people, including TV manufacturers themselves," working on apps like Clik, McGregor said.
How Clik Works
First, users have to point the media device they want to take over — a Web-connected TV set or a computer — to clickthis.com. This will call up a QR code that's unique for each time that URL is accessed.
Then they fire up the Clik app on a smartphone and point the smartphone camera at the QR code to sync the two devices. That's it. Now the app works as a remote control for that device.
Uninstalling the Clik app is relatively easy, according to the instructions posted by Kik Interactive.
Who's Kik, and What's Clik About?
Clik will work with multiple browsers — Internet Explorer, Google Chrome, Mozilla Firefox and Safari are ones the company mentions. Its mobile app runs on iOS 4.0 or higher, and Android 2.1 and above. It will also work on current iPod touch models that are WiFi-enabled and equipped with a camera, Kik Interactive claims.
The app will work on any WiFi network or 3G connection. It's free to download and the service is free to use.
Clik has a multi-player mode. Users can add favorites once their smartphones are synced to the screens they want to take over. These favorites can be synced to users' desktops as well.
Right now, Clik works with YouTube only, but Kik Interactive is inviting content providers and game developers to work with it.
No App Dev Is an Island
The idea of creating an app that will let mobile device users control TVs isn't entirely new.
Logitech's Harmony app for the iPhone and Android gives users control of their Logitech Revue digital multimedia receiver from an Android or iOS device.
Samsung's Smart View app offers WiFi remote control for the Samsung Smart TV for Samsung Galaxy S2 phone owners.
"This (Clik) is one of hundreds of thousands of apps that's coming down the wire in the next few years," In-Stat's McGregor said.
Kik Interactive did not respond to requests to comment for this story.