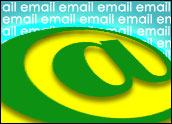 A coalition of some 600 organizations opposed to a scheme by America Online and Goodmail Systems to "tax" e-mail claimed on Monday that supporters of the plan have a long-term agenda to make everyone pay for exchanging electronic missives over the Net.
Referring to an op-ed piece by Esther Dyson, an investor in technology start-ups and editor of cnet's Release 1.0, that appeared in The New York Times on Friday, coalition member Timothy Karr, campaign director of Free Press, declared in a statement:
"Today, AOL's own supporter let the cat out of the bag. AOL's e-mail tax undermines the foundation of a free and open Internet — ushering in a new era of pay-to-send communications online. Many who are rooting for AOL's pay-to-send proposal to succeed are those who believe in a two-tiered Internet of haves and have-nots, with huge barriers of entry for the little guy."
Free to Experiment
Under the proposed plan, bulk senders of e-mail to AOL have an option to join Goodmail's CertifiedEmail program. By joining the program and paying a per-message fee, senders are guaranteed their mail will be delivered to AOL subscribers who have told the senders they want the mail. Subscribers can be assured that a message is from who it says it's from.
"The reason I like Goodmail is because I like experimentation," Dyson told TechNewsWorld. "I don't think Goodmail should be stopped by a bunch of people who want the Internet to stay the way it is. People should be free to experiment."
For opponents to pay-for-mail schemes, though, the Goodmail "experiment" is one concocted not by benign pioneers, but by Dr. Moreau. They assert that the Goodmail-AOL program is nothing more than a pernicious tax on a certain class of e-mail.
Rewards Poor Performance
"AOL's e-mail tax will lead to a fundamentally changed Internet that is not free and open to all," Adam Green, a spokesperson for another coalition member, MoveOn.org Civic Action, told TechNewsWorld.
He recalled a notorious e-mail hoax that urged people to fight federal legislation to tax e-mail. "What was a hoax then, is true today, except the money goes to AOL instead of going to Uncle Sam," he said.
What's more, he argues, the new system will reward AOL for poor performance.
"As soon as their big guys are in their own system, AOL faces a choice," he contended. "They can make money by allowing their free e-mail spam filters to deteriorate and block more and more legitimate e-mail, or they can spend money by maintaining proper customer service and maintenance. Given the choice between making money and spending money, what are they going to choose?"
Arm Twisting
Another coalition member, David Heimer, COO of the Service Roundtable in Grapevine, Texas, was skeptical about the voluntary aspects of the new program.
"They say, you don't have to join this, but your e-mail might or might not get through, but if you do pay us, you'll know that your e-mail got through," he told TechNewsWorld. "If you're a business and you rely on e-mail, what would be your response to that? They're sort of twisting my arm, aren't they?"
He also argued that the program will affect consumers more than its proponents are willing to admit. "Who do you think is going to ultimately pay for this?" he asked rhetorically. "If I have to pay somebody to deliver my mail, how am I going to cover that cost? I'm going to have to pass that cost on to my customers."
Much Ado About Nothing
One IT professional, though, believes the immediate controversy over the Goodmail-AOL deal to be overblown.
"This is a big flap about nothing because it only affects commercial e-mail," Eric Johansson, president of Internet Guide Service, an IT and e-mail consultancy in Cambridge, Mass., told TechNewsWorld. "It doesn't affect the vast majority of users because it's a very clumsy, specialized service that won't scale.
"If they try to take this to everybody, they will end up with a system that will break horribly," he maintained. "It won't be the end of free e-mail. It will be the end of e-mail period. We'll all be able to turn off our e-mail clients and have a life."
Trust or Tithe?
As for Mountain View, Calif.-based Goodmail, it is a bit surprised and disappointed with the stir it has caused with a scheme it sees to be as much about consumer protection as paying for e-mail delivery.
"This whole story about CertifiedEmail has been unfortunately and sadly misrepresented by folks," Goodmail CEO and Co-Founder Richard Gingras told TechNewsWorld. "It's been a frustrating experience for us.
"This has nothing to do with creating a two-tiered Internet," he said. "The primary objective of CertifiedEmail is to address the serious problem we have today where consumers don't trust what's in their inboxes."