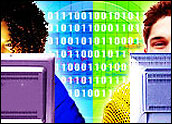 Although blogging has gained a certain amount of notoriety in the media, its tool base remains relatively immature. There are some viable tools available to bloggers offered by hosting services like Blogger and Typepad, but a truly integrated approach has been lacking.
But, as any savvy technologist knows, such gaps in the fabric of things tech don't remain open for long. And, sure enough, an Atlanta firm, Bingo Bango Software, has stepped into the breach with a program called Elicit.
The application — which sells for US$59 but tried for free for 30 days — gives bloggers a command center — Bingo Bango labels it a Blog Management System (BMS) — to access not only their web logs but a portfolio of valuable support services.
Calendar Interface
All the major blog hosts are supported by the program — TypePad, Blogger, SquareSpace, BlogHarbor and Livejournal — as well as generic systems like MoveableType, WordPress and MetaWeblog. That means you can post or cross post to your blogs at various locations from within the program without site hopping.
The application's interface is based on a calendar.
A monthly grid appears in a pane on the left side of the main window. Days with blog entries appear in bold text.
The calendar provides a great way to visualize your blogging activity, as well as schedule future postings.
Table Editing
The main pane in the window also displays a calendar grid, but the view can be altered by day, week and month. Truncated titles of posts are shown within days on the grid. Postings can be dragged and dropped to other dates or other blogs.
When the cursor hovers over the title in the main pane, its full text pops up on the screen. Postings can be edited by double clicking on their title.
The editing window contains both WYSIWYG and HTML editors. In addition to common functions found in blogging WYSIWYG editors, Elicit's editor has some extensive table editing features. More sophisticated web pages usually deploy tables and those WYSIWYG features make creating tables easier.
Automated Styles
In addition to robust design features, the editing window is brimming with other goodies.
Posts can be spell-checked from within the window.
For more sophisticated users, "stylets" can be created from a programming language like C# to spruce up blog entries. A drop cap stylet is included with the program. Hopefully, the folks at Bingo Bango will include more in the future for non-programmers.
If you need information to fill out a posting, you can perform Web searches from inside the editing window at places like Yahoo News, Google and MSN News.
Furl and Flickr Support
Need access to feeds from other bloggers? You can do that from the window, too, by loading info from a Bloglines subscription. Bloglines is a web-based service for reading subscriptions to RSS, or Real Simple Syndication, feeds.
You can ferret information from the entire Blogosphere from Technorati and Google Blog.
There's also direct access to other web-based services. You can search for images at Flickr, a site for storing personal photos; pull up bookmarks from del.icio.us [cq]; or grab information from Furl, where subscribers can store and share snippets of information from their online meanderings.
While many bloggers maintain their web logs for the love it, others use them to generate income through advertising. That approach to blogging is also supported by Elicit with connections to Amazon.com and Chitika.
Help Needs Help
Overall, Elicit is easy to use, although some of its features may puzzle inexperienced bloggers.
The program became less puzzling to me after I got the help file to open. Choosing "help" from the menu bar and pressing F1 had little effect. Eventually, I had to manually launch the help file from inside the application's program folder.
Elicit is a powerful program and one that veteran and tyro bloggers alike will find exciting.
---
John Mello
is a freelance business and technology writer who can be reached at
[email protected]
.
---

Read More Reviews…
---