Microsoft on Friday announced completion of the Marea undersea cable, which stretches 4,400 miles between Virginia Beach, Virginia, and Bilbao, Spain.
A joint project of Microsoft, Facebook and global telecommunication infrastructure company Telxius, the cable lies more than 17,000 feet below the ocean's surface.
---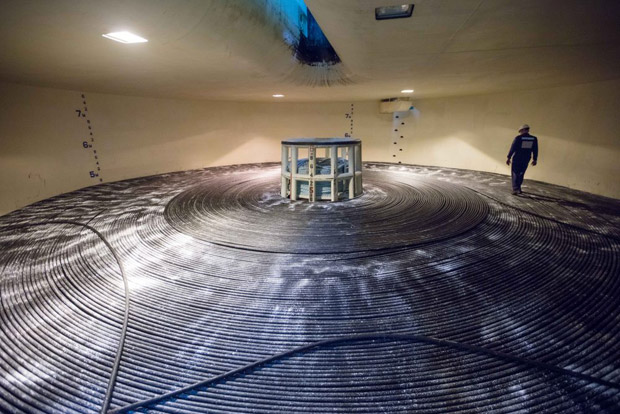 The Marea cable coiled on ship
---
It is the first cable to link Virginia and Spain. The Bilbao terminus provides access to network hubs in Africa, the Middle East and Asia.
Marea is located several miles south of the current connection points between the United States and Europe, for protection against natural disasters or other major disruptive events.
Ahead of Schedule
Its open design will let it evolve with technology and interoperate with a variety of networking equipment.
"The project's success could set an example for other global communication initiatives to emulate," said James Scott, senior fellow at the Institute for Critical Infrastructure.
"Its focus is on resilient and reliable connections and on a modular, open design," he told TechNewsWorld.
---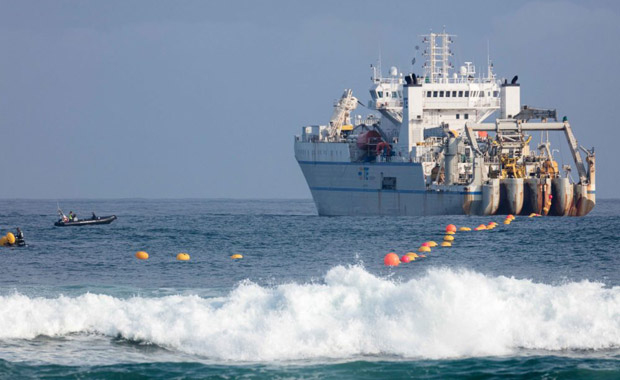 Beginning installation of the Marea cable
---
Announced in June 2016, Marea was scheduled for completion in early 2018. Its two-year construction is about three times faster than the norm.
Marea provides up to 160 Tbits/sec connectivity and is the highest-capacity subsea transatlantic cable to date.
Transatlantic submarine cables carry 55 percent more data than their transpacific counterparts, and 40 percent more data than between the U.S. and Latin America, according to the Brookings Institute.
Marea's Impact
Marea will enhance the Microsoft Cloud, said Suresh Kumar, corporate VP, Microsoft cloud infrastructure and operations.
Along with the announcement of Marea's completion, Microsoft announced Azure Availability Zones, its infrastructure service for resiliency and high availability.
"The more networks in the Internet, the more bandwidth … and the greater the ability to provide higher quality of service," noted Jim McGregor, principal analyst at Tirias Research.
Marea makes Microsoft and Facebook "less beholden to other service providers for long-haul bandwidth," he told TechNewsWorld.
It also could provide both companies with a new form of business and revenue, McGregor said. "Most of the global infrastructure was designed for voice traffic. This project used the latest in technology with the expectation that it'll be used for many forms of data traffic."
Telxius' Role
Telxius, created in February of 2016 by Spanish telecom giant Telefnica, has 15,000 Telefnica towers in various countries, as well as the Telefnica Group's international network of over 19,000 miles of submarine optic cable.
Telefnica sold up to 40 percent of Telxius to U.S.-based global investment firm KKR Group earlier this year for about 1.5 billion dollars.
The Race to Provide Communications Access
Marea isn't Microsoft's first undersea cable venture. Back in 2015, it announced investments in cable projects with Hibernia and Aqua Comms to link its data center infrastructure from North America to Ireland and on to the UK.
Also in 2015, Microsoft joined a consortium building the transpacific New Cross Pacific Cable Network.
In 2014, Google announced participation in the "Faster" transpacific undersea cable project.