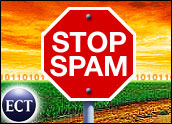 E-mail authentication — considered by many spam fighters as an important first step in reducing unsolicited correspondence on the Internet — will be the focus of a summit conference to be held in New York City next Tuesday.
The day-long confab at the Marriott Marquis will be moderated by Esther Dyson, editor of Release 1.0, who will also deliver the forum's keynote address. It is being sponsored by more than 35 organizations, including Microsoft, Cisco Systems, Symantec, Yahoo, VeriSign, DoubleClick, Harte Hanks, Cnet Networks and the Direct Marketing Association.
Dyson told TechNewsWorld that the purpose of the conference is to promote wider adoption of e-mail authentication. "We need to push it over the tipping point," she said. "Once it's over the tipping point, it will start rolling all by itself."
Things Going Well
"You can't tell people that we're going to be checking SPF records when most people aren't using them," she added.
SPF, or Sender Policy Framework, is a technology that's been incorporated into a current authentication standard called Sender ID — a combination of Caller ID developed by Microsoft and SPF developed by Meng Weng Wong, chief technology officer at Pobox.com.
Wong told TechNewsWorld that the conference is part of a big public relations effort to inform people about the coming changes in e-mail authentication. "We're going to give people an update and tell people that things are going well," he said.
Packed Agenda
The conference, which forum goers will be paying US$199 each to attend, will have a packed agenda.
During the general session, there'll be talks about the myths and realities of authenticated e-mail, creation of SPF records and what's being done in the real world to implement authentication.
Following those talks, there will be two-tracks of breakout sessions: a track for e-commerce and marketing executives, with forums on e-mail delivery best practices and case studies in e-commerce authentication, and a track for IT professionals and e-mail administrators, with discussions on the technical aspects of creating SPF records and implementation of authentication at the receiving end of e-mail.
The forum will end with sessions discussing other e-mail securitytechnologies — most notably Cisco's Identified Internet Mail and Yahoo's Domain Keys — and a wrap up of the day's activities.
Beyond Geek Community
"The main goal of the conference is to raise awareness around e-mailauthentication beyond the technology community," John Thielens, chief technology officer of Tumbleweed Communications in Redwood City, Calif., told TechNewsWorld.
"There's been lots of activity in the vendor community and in the technology 'geek' world, but we're beginning to be ready for the broader industry to implement this stuff," he added.
Direct Marketing Association Vice President for Communications Louis Mastria explained that the DMA hopes the conference will clear any doubts in its members' minds about authentication.
Dispel Confusion
"There's been a lot of confusion in the marketplace," he told TechNewsWorld. "Marketers are asking themselves, 'Should I invest in SPF or SDIF or Domain Keys or IIM?'"
"One of the themes of the conference is you can invest in any of them," he continued. "It doesn't matter. They're all interoperable."
"We are urging marketers to do this today," he added. "They should not hold off any longer."
Early Adopters
Robb Wilson, vice president of deliverability at Lyris Technologies in Berkeley, Calif., told TechNewsWorld that he will attend the conference and is anxious to hear about the experiences of companies implementing authentication.
One pitfall they might discover is that the most enthusiastic adopters of SPF have been spammers, he noted. That can create an ironic situation for a service like Hotmail, which is using Sender ID to filter e-mail.
"If you don't have Sender ID or SPF implemented, you go to the bulk folder," he said. "That's a bold move."
But if most of the users of SPF are spammers, he reasoned, "your bulk mail folder is going to become your inbox."