Like many sailors, Tom Dougherty likes to grill a juicy steak on his boat. And he has found that infrared technology sears his steaks to perfection, even on a small, sailboat-sized grill.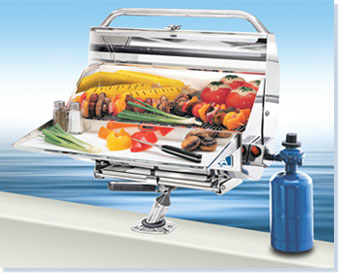 An Infrared Grill From Magma Products
"It creates an intense heat that allows you to sear your steaks and chops and holds in the heat," Dougherty, director of sales and marketing for boat grill manufacturer Magma Products, told TechNewsWorld. "Infrared plates are under the grill grates, and anything that drips out instantly emulsifies into steam and smoke. All that flavor goes right back into the food, giving it a real smoky flavor."
Nothing New Under the Sun
Infrared technology is not new. In fact, it's as old as the sun and the earth. Essentially, it involves heating a surface — rocks, bricks, ceramic, or glass — and then cooking with the radiant heat produced by that surface.
"Infrared energy is the energy that warms you from the sun," Rachael Best, president of Thermal Engineering Corporation — which developed some of the earliest infrared grills in the 1980s — explained to TechNewsWorld. "These are radiant waves. If you build a fire in the fireplace and feel the warmth from the bricks, that's radiant energy. It's very common in nature. All you need is to heat a surface that can radiate."
What is new is the widespread adoption of radiant heat technology in gas grills, in part because of widespread access to now-expired patents. These infrared grills use a gas flame that heats plates or panels made out of glass, ceramic, or other heat-absorbing substances. These plates then radiate heat and cook food quickly and efficiently, both through the heat they produce and through the smoke and steam created when juices fall on their surface and instantly incinerate.
Infrared grills can be significantly more efficient, and they can also be healthier, since they don't char food and therefore don't create as many of the carcinogens produced by traditional charcoal and gas grills.
"It tastes like charbroiled food," said Best. "It has an authentic outdoor flavor because the drippings from the food get vaporized. It creates a rich, smoky vapor that flavors the food, but you don't get the ash and the carcinogens. It's a very healthy way of eating, since the only thing that gets cooked out of the food is the fat."
Another benefit of the technology is that it makes grilled meats juicer and more tender, since the radiant heat doesn't dry out food as much as direct heat.
"The less hot air you use, the more moisture retention you have," said Best. "You're melting the fat out of the food, but you're not losing the moisture. Not only is it more flavorful and moister, but it's more tender."
Infrared Improvisations
So far, it's mostly higher-end grills that incorporate infrared technology, but grill manufacturers are experimenting with new ways to use it in a wider range of their products.
"We're continuing to develop our infrared systems," Alex Gafford, vice president and director of research and development for Char-Broil, told TechNewsWorld. "We're improving these systems to make them easier to manufacture, easier to clean, and available at various price points."
Some manufacturers incorporate a combination of basic infrared and proprietary technologies to make their grill offerings unique.
"We have proprietary and patented technology that allows us to make the infrared component more than 65 percent of the heat received by the food," said Gafford. "We have flare-up control to prevent grease from igniting when it hits high-temperature surfaces, and we've introduced infrared roasters."
Infrared systems are also finding their way into other parts of the grill — not just the main burner.
"Although infrared technologies have been around for quite some time, Napoleon has taken this technology to a new level by introducing an infrared side burner to our grills," Gail Korpatnicki, product specialist for Napoleon Appliance Corporation's Grill Division, told TechNewsWorld. "The burner can be set to high, yet it can also be turned down to a lower radiant heat to slow cook your more delicate fare like fish and vegetables."
Ultimately, this technology, which still has a high-end aura, will likely come to dominate the grill marketplace.
"Infrared's the new buzzword," said Best. "But people in the business are saying that eventually, every grill will be an infrared grill."