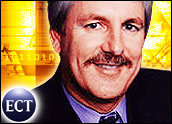 Once again we are on countdown for Christmas, and many of you will take the easy way out and give cash, checks or one of those pre-paid cards that allow recipients to buy what they want at an after-Christmas sale. But for me there is something of a letdown in getting cash for Christmas, and I tend not to remember the gift or associate the purchase with the gift giver. As a result, the only time I give cash is when cash is the thing the recipient most needs.
So this week I'm going to share with you some unusual gifts for adults and older kids that I think are fun and will connect you with the recipient. It is nice to give, but part of the reward of giving is being remembered for the gift, so you need to buy things that people are likely to use. Since most of the items below are electronic, you shouldn't give them to folks who don't deal well with electronics (or you will probably get them back for your birthday).
Sharing Memories
Apple just announced the new iPod with a color display, and it's likely that a child is already asking you for this overly expensive product. While iPods are on the lists of a lot of kids, the new iPod mini with a color display is coming in the next several months, so why replace a perfectly good iPod with one with a half life of less than 6 months? Why not just get a small device that shows color pictures instead?
There is such a product, and you don't have to have iTunes to use it. It is called the Magpix Pocket Photo Album, and it costs under $100 (one heck of a lot cheaper than a new iPod). And it takes SD cards, so you can use the same media most of the digital cameras now use.
Lots of folks now have digital cameras but don't have an easy way to share their memories, and this device fills that need. It is far cheaper than a PDA (and has a far smaller display), but it easily drops in a purse or pocket, and the gift-giver can even preload it with pictures he wants to share — or blackmail — the recipient with. It is easier to use than an iPod, and that is saying a lot. It will even hook up to a TV if you want to embarrass the entire family. My wife and I have bought five of the things so far.
The Gift of Silence
Kids like to play video games — even I have become hooked on "City of Heroes" — but the sounds drive parents, roommates and spouses to distraction. Regular headphones, however, don't give you the surround-sound you need to keep from being killed prematurely. The problem is that the really good headphones in this class can cost over $500, with some costing over $1,000.
I found a pair for under $60 that are fine for games and even look kind of cool. Zalman makes a set called the ZM-RS6F. I found them with a bundled microphone on sale at Directron for under $50. Not only will the gamer remember you for this gift, but likely the people he lives with will think of you fondly as well. Kids, particularly when they are playing video games, should be seen and not heard.
How about a set of headphones for that frequent traveler? Noise cancellation headphones are now common, but the $300 Bose headphones are too expensive for most and too big to carry. The Sennheiser PVC 250 is about half the price, more portable, and still feels expensive. Amazon has them for under $125.
Capturing the Moment
I'm starting to think cell phone cameras are stupid. They are difficult to use, you look kind of dorky using them, and there are an increasing number of companies and government institutions that will take your phone away from you on their premises if it has a camera in it. If that weren't enough, the service companies are demanding that the cell phone makers disable the ability to directly download pictures onto your PC, forcing you to use their more expensive wireless networks. On the other hand, having a little camera with you can be handy to capture an impromptu moment.
The Hawking 3 in 1 Camera, which I found at Onsale.com for under $50, has better resolution then most cell phone cameras and more memory at 8 MB, and it will even work as a video conferencing phone when plugged into your laptop or desktop PC. It's tiny — about the size of a USB drive — so if you really need to take that "secret" picture, it's better than most camera phones anyway.
Given the number of folks away from home — in the military, overseas, or away at school — desktop cameras are becoming more popular as a way to stay in touch. With broadband, video calls are both more easily done and much higher quality. The best camera for this isn't that expensive, costing around $100. The current generation of the Logitech QuickCam Orbit allows you to remotely look around the room to see if your child is really cleaning it or simply moving stuff out of the line of site. I found it at Tiger Direct for $94 and bought two myself.
Micro Mouse
Increasingly, kids and adults are living off laptop computers, but I find using a trackpad or touchpoint device gets old quickly. Most mice, however, are simply too big to be portable. Targus, Microsoft and Logitech all make small mice, but the best in my view is the Logitech V500. It is really kind of cool: The wireless receiver hides in a secret pocket inside the mouse, and a quick flick of a switch frees it. It uses generic Windows drivers, so getting it up and running, with current generation laptops, is a true plug-and-play experience.
It is an optical mouse, which makes it more accurate than the old ball based products. I found it at Amazon.com from under $55. It's actually not bad for games, and it has a very high-tech, touch-sensitive navigation bar in the middle that helps a lot with navigating large documents and Web pages.
The Highest High-Tech Watch
Ok, I admit it, I'm a nut for watches and was an early fan of the MSN Direct service, but I haven't been excited about any of the watches. That changed recently when Tissot brought out their version.
As with all MSN Direct watches, the Tissot provides time that gets updated automatically whenever you change time zones, monitors local weather and national news (including sports scores), contains your calendar, watches your stock prices, and has the typical watch functions of calendar and stopwatch.
In addition, this one will give you your daily horoscope and even give you a new word to learn every day. But what makes this one unusual is that it has a touch screen for navigation and a large, easy-to-read display (for us over-40 types).
You have to go to a Tissot store, and exclusivity isn't cheap: It will cost you around $725. But for that guy who is special, this is a truly special gift. Of course, if want something for a slightly younger audience you can get the Swatch Paparazzi, available in four colors, for $150.
Whatever you do for the Christmas season, here is hoping both your gift giving and receiving, are both fun and memorable.
---
Rob Enderle
, a TechNewsWorld columnist, is the Principal Analyst for the
Enderle Group
, a consultancy that focuses on personal technology products and trends.
---