Corning unveiled a new flexible glass — called "Willow Glass" — at the Society for Information Display's Boston Display Week on Monday.
It's about as thick and flexible as a piece of paper, while having the strength, durability and other qualities of existing glass.
Thinning Out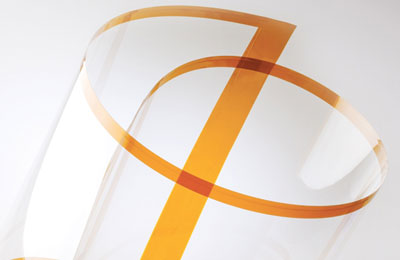 Willow Glass can be made as thin as 0.05mm, which is far thinner than the current 0.2mm or 0.5mm display glass. Because of its thinness and bendability, Willow Glass could very well revolutionize the form and shape of smartphones, TVs, tablets, and other consumer electronic devices.
Eventually, it could replace Gorilla Glass, which is currently used on many such devices.
"Many years ago, when tablet talk started, there were discussions of having flexible e-readers, much like a newspaper-type of physicality," tech blogger Michael Sheehan told TechNewsWorld.
"People could roll up their tablets for storage, for example. I envision touch-screen displays being able to be wrapped around pillars or other curved surfaces which could be used at point-of-sale displays," he said.
"Also, the fact that the Willow Glass is thinner than Corning's Gorilla Glass means that handheld devices, for example, will be thinner and lighter," noted Sheehan.
There will be a multitude of uses — some still unforeseen — for this thin, light glass, confirmed Dipak Chowdhury, Corning's Willow Glass program director.
"Displays become more pervasive each day, and manufacturers strive to make both portable devices and larger displays thinner," he said.
"Corning Willow Glass provides the substrate performance to maintain device quality in a thin and light form factor. Currently manufacturing in a sheet-to-sheet process, we expect Corning Willow Glass to eventually allow customers to switch to high throughput, efficient roll-to-roll processing, a long-awaited industry milestone, Chowdhury added."
Because it's thin, cost-efficient and lightweight, Willow Glass could be incorporated in a variety of slim displays, as well as products that haven't yet been invented — including ones that can roll up or wrap around objects. It also has potential applications in the solar cell and lighting industries.
Roll-to-Roll Processing
Willow Glass can be processed at extremely high temperatures, making it superior to polymer films for many electronics applications. The glass is created by melting proprietary ingredients and then forming a continuous sheet that is rolled out like newsprint would be on a printing press.
Its roll-to-roll processing will make it attractive to manufacturers seeking low-cost, highly efficient electronic components.
"Small pieces of thin glass have been available for many years, but high quality strips long enough to run through a roll-to-roll coating system are certainly unique," Mark Thirsk, a managing partner with Linx Consulting, told TechNewsWorld.
"Corning has a reputation for supplying high-quality glass for display applications, and this is an extension of that business for Corning in a market where they have a deep understanding of customer requirements and significant market share."
Willow Glass will allow for thinner backplanes than are now possible, as well as color filters for both organic light emitting diodes (OLED) and liquid crystal displays (LCD). It also has promise in the production of curved displays that can be mounted on non-flat surfaces or give viewers an immersive experience, as well as new kinds of touchscreens.
Glass Plus
Willow Glass is made with Corning's proprietary fusion process, which allows it to create extremely thin glass, such as some of its other glass substrates, like EAGLE XG and Corning Lotus Glass. Though thin, however, Willow Glass has the same ability as other types of glass to provide a hermetic seal for sensitive electronic components, and it also provides the same touch, feel and other properties of glass.
"Many of the new display technologies that rely on organic layers, such as OLED displays, need to be hermetically sealed from the environment," noted Thirsk.
"This has historically been very difficult with polymer layers, and the Corning Willow Glass could be used both as a substrate to build the display upon, and also as a cover material to isolate the display from moisture and other contaminants," he said. "The possibility of producing bendable displays that can resist breakage and also conform to non-planar surfaces is seen by many as a very high-growth opportunity in the display market."
Corning is currently shipping Willow Glass to designers and manufacturers in the process of developing new applications. It is also collaborating with various universities, equipment makers, manufacturers and designers to come up with new uses for its flexible glass.
"Corning will continue to develop and improve innovative glass products to enable the high-performance, game-changing displays that will drive tomorrow's increasingly diverse electronics markets," Chowdhury said.
People who love electronic devices are already coming up with ideas for ways this futuristic glass might be used.
"While the rigidity of laptops is required to prop up a screen, you could conceivably have a rolled-up display and flexible keyboard," said Sheehan.
"This, coupled with the size of inner components dropping, means that we could potentially see new types of laptops, netbooks or Ultrabooks. Perhaps we could coin the term 'flexibook' in the coming years, where portability, performance and literal flexibility could be the standard."