Everyday stress at work and home sometimes seems like a health issue you just have to tolerate. But doing nothing to relieve routine stress usually winds up causing sleep and illness problems as well. Now, a wellness technology company has a wearable device that just might bring more good vibes your way.
When Feelmore Labs approached me with an offer to review their Cove product, I was very skeptical. Cove is a light-weight wearable device that loops over the ears and wraps behind the base of the user's head. I'm hesitant to attach gadgets to my body that send sonic waves or pulses to do who knows what to my psyche. But I was also very curious.
Sure, on occasion I fall asleep to sleep-aid machines playing sounds of rainfall, or ocean waves slapping on the sand, or what we used to call New Age calming music. Sometimes I even say, "Okay, Google. Play relaxing music for 30 minutes" to my Google Home speakers networked throughout my house.
Even so, submitting to vibrating pulses behind my ears while I read, work, exercise, or try to relax strokes reminders of my years as a psychology student learning about subliminal advertising, sensitivity training, and psycholinguistics to influence others.
But — according to Feelmore Labs — Cove is safe to use and scientifically tested for its effectiveness to effortlessly reduce stress and improve sleep. So, I decided to try it out.
What Cove Does
Using cutting-edge, patented neuroscience technology, the device silently applies gentle vibrations behind the ears. The vibrations initiate a natural biological pathway between the skin and the brain. By harnessing this connection, Cove is able to activate the part of the brain that regulates anxiety, leading to a profound and durable sense of calm, the company assured me.
"Particularly during these challenging times, many of us are facing stress, uncertainty, fear, and doubt. The traditional ways to overcome and manage these feelings have yet to naturally activate resilience, which is where Cove comes in," Francois Kress, co-founder and CEO of Feelmore Labs, told TechNewsWorld.
The company unveiled Cove in July 2020. Over a four-year development span, clinical studies found that more than 90 percent of participants who used Cove for 30 days experienced a stress reduction of 41 percent and a sleep quality improvement of nearly 50 percent.
These results show Cove's promise versus other solutions like meditation, which according to a 2014 Johns Hopkins Medicine study, only improved anxiety symptoms by five to 10 percent, according to the Feelmore Labs.
"Cove was created as a simple tool to effortlessly build resilience to stress, better equipping you to deal with it as it arises, while also improving sleep. As Cove does not require dedicated time or effort, our goal is for users to seamlessly incorporate it into their daily routines, using it as a resource to find a healthy balance between stress and relaxation. Cove helps you put on peace of mind," said Kress.
The company's research found scientific evidence that carefully calibrated vibrations could activate a brain system, offering mental benefits such as relaxation. A wearable device able to deliver these vibrations seemed like the perfect effortless solution to stress and sleep management, he noted.
Unlike other methods of wellness, Cove does not require dedicated time or effort. Instead, the device silently and subtly works its calming effects while you go about your daily or nightly routine.
Effective Design
I did not know what to expect during my first session. I can honestly say that I was somewhat fatigued from my work activities prior to starting my initial Cove test. I tolerated the vibrating sensation for the full 20 minutes, gradually adjusting the intensity setting to maximum every few minutes.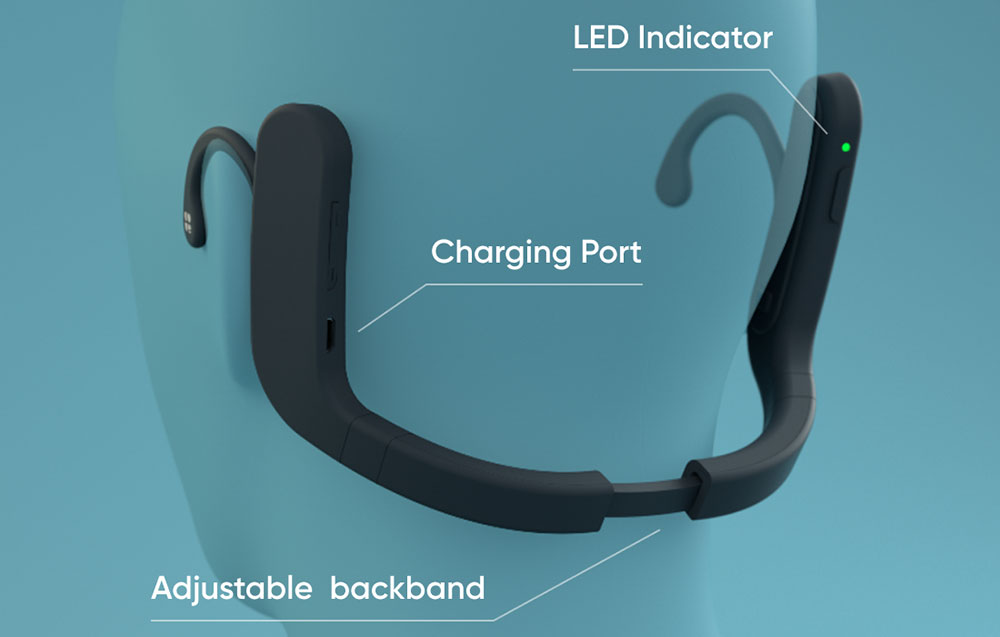 The adjustable headgear was comfortable thanks to its adjustable design. I could easily position the thin band across the back of my head and rest the ear loops to hold the thin sensor bands behind my earlobes.
The specific vibrations are applied behind the ears. This is where the very best results were observed in clinical studies due to the proximity of various cranial nerves.
First Session Experience
After placing the headgear as directed, I felt a slight tingle or vibration. I felt the soothing and relaxing vibrations almost immediately. As I increased the intensity, the vibrations became slightly annoying.
That bothersome notion leveled off quickly. For optimal results, the directions suggested adjusting the intensity to the lowest level at which you perceive the vibration. Stronger is not necessarily better.
After the 20-minute session ended, I noticed that I felt more alert. The fatigued feeling I mentioned above was gone.
I also realized that I missed the annoying vibration behind my ears. That concerned me. I was still skeptical about what the device might be doing inside my head.
Back to 1984?
When the session finished, the app screen displayed three emoticons indicating how I handled the day's stress. Below that row is a window to leave a note about how I felt.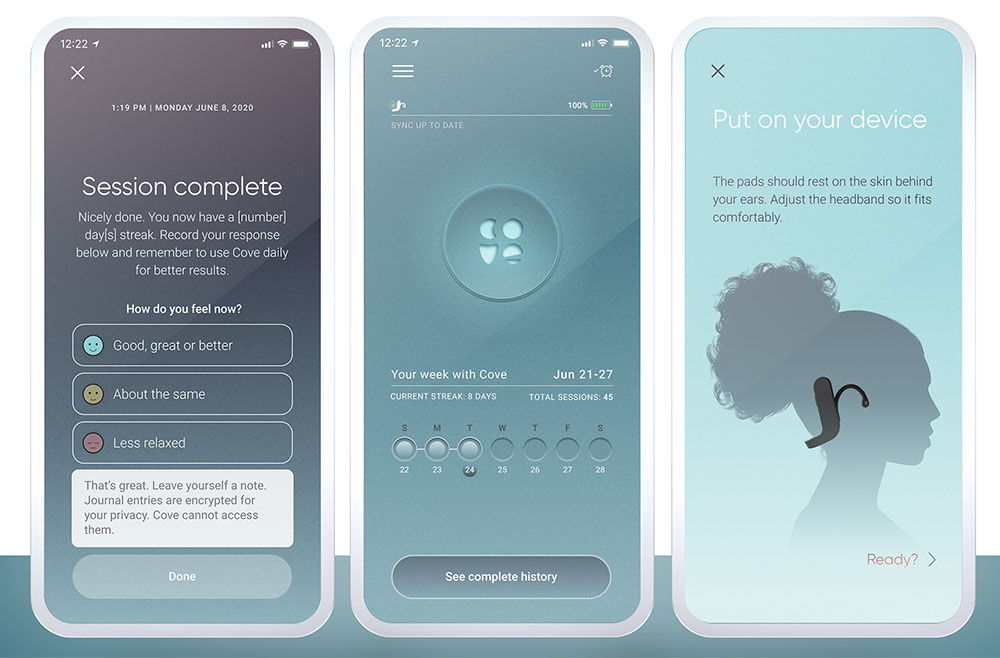 As I was pondering how to respond to the Cove app's inquiry about my mood, an Orwellian-like incident occurred. I got an email from Feelmore Labs congratulating me on completing my first session.
The message offered tips for getting the most out of my Cove experience. The Cove app's screen also displayed a graphical record of my session counts and usage patterns.
More Helpful Cove Sensing
At the bottom of the app screen are buttons accessing notes on the day's session, a history button showing my journal responses with prompts to indicate how well I slept the previous night, and a journal window.
A second button on the history page shows the stress-handling emoticons and journal window. A profile button at the bottom of the screen provides options to add sleep and stress check-in entries and schedule session reminders.
The Cove is not just a tracker of your stress levels. It collects a record of your heart rate and body movement during each session.
Beyond that, Cove is pioneering a new category of wearables that — unlike traditional stress-reducing and sleep-inducing aids that only collect your data. It actively seeks to directly improve how you feel by effortlessly and safely reducing stress and improving sleep, according to Feelmore Labs.
For that reason, Kress views the product as more of a "Feelable" than a wearable. Nothing is required of the user but to put it on to directly improve how you feel.
Mind-Easing Info
After pouring over product details and the science its creators cited, I felt much more assured about using the product. Cove claims its research shows that using the device daily provides the best results. Users are not restricted to how often each day they use Cove.
You can use Cove anytime you feel the need to relax before a stressful event or wind down before bedtime. But a session must last for at least 10 minutes to be effective. While using the device, you can work, relax, or do light exercises.
Cove is designed to adapt to your lifestyle and routine. The developer recommends not wearing Cove while sleeping, claiming there is no risk, however. It just might be uncomfortable.
The effect lasts approximately four hours. So users should spread out the sessions during the day no closer than that interval. The company notes that no harm occurs if you increase incremental usage in a 24-hour period.
Cove collects feedback from users and journal entries. It also collects heart rate data and motion/activity through its embedded sensors. The company stores personally identifiable information (PII) on different systems that anonymize usage information.
Also, journal entry data is encrypted at rest and can only be accessed by the users themselves. The company does not see this information. Biometric data (usage, heart rate metrics, motion, etc.) is anonymized and cannot be tracked back to an individual user.
No Direct Physiology Tampering
Cove is not a massager. It does not directly interact with heart rate and related metrics, such as heart rate variability (HRV), according to the company.
Cove's developers used brain imaging technologies such as EEG and fMRI to quantify research results. In studies using these tools, they observed changes in brain activity that are consistent with feelings of relaxation and well-being.
"Over time, Cove users may observe changes in their HRV as a result of reduced stress. However, any such changes are indirect and depend on other factors, such as the user's baseline HRV, environmental stressors, exercise habits, and more."
Final Observations
Cove is an interesting device. Using it to enhance my focus, dull my daily stress, and encourage better sleep at night are all admirable and necessary goals.
Like any new methodology or technique, using Cove continually and carefully, along with monitoring results, will tell if Cove lives up to my positive first impressions.
Cove currently retails for $490 and is available exclusively at Feelcove.com. The company also offers monthly payment financing.
Want to Suggest a Review?
Is there a tech product or application you'd like to suggest for review? Something you love or would like to get to know?
Please email your ideas to me and I'll consider them for a future column.
And use the Reader Comments feature below to provide your input!