Apple will release a professional version of its all-in-one iMac desktop computer with a US$5,000 price tag on Thursday.
Up to now, all-in-one computers in general and iMacs in particular have been seen as stylish offerings for home and family, but Apple has changed that in a big way with the iMac Pro.
Apple has given the Pro workstation-class graphics, processors, storage, memory and I/O — all without increasing the size of the iMac.
Creative professionals, the target audience for the Pro, have a choice of muscular Xeon processors with eight, 10 or a whopping 18 cores.
With turbo boost, processing speeds can reach 4.5 GHz with a cache up to 42 MB.
New Graphics Chip
Apple has outfitted the Pro with a new graphics chip, the Radeon Pro Vega.
---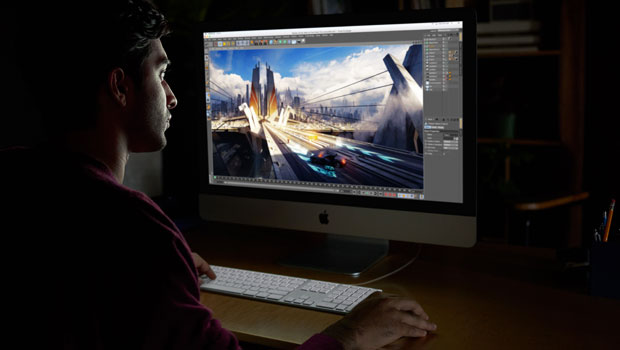 iMac Pro comes with the new Vega GPU, the most advanced graphics ever in a Mac.
---
The new chip is three times faster than any previous iMac GPU and packs in a single chip the power of a double-wide graphics card, according to the company.
The Pro Vega should mean higher frame rates for virtual reality, real-time 3D rendering, and more lifelike special effects and game play.
The Pro also supports a large amount of memory — 128 GB at the max.
It will support up to 4 terabytes of all-flash storage with throughput that can reach 3 GB per second.
On the I/O side, the buff iMac has four Thunderbolt 3 ports. The ports can be used to support up to two 5K monitors and transfer data at high speeds — 40 gigabits per second.
Aimed at Creatives
The Pro has some networking sinews, too, with support for 10Gb Ethernet.
All of the Pro's power produces a lot of heat, so Apple redesigned the inside of the iMac to keep it cool. The improvements work so well that the desktop can handle 500 watts of power, 67 percent more juice than previous versions.
In addition, Apple has enhanced the speakers in the Pro so they deliver broader frequency response, rich bass and more volume.
At $5,000, the iMac Pro targets a group of Apple's most faithful followers.
"Apple is mainly targeting creative professionals with workstation-class requirements," said Charles King, principal analyst at Pund-IT.
"That includes people who regularly create or edit 3D and 4K graphics, and those involved in artistic tasks where speed and performance is a plus," he told TechNewsWorld.
Worth the Wait
Those users have been waiting for a new muscle computer from Apple for some time, and it looks like they won't be disappointed with the iMac Pro.
"On paper, the system looks solid, and options — including up to an 18-core Xeon processor, 128 GB of memory and 4 TB of storage — should be more than adequate for many creative use cases," King said.
"They've taken a serious approach with the hardware, in terms of building in the feature sets these customers are really going to need," noted Rhoda Alexander, director of tablet and notebook research at IHS Markit.
"Apple already has a strong following in these markets, on both its notebooks and its desktop solutions. For those loyalists, this product should meet their expectations and then some," she told TechNewsWorld.
"The 18-core version in particular is going to offer significant performance and speed improvements for those able to afford the investment," Alexander added.
Price Is Right for Some
Although the iMac line generally has been geared toward consumers, many creatives have appreciated the design and invested in upgrades to get the machines to do what they needed them to do. For those users, $5,000 won't be a barrier to buying a Pro.
"Compared to 'featuring up' a current iMac, the additional cost to move directly to the iMac Pro should not be a hard decision," said Jeff Orr, a senior director at ABI Research.
"This isn't about picking the style of clothing to wear today," he told TechNewsWorld. "This is an investment in productivity. Existing iMac users will appreciate the new capabilities and performance of iMac Pro."
For creatives who aren't Mac loyalists, deciding on which computer to invest in just became more complex.
"There are certainly new, high-performing choices for creatives using Windows 10," Orr said, but "the iMac Pro is now part of that consideration set, where it may not have been a factor even six months ago."
The question may come down to achieving the most favorable balance between performance and price for each particular set of needs.
"While Microsoft's Surface Studio and HP's Envy 34 Curved [All-in-One] arguably outperformed previous iMacs," noted IHS' Alexander, "this new iMac Pro, based on specs, appears to have now leapfrogged over those competitors on performance, arguably at a substantially higher price point."