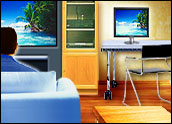 Americans seem to love television as much as ever. But they're increasingly viewing it through non-traditional means, usually involving the Web.
The number of mobile subscribers watching TV on their mobile phones, for example, increased 41 percent year over year in the fourth quarter of 2010, Nielsen has reported.
At the same time, Internet service providers (ISPs) are concerned about the amount of traffic on their networks, and some have imposed measures intended to limit consumer use. This month, AT&T began limiting how much data its DSL and U-Verse Internet customers can send and receive each month. This follows similar measures Comcast imposed a few years ago. Whether or not other players join in is currently open to question.
The bandwidth restrictions have evoked the ire of Netflix — no surprise there, as its streaming entertainment business could be impacted.
With two major ISPs setting limits, broadband caps appear to be on their way to becoming an industry standard. If more service providers clamp down, and if viewer habits verge further into Internet video territory, the two trends could be setting themselves up for a clash. Will angry viewers push back and demand more monthly data allowances, or will they be forced to limit their consumption of online entertainment?
The Trek Toward Online Entertainment
In the fourth quarter of 2010, nearly 25 million mobile subscribers watched video on a mobile phone, Nielsen reported.
Mobile video is becoming increasingly popular because of the rapid adoption of media-friendly mobile devices, including smartphones, according to the study. Younger consumers aged 12 to 17 are the heaviest viewers of mobile video.
A separate Nielsen report states that some younger, urban consumers are going without paid TV subscriptions. However, it's not clear whether this is because they can't afford to pay for TV subscriptions now or because this is the beginning of a larger shift to online viewing using mobile devices.
That report also predicts a slight drop in the number of U.S. households that have TVs, from about 99 percent to about 97 percent. That still means almost all American homes have at least one TV, but would be the first time the number drops in 20 years.
Reasons for a supposed drop in TV ownership could be related to anything from the economy to the country's transition to digital broadcast signals. However, the move toward Internet TV might also play a part in that trend. Younger people, having newly established households of their own, may forgo the immediate purchase of a television because they figure they can get all the entertainment they need through a laptop.
A Broadband Service Provider's Take
"We're witnessing a dramatic increase in bandwidth usage, driven primarily by a small fraction of our customers who are consuming a disproportionately large amount of bandwidth," AT&T spokesperson Serena Thomas told TechNewsWorld.
These lopsided usage patterns "can cause congestion at certain points in the network and can slow Internet speeds and interfere with other customers' access to and use of the network," Thomas added.
If those statements sound familiar, it's because they're very similar to what AT&T's been saying about iPhone usage and its impact on the carrier's wireless network.
About 20 percent of AT&T's bandwidth is being siphoned up by a mere 2 percent of its subscribers, the carrier says, so perhaps it has some justification for its stance.
"Through this initiative [of capping broadband consumption], we're serving the interest of the vast majority of customers while impacting just a very small percentage of customers that are consuming a disproportionately large amount of bandwidth," Thomas said.
Comcast didn't quite tackle the question of bandwidth consumption caps head-on. Spokesperson Charlie Douglas told TechNewsWorld that the company's median customer consumes 4GB to 5GB of data a month. The company limits its home broadband users to 250 GB of data per month.
Cruel Suppression or Fairness?
"Operators have a very real interest in managing traffic that traverses their network and claim that a small percentage of consumers consumes a disproportionate share of resources," Ben Piper, a director at Strategy Analytics, said. "Consumers, on the other hand, largely see caps as a punitive measure."
However, AT&T's caps are "not really that draconian" for the average subscriber, Piper contended. "I'm convinced that this is a marketing and messaging issue just as much as a network management one," he told TechNewsWorld.
AT&T's DSL customers who consume more than 150 GB of data usage in three separate months will have to pay US$10 for every additional 50 GB of data they consume, while subscribers to the carrier's U-Verse service have a 250 GB cap.
The average AT&T customer consumes about 18 GB of bandwidth per month, Kurt Scherf, principal analyst at Parks Associates, told TechNewsWorld. That makes the 250 GB cap for U-Verse subscribers "pretty robust," he remarked.
Comcast's limit is also 250 GB a month. However, it doesn't impose overage charges — instead, when a user break the limit, the company alerts him or her with a phone call. If the limit is broken again within six months, the user is banned from Comcast service for a year.
"Our data usage threshold of 250 GB in a month is an extraordinary amount of data, and does not affect more than 99 percent of our customers," Comcast's Douglas pointed out. " To consume that amount of data in a month, you could stream almost 800 hours of standard definition video at 700 Kbps or 556 hours of HD video at 1Mbps, or you could download more than 165 DVD-quality movies at 1.5 GB per file."
A high-definition movie downloaded through a service like iTunes could weigh in at 3 GB or more. So under Comcast's and AT&T's broadband limits, a household could watch an HD movie every night in a month and still have ample data to spare.
That's Entertainment!
Still, heavy users and households in which multiple residents want their own variety of entertainment could still feel a pinch. Netflix has protested against the user caps, but given Comcast's figures, perhaps it's merely staking out its position.
In response to questions, Netflix spokesperson Steve Swasey pointed TechNewsWorld to the company's letter to shareholders dated April 25, which states that online video use has more than doubled since last year, and that Netflix expects "huge growth" this year.
The company also points out that competition is growing in the online video streaming market.
Over the past 12 months, Hulu Plus and free video on Amazon Prime have been launched, Netflix said. It also expects Dish Networks to launch a subscription streaming service under the Blockbuster brand.
Impact of the Caps
"Bandwidth caps have been kind of like the airline industry trying to raise their ticket prices," Parks Associates' Scherf opined. "We see a couple of service providers attempt to put caps or limits in place and, if the rest of the crowd doesn't follow, they abandon the effort. So it's certainly a wait-and-see time."
Netflix has already worked out a solution to data caps. When Canadian broadband service provider Rogers Cable imposed data caps and overage charges of $1 per GB, it made some technical changes. Instead of 30 hours of viewing requiring 30 to 70 GB of data, Canadian subscribers now only need to take in 9 GB of material to get 30 hours worth of viewing.
"Broadband has become so woven into our daily lives that its' not something people would be willing to give up," ABI's Piper remarked.