With Microsoft's next-generation Windows 8 operating system set to launch later this month, Dell on Friday announced new computers that will support it: the Dell XPS 12 convertible laptop, the Dell XPS One 27 all-in-one desktop, and the Dell Inspiron One 23 all-in-one. Dell also announced an updated version of its XPS 13 laptop.
All are now available for pre-order from Dell, and will ship on October 26.
"Dell and Microsoft have strived to make technology more accessible and intuitive for more than two decades, and the introduction of new Dell PCs and Windows 8 software is another important milestone in this journey," said Sam Burd, vice president of the PC product group at Dell.
Dell's new XPS product portfolio addresses a diverse set of needs, he added, and "is a key catalyst in making new touch-based computing experiences a reality."
XPS Marks the Spot
Leading the way with Windows 8 will be the XPS machines.
"The XPS line is Dell's answer to Apple. It is their premium line, and that means these products are targeted at buyers who want a bit more and are willing to pay for it," said Rob Enderle, principal analyst at the Enderle Group. "The Ultrabook and All-In-Ones are their leading Windows 8 products with touchscreens emphasizing Windows 8's most promoted feature, but each has unique benefits."
The XPS 12 is a fully-featured laptop that can transform into a touch-powered tablet. This machine utilizes a flip hinge touchscreen display that when in tablet mode completely covers the keyboard, protecting it from dirt and spills. Pricing for the XPS 12 will start at US$1,199.99.
The XPS One 27 All-in-One is designed as a space-saving computer. It features a 27-inch Wide Quad HD Display, which offers 78 percent more pixels than a Full HD display, which is also capacitive touchscreen capable. The XPS One 27 will start at $1,599.99.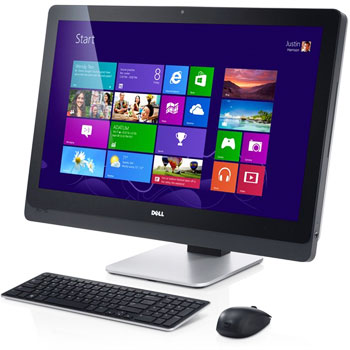 XPS One 27
Dell's updated XPS 13 notebook features the Ivy Bridge chipset, which doubles its speed; the XPS 13 will start at $999.99
The Dell Inspiron One 23 features an Ivy Bridge CPU and touch-enabled 23-inch screen for $779.99.
"The 27-inch is really designed for artistic types that require high resolution, high color accuracy, and will want to create on the screen," Enderle told TechNewsWorld.
"The convertible tablet has one of the most innovative screen hinges," he noted, "providing the buyer with a bit of a wow moment during the conversion and a large 12-inch screen size which should be vastly preferred over smaller designs."
Reach Out and Touch
Dell clearly is looking to make a splash, possibly even a full-fledged comeback with these machines. Whether it will ever return to the glory days — when its slacker character "Steven" proclaimed, "Dude, you're getting a Dell" — remains to be seen. Windows 8 could leave open such a possibility, as Dell seems fully-committed to Microsoft's new operating system.
"Dell's got a solid lineup. All of the PC hardware makers are putting out multiple options in new Windows 8 touch-based machines," said Roger L. Kay, principal analyst at Endpoint Technologies Associates. "Dell will likely sell enough of each to recover the fixed cost investment to get it to market, but one or another might do better than that and actually contribute to the company's profit."
As consumers start to experience the new Windows 8 OS with its touch-based screens, Dell's XPS line could stand out as the premium brand.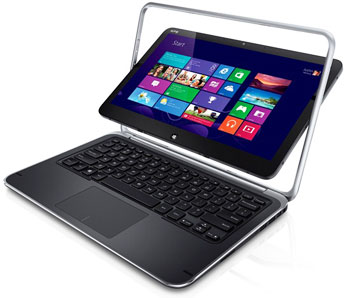 XPS Duo 12
"The horizontal swivel hinge on the XPS 12 is unique, and although it may look flimsy, I've handled it, and the frame is stiff and the panel locks right in place," Kay told TechNewsWorld. "The larger surfaces on the all-in-ones showcase the Windows 8 touch interface quite well."
With Dell's new offerings providing some of the first truly "hands on" experiences with Windows 8, it appears the new interface is so far meeting expectations. This could be a very good sign for Microsoft, as well as for Dell.
"Given the continuing popularity of smartphones and tablets, the research data I've seen from Intel and other vendors, touch-enabled devices are not only here to stay but represent a significant leap forward in personal computing performance," said Charles King, principal analyst at Pund-IT. "I expect Dell to do very well."
Power of 3
While Dell appears to be covering the bases, this is likely more a case of rolling out the premium brand's offerings than any attempt to hedge bets on which form factor will most appeal to users.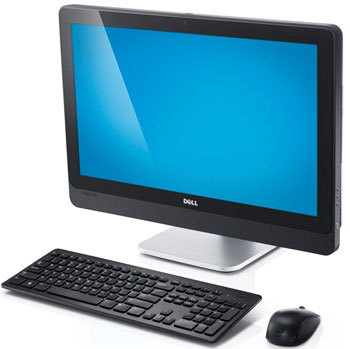 Inspiron One 23
In fact, Dell could be seen as providing both choice and options for its customers.
Dell's XPS line "blends features aimed at what the company calls prosumers — professionals and consumers with a taste for quality design and performance," King told TechNewsWorld.
"The XPS 12 with its flip hinge display — originally introduced in the Inspiron Duo a couple of years back — is the newest member of the XPS family. But the inclusion of touch-enablement, Windows 8 and Intel's latest Ivy Bridge processors make this more than a simple refresh to me," he said.
"In fact, if touch technologies and features become as important a part of the user interface as many people believe," said King, "Dell's new XPS products could mark the beginning of a rethinking of the traditional PC experience."