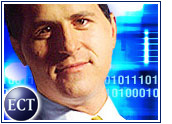 Apple did it. Gateway did it. Even HP did it. Now Dell is finally doing it.
What's the company doing? Getting into consumer electronics, of course. Long viewed with skepticism by PC makers that wanted to cater to the business crowd, consumer electronics is poised to become a life buoy for companies with sagging computer sales.
With the anouncement of a half-dozen consumer-oriented products today, Dell is one of the last of the big-time PC producers to hop on the consumer-electronics bandwagon.
Revolutionizing Technology
"We are revolutionizing technology for our customers — again," Dell chairman and CEO Michael Dell said in a statement. "By introducing high-performing consumer electronics products that closely integrate with the computer, we are delivering what is most important to consumers — content and experience — at a better value than they're currently getting."
Sounding more like Apple founder Steve Jobs than the leader of one of the largest PC makers in the world, Dell said the company wants "customers to enjoy music, movies, home films and personal communications, when, where and how they want."
He added that the move into the broader consumer electronics category is a natural extension of the company's existing product portfolio and provides customers with a single source for consumer technology needs.
Today's new product announcements are just the beginning of an onslaught of gadgets the company expects to release this year. A series of products will be rolled out in the fourth quarter of this year that will be easy to buy from the company and easy to incorporate into home computers or networks, Dell said.
In addition to releasing new products, the company will be revamping its Dell.com web site to "greatly enhance the customer purchase, usage and service experience."
New Products
New products rolled out by Dell today include: the Dell Music Store, a new online service to sell music downloads; a combination, HDTV-compatible, 17-inch flat-screen TV and computer monitor with integrated speakers; and the Media Experience, a software application to be packaged with all Dell Dimension desktops for managing digital media, such as photos, music, video and DVDs.
In addition to this set of electronics, Dell unveiled a new handheld computer, the Axim X3, with optional 802.11b wirelessconnectivity capabilities, plus a new desktop, the Dimension XPS, designed for 3D gaming and high-endmultimedia applications.
Finally, Dell announced a new home-targeted projector, the 2200MP, which will displaylarger-than-life images of sporting events, video games or DVDs on a wall or screen.
Better Profit Margins
Dell's newfound interest in consumer electronics is no surprise to archrival Gateway. "The profit margins are better, and the markets are growingfaster," said Gateway communications director Brad Williams.
Gateway entered the consumer electronics market by introducing a line ofplasma TVs last year. Over the last 12 months, the company has become theleading seller of the devices in the United States.
Williams explained that moving into some lines of consumer electronics isn'tthat hard for PC makers because they can leverage relationships withexisting manufacturing partners. "If you look at an LCD TV, it's verysimilar to an LCD screen for a computer," he said.
While Dell's entrance into the consumer electronics sector could pose formidable challenges to existing players, some of those players — notably Apple and Gateway — might have an edge over the giant PC maker. That edge could be the retail-store component.
"Our retail advantage is coming into its own very quickly because consumer electronics products are overwhelmingly purchased at retail," Williams said.
"We have an advantage over pure direct competitors who don't have retail stores and over traditional CE players who sell through traditional retail channels because we can offer superior pricing and a powerful brand."
Validates Market
As computer makers continue their assault on the consumer electronics market, some in the industry might expect long-standing purveyors of digital gadgets to become anxious about their future prospects.
Rio Audio, for instance, was one of the first companies to market an MP3 player. Now, however, the MP3 player market seems to be getting more crowded every day. But Rio president Jeff Hastings asserted that the arrival of heavyweights like Dell on the scene will improve everyone's prospects.
"From our perspective, it's a good thing," Hastings told TechNewsWorld. "It's a validation that this is a good market, and it will counter a lot of the negative press that's been coming out because of the RIAA lawsuits."