Dell on Tuesday announced that its upcoming Streak mobile device will be available in the United Kingdom in June, and in the U.S. later this summer.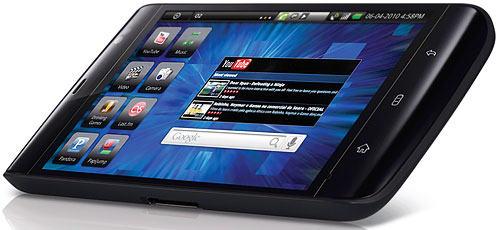 The Streak — Dell's 5-Inch Android-Based Tablet
The Streak, which runs on the Android mobile OS, is "a hybrid device that lies in the space between a smartphone and other larger tablets or netbooks," according to Dell executive Lionel Menchaca.
"The Dell Streak brings together a great Web browsing experience, multitasking capability, slick turn-by-turn navigation, and a great way to enjoy your photos, movies and music into a sleek device that's built for mobility," Menchaca said.
Despite the Streak's apparent similarities with the Apple iPad, Dell officials downplayed such comparisons.
"I wouldn't position it against the iPad; while we do share some common features, the Streak also offers phone features," Dell spokesperson Matthew Parretta told TechNewsWorld. "The Streak's a data-centric device with voice capabilities that's designed to be an extremely small, portable, and still give the real Web experience you can't get on a three-inch-screen device."
Breaking Down the Streak
If the Streak sounds familiar, it's because the gadget blog Engadget published leaked information about it and several other supposedly upcoming Dell products about a month ago.
The Streak has a 5-inch capacitive multi-touch 800-by-400 pixel WVGA display; a 5 megapixel autofocus camera with dual LED flash that uploads to social networking sites like Facebook, YouTube and Flickr; a VGA front-facing camera that will enable video chat functionality in the future; and a battery that can be removed and replaced by users.
Also included: a 3.5mm headphone jack; integrated 3G wireless; WiFi and Bluetooth 2.1; a UMTS/GPRS/Edge-class 12 GSM high-speed wireless radio; and a microSD slot of up to 32 GB of data.
The Streak is built around a 1GHz Snapdragon Qualcomm ARM-based mobile processor. It uses a version of the Android operating system customized by Dell. The Streak features Microsoft Exchange connectivity and integration; Google Voice support; and integrated Google Maps with voice-activated search, turn-by-turn navigation and street and satellite views.
Integrated widgets give users access to social networks such as Twitter, Facebook and YouTube. The Streak will support over-the-air upgrades, and later this year, it will offer Adobe Flash 10.1 on Android 2.2, in addition to video chat applications and other software innovations.
Dell did not disclose the Streak's pricing or its exact time frame for U.S. availability.
Will the Streak Flip, Flop or Fly?
With the euro sagging and the UK's economy in the doldrums, why is Dell releasing the Streak there first instead of here in the U.S.? And will people in the U.K. have the money to buy the Streak?
"It seems that Dell's using the UK as a test market for Streak before releasing it here in the U.S.," Jennifer Jacobson, a spokesperson at Retrevo, told TechNewsWorld. "That may be a smart move, considering America's current fascination with the iPhone, iPad and all things Apple," she added.
"There are a number of reasons, including our having the relationship with O2 for a while and announcing last month that we were working with their parent company, Telefonica," Dell's Parretta said. He denied that Dell is using the U.K. to "test out" the Streak.
The state of the UK economy may not adversely impact sales of the Streak, Laura DiDio, principal at ITIC, told TechNewsWorld."Despite the ongoing economic downturn, people always seem to have money for discretionary purposes," DiDio pointed out. "Whether or not the Streak takes off in the U.K. depends on how well Dell markets it."
Marketing, though, could pose a problem. "Dell doesn't want to call the Streak a smartphone," Jacobson said. "I guess this leaves us with the label 'tablet computing device that can make phone calls.' Such an unusual label will, I think, be difficult for consumers to accept and use."