Dell on Tuesday announced its latest all-in-one desktop, the 27-inch XPS One 27.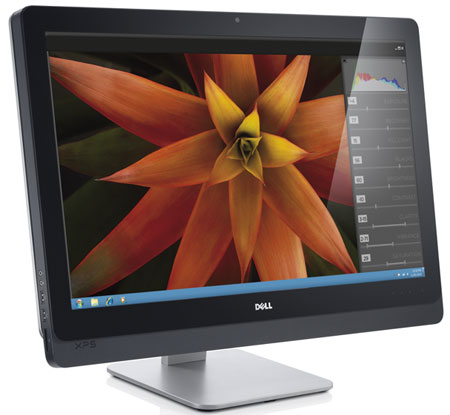 The Dell XPS One 27
It has what Dell calls a "Full Quad HD" screen with a resolution of 2,560 by 1,440 pixels. It has Intel i5 or i7 quad core processors with Intel Turbo Boost technology, high-performance graphics from Nvidia, and entertainment features as well as an optional internal TV tuner.
The XPS One 27 appears to be positioned directly against Apple's iMac, another big-screen all-in-one desktop.
"The market is ready for competition, and this offering beats Apple on overall value," Dell spokesperson Ellen Murphy told TechNewsWorld.
Apple's rumored to be working on a new iMac built around Intel's i7 processor as well, but "the fully loaded XPS should be competitive with the coming iMac and should be faster than the one currently on the market," Rob Enderle, principal analyst at the Enderle Group, remarked.
Desktop sales are likely to be strong, Enderle said, pointing out that Lenovo had "very good" numbers. Dell's recent financial problems are the result of its focusing on the back end right now, so PC sales have become "collateral damage."
The Dell XPS One 27's Specs
The XPS One 27 will offer users a choice of third-generation Intel Core i5-3450 or i7-3770 processors with Intel Turbo Boost Technology. It also has Intel Smart Response Technology.
An Intel HD 4000 graphics processing unit (GPU) comes standard with either of the two Intel Core processors, but purchasers will have the option of an Nvidia GeForce GT 640M GPU instead.
Standard features include a 1TB hard drive, a DVD drive, Waves MaxxAudio 4, built-in Infinity-branded speakers, integrated 7.1 Surround Sound, a full HD Webcam with an integrated dual digital microphone array for Skype, integrated 10/100/1000 Gbit Ethernet LAN, Bluetooth 4.0, and USB 3.0 and 2.0 ports.
The XPS One has a wide-format 16:9 WLED display. However, Dell's claim to its being a Full Quad HD screen might be called into question.
Quad Full High Definition, or QFHD, has a display resolution of 3,840 x 2,160 pixels arranged in a 16:9 aspect ratio. Dell's Full Quad HD screen has a resolution of 2,560 x 1,440 pixels. However, Dell didn't call its screen "Quad Full HD" but rather "Full Quad HD," so it's up to the purchaser to spot the difference.
The screen size is a good choice, though, said Enderle. "As panel costs have come down, 27 inches is the new sweet spot for size and cost, so a few of the vendors are exploring this class," he told TechNewsWorld. "This is important in an all-in-one because you can't change or upgrade the screen."
The XPS One 27 comes with Windows 7 Home Premium. Its price will start at US$1,400. It will be available in the United States in a few weeks but is already available in some Asian countries now.
Why a Win 7 PC Now?
Given that Windows 8's debut is looming, was Dell wise to unveil yet another Windows 7 offering?
"The XPS One 27 offers the best technology available on the market today for optimal performance," Dell's Murphy said. "With the fast evolution of technology, some customers may choose to wait for Windows 8, but some of our customers will want to purchase now."
However, Dell might be jumping the gun because "we're still midway into the Windows 7 adoption cycle, and the selling point for Windows 8 is going to be rather challenging," Charles King, principal analyst at Pund-IT, told TechNewsWorld. "The consensus among vendors I've spoken with is that demand among consumers for Windows 8 PCs may not be as enthusiastic as Microsoft had hoped."
Taking on the iMac
Price-wise, the Dell XPS One 27 beats the iMac hands down; the base model's expected to cost about $1,400, while the base 27-inch iMac comes in at $1,700.
The XPS One 27 matches the iMac's screen resolution of 2,560 x 1,440 pixels. However, the Dell machine uses a 3GHz third-generation Intel Core i5 processor, while the iMac uses a 2.7GHz Intel Core i5.
"Unlike the iMac, you have graphics choices from the generic Intel Graphics to Nvidia GT 640M graphics, which should be very competitive with the older 6970M AMD part that Apple uses," Enderle said. Apple "will likely up their graphics spec when they refresh."
Design-wise, the XPS One 27 has a metallic silver color housing, a one-cord design and a wireless keyboard and mouse.
"I don't think Dell's trying to simply emulate Apple; I believe they think they could come up with a better product," Pund-IT's King said.