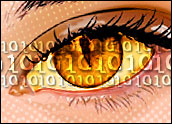 Germany might go off the global Internet in response to the United States National Security Agency's recently uncovered surveillance activities.
Instead, German telecommunications giant Deutsche Telekom, whose motto is "Life Is for Sharing," has proposed a national routing scheme that would see all data packets — including emails — transmitted only within the country's borders, WirtschaftsWoche recentlyreported.
In particular, data packets would no longer go through discredited nodes in the U.S. and the UK.
'Email Made in Germany'
The proposal was reportedly presented at Germany's Federal Ministry of Economics and Business on Oct. 1. Implementation would require support from foreign carriers such as Vodafone and Telefonica, which are apparently studying the proposal.
In light of technical and legal hurdles to the idea, DT has reportedly suggested that Germany pass a law making the national routing scheme mandatory.
DT's proposal is an outgrowth of an encrypted email service, "Email Made in Germany," launched in August by the company's T-Online division with two other major German email providers: GMX and Web.de.
That effort used German servers to process and store all local email traffic.
Submarine Cables
Iran proposed a similar move back in 2011, and Brazil's President Dilma Rousseff is pushing legislation to force Internet companies such as Google and Facebook to store local data within Brazil's borders.
Rousseff also wants to construct submarine cables that do not route through the U.S.; build Internet exchange points in Brazil; and create an encrypted email service through the country's postal service.
DT can set up a local Internet in Germany, Pete Ashdown, founder and CEO of Xmission, told TechNewsWorld.
It would need its own root DNS servers and its own designs for address allocation as well as a protocol to hand off traffic to the Internet at large, Ashdown said.
However, such a venture would also require government funding and the network would require maintenance and — possibly — monitoring "in the form of deep packet inspection just to ensure network efficiency," Jim McGregor, principal analyst at Tirias Research, pointed out.
We're All One World, Dammit!
Yet segmenting all communications is impossible, Ashdown opined: "Look at how China and other autocratic regimes have tried to control the Internet."
Encryption protocols will get tighter as a result of the NSA's spying, but "there are enough people who want to preserve the good and open aspects of the Internet that segmentation and firewall efforts will eventually fail," he continued.
"If you create restrictions, the very people you try to restrict will likely be the ones that find a way around the wall," McGregor told TechNewsWorld.
To Thine Own Self Be True
The idea of an internal German Internet might have been raised for political gain, McGregor speculated.
In fact, Germany's foreign intelligence agency — Bundesnachrichtendienst, which goes by the acronym BND — wants to expand its role internationally through a program named "Technikaufwuchsprogramm" to become a mini-NSA, Spiegel Online reports.
At the same time, DT may also have more mundane concerns: There has been speculation that the company is seeking to curb traffic being routed through servers abroad to increase its revenue.
Meanwhile, it's not likely that DT could carry out its ambitious plan because it owns T-Mobile, which puts it under U.S. financial scrutiny. Further, other carriers might not agree with its plan.
Anger Is the Best Medicine
Then, too, there's the possibility that the outrage being voiced by EU countries is just an act.
Asked McGregor, "don't you think the British, French, German, and Russian intelligence agencies have similar efforts?"