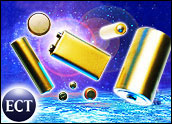 Fuel cell technology for big-ticket consumer items like automobiles is still many years away, based on numerous industry reports. However, the day when portable devices like laptop computers, PDAs and cell phones can run for extended time periods without refueling is indeed much closer.
High-demand consumer devices such as mobile phones, notebook computers, cameras, PDAs and MP3 players run on rechargeable lithium-ion batteries. According to industry experts, lithium-ion batteries are close to reaching maximum capacity.
Fuel Cell Technology
Many firms are trying to develop viable fuel cells. At least three companies have working prototypes of fuel cells powering laptops. Some analysts hint that first-generation units could be available by year's end.
Fuel cells are zero-emission technology. They offer the promise of a renewable source of longer-lasting power.
So far, however, much of that promise is more hype than delivery.
Fuel cells generally use hydrogen or alcohols such as methanol for fuel. They can provide as much as 10 times the power per unit weight of a lithium-ion battery.
Fuel cells generate electricity through a chemical reaction between oxygen and a fuel, such as methanol.
According to researchers, methanol produces less energy than hydrogen. This reality is pushing researchers to design batteries using methanol for portable devices that require less energy.
The methanol fuel cells are smaller and are easier to store.
Gasoline Replacement
On the transportation front, General Motors is partnering with Shell hydrogen to develop hydrogen pumps at a retail gas station in Washington, D.C., to fuel an experimental fleet of six GM hydrogen-powered minivans.
According to media reports, General Motors recently signed a US$88 million development contract with the U.S. Department of Energy to further develop the technology over the next five years.
The plan calls for building a fleet of 40 hydrogen fuel cell vehicles. GM will spend $44 million to deploy fuel cell demonstration vehicles in Washington, D.C., New York, California and Michigan.
Fuel cell development for portable consumer items might get to market much sooner.
Working Models Show Promise
Antig Technology, a Taiwanese company, demonstrated two fuel cell products at the CeBit trade show in Germany last month.
One device, the size of a CD-ROM, is a compact prototype 12W fuel cell integrated into a notebook PC. The other device is a prototype fuel cell charger for cell phones.
Millennium Cell, a New Jersey firm, displayed its hydrogen-based fuel cell solution at the Intel Developer Forum recently. That prototype generates enough power to run a laptop for eight hours.
Millennium Cell is under contract with Dow Chemical to develop the laptop fuel cell product.
Thinkpad Notebooks Run on Methanol
IBM announced last week that a development deal it inked with Sanyo has produced a working prototype for IBM's ThinkPad notebooks.
A prototype micro direct methanol fuel cell system now can power the ThinkPad line of notebooks for eight hours per replaceable cartridge The fuel cell will work on current and future ThinkPad models.
Howard Locker, IBM chief architect for mobile and desktop systems, said this fuel cell development is a significant breakthrough.
Other prototypes require a modified design to outfit fuel cell batteries. Sanyo's system is designed to be compatible with most current ThinkPad models without the need to alter the notebook design.
The fuel cell system also includes an auxiliary bay as a secondary power source to the existing laptop battery. The auxiliary bay can also be used to charge the existing Ultrabay Slim Battery.
Eight Hours Not Adequate
As impressive as the IBM-Sanyo fuel cell is, Locker said an eight-hour fuel cell will not have a viable market.
"Eight hours isn't marketable. We have to solve that problem first. That is only the equivalent of two rechargeable batteries," Locker told TechNewsWorld. "We need ten times longer. But you have to start somewhere."
He said consumers will demand longer batter life from fuel cells than they can get by buying one or two extra rechargeable batteries.
"Everybody is looking for a breakthrough in battery packs. What we have now with the fuel cell development took four or five years. Eight hours is not the Holy Grail of battery life," he said.
Still a Prototype
Locker said what makes IBM's prototype different from other developers is its placement. The fuel cell goes outside the laptop.
The fuel cell plugs into the ThinkPad's socket that otherwise would hold the cord from the AC power brick.
In a video demonstration IBM provided, the external fuel cell resembles a docking station. The device has a raised upper portion and a thin base the same size as the laptop.
The user removes the existing battery and places the ThinkPad onto the fuel cell unit. The upper portion of the fuel cell fits snugly against the back edge of the laptop.
The fuel cell plugs into the laptop's power socket. A power button on the side edge of the fuel cell's base activates the power source. The user then powers on the laptop.
The demonstration shows that the laptop remains operational while the fuel source is replaced. The square-shaped block slides off the rear of the fuel cell, and the replacement block slides on in its place.
IBM Leading Pack
The fuel cell system IBM is developing with Sanyo could enable ThinkPad notebooks to run intensive business applications, such as multimedia, graphics and computation programs, while performing tasks such as security updates and scheduled maintenance without draining PC battery power.
These capabilities could provide added stability for increased productivity, access to information and customer service. It could also provide a huge market for military use in the battlefield, said Locker.
"There are a number of vendors developing fuel cell battery prototypes for PCs and mobile devices, but the combination of IBM's first-class ThinkPad notebooks and Sanyo's leadership position in the technology will accelerate research and development in the field," Peter Hortensius, vice president of IBM Personal Computing Division, said.
"We do not focus simply on the 'wow factor' of fuel cells. We see it as a powerful enabler that could support a wide variety of business applications," Hortensius said.