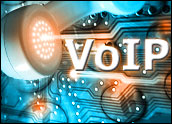 Making telephone calls over the Internet is nothing new. Once the arena for hobbyists and techies, Internet telephony is now a proven technology.
Internet phone calls are so reliable and popular that Ma Bell and her competitors use the digital superhighway to carry much of their own hard-wired long distance phone traffic.
However, the Federal Communications Commission (FCC) has made the once almost-free Internet phone call scenario more costly. The regulatory agency has ruled that phone companies are entitled to user fees for Internet-based phone calls.
Free Calls in a Box
However, very low-cost Internet phone calls are once again a reality thanks to an innovative hardware device from Actiontec Electronics. With the Internet Phone Wizard, there is no need to pay a monthly fee for Internet phone service or sit at a computer when placing phone calls over the Internet.
All that is needed is the Actiontec hardware and a Skype account. Of course, a broadband connection and PC are still necessary.
The Internet Phone Wizard is a small hardware device that enables consumers to make and receive free or low-cost Internet phone calls from a regular phone using Skype Technologies' Internet calling service.
The combination lets consumers use the same phone for both regular and Internet calls. This avoids the complications of needing separate handsets for each.
The device works with regular corded and cordless phones to call any Skype user for free and everyone else at low SkypeOut rates. The only drawback is that people who do not have Skype service cannot call in to you through your Skype service even though you can call them, because Skype does not issue phone numbers; they would have to call you at your regular phone line. Thus, this setup would make for a good second phone.
"The device combines the best of both worlds," Actiontec's vice president of marketing, Gunjian Bhow, told TechNewsWorld.
How It Works
The Internet Phone Wizard plugs directly into the PC and the telephone much the same as an external modem links a telephone and PC to the user's home phone line. The PC connects to Skype via the Internet.
To make a call to any number worldwide, the user just picks up the phone and dials. Calls to other Skype users can be made using the Skype Speed-Dial list. Calls to non-Skype users are dialed with the standard house or office phone.
The Phone Wizard automatically handles the dialing. It moves the Skype call from the computer to the phone for a more natural interaction.
If an incoming call is received during the Skype conversation, pressing the pound (#) key twice puts the first call on hold and picks up the second call.
Money-Saving Loophole
The Skype phone service places long distance calls for two or three cents per minute to non-Skype subscribers. Calls to Skype subscribers are free.
Bhow said the Skype service is so cheap because of a loophole in the federal regulatory rules governing phone call rates.
"The FCC treats these calls as Instant Messaging traffic over the Internet. So there is no phone bill generated or hefty per call costs," Bhow said.
Phone calls placed through the Skype service and the Phone Wizard do not go through a local phone carrier to reach the Internet. The Skype service does not assign actual phone numbers. Instead, it assigns subscribers IP addresses.
Popularity Growing
Actiontec launched its Phone Wizard service with Skype in January. Actiontec is banking on its Phone Wizard hardware to attract more domestic attention.
Actiontec's Bhow said user feedback to the Phone Wizard is very favorable. He added that Skype's popularity outside of Europe is starting to grow.
"We found Europeans are more likely to use Skype. So far, the user base here in the U.S. is less than 10 percent but growing," Bhow said.
He noted that Actiontec might partner with other phone service providers and add more features.
Hassle Free
A new technology eliminates the tell-tale signs that usually accompany Internet phone calls. There is little or no echo or latency in the delivery of the voice message. Thus, the voice quality is as clear as a regular phone connection.
The Phone Wizard and Skype Internet connection requires no network configuration or change in firewall or router settings.
The Phone Wizard does not need an external power supply. It is powered through the USB port of the user's PC.
The Skype-enabled service eliminates any monthly subscription fees to a commercial Internet calling service. The phone connection works from any extension phone tethered to the same house or office phone line that is connected to the computer.
Second Line Bonus
With the Phone Wizard installed, users get a second phone line without charge. If someone else is on a landline call in one room, another person can pick up the Skype-connected phone in another room, tap a few buttons, and make an Internet call on the spot.
"Using the Internet to make phone calls clearly saves money, but until now the fact that you couldn't use the same phone for both landline and online calls was a major drawback," Bhow said.
The Phone Wizard is completely transparent to those receiving phone calls placed through the Skype service.
Pricing, Specifications
The Actiontec Internet Phone Wizard is available for $69.99 at www.actiontec.com. Minimum system requirements include a Windows 2000/XP PC with a 400 MH processor, 128 MB RAM, CD-ROM drive and an available USB port, plus a LAN or modem-based Internet connection.
Skype's Internet calling service is available as a free download at www.skype.com.
For more information, phone (408) 752-7700.
---

Read More Reviews…
---