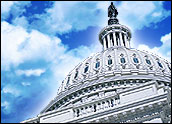 While consumers have been slow to move to digital TV, that hasn't deterred Congress from trying to goose the transition process.
That process includes snatching back spectrum currently used to broadcastover-the-air analog TV channels — a process that, under current law, issupposed to occur by 2007 — but only if 85 percent of the households inAmerica can receive digital TV signals.
Meeting that 2007 deadline isn't likely to happen, so yesterday the SenateCommerce, Science and Transportation committee approved a measure to reclaima portion of the broadcast spectrum in 2008 regardless of how manyhouseholds have DTV receivers.
Deadline Clipped
The bill, which now goes to the full Senate for action, requires TV stationsin channels 60 to 69 — about 75 stations in all — to be turned off in 2008 andthe spectrum turned over to public safety providers.
In approving the partial grab-back, the committee rejected a proposal by itschairman, Sen. John McCain, R-Arizona, to unconditionally push analogbroadcasters out of the spectrum by Jan. 1, 2009 — a requirement some say iscrucial to the transition process. "It isn't going to happen if they don'thave a firm deadline," Mark Cooper, director of research for the ConsumerFederation of America in Washington, D.C., told TechNewsWorld. "If they wantit to happen, they're going to have to make it happen."
McCain Victory
Nevertheless, some analysts see the committee action as a victory forMcCain.
"Any action for removing channels and reassigning them has been somethingthe National Association of Broadcasters (NAB) has been fighting mightily, sothe fact that there's something in the bill saying any channels should beturned off is a significant breakthrough for John McCain," Gerry Kaufhold,principal analyst for converging markets and technologies at In-Stat/MDR inScottsdale, Arizona, told TechNewsWorld.
Although the proposed law may satisfy public safety agencies who have beenclamoring for bandwidth to deal with their increased homeland securityresponsibilities, it does little for the U.S. Treasury, which stands to reapa windfall when the bandwidth is reclaimed and auctioned off to telecomproviders.
"Until we get to the point when they actually turn off the other analogchannels and hold the auction for telecom services, the government is losingmoney," Kaufhold maintained.
Subsidies for Conversion
A McCain idea that remains in the legislation approved by the committee isthe granting of subsidies to low-income households to help them purchasehardware that enables analog TVs to receive digital broadcast signals. "Thatcould have an important effect on adoption," Kaufhold contended. "You don'twant people's television sets to all of a sudden go dark. That's apolitically unacceptable solution."
"Having gotten the subsidy into the language is an important step becauseone of the arguments against turning off analog TV has been that poor peoplewon't have any TV," he continued. "Getting a subsidy clause into a pendingpiece of legislation is an important step that shows that the government isserious about doing this."
NAB Senior Vice President Dennis Wharton noted that administering a DTVsubsidy could be problematic. He explained that 17 to 20 percent of U.S.households have over-the-air only TVs. On average, those households havemore than two TVs each. On top of that, there are many cable and satellitehouseholds that have second and third TVs that are over-the-air only.
Time Short for Passage
"The question is," he told TechNewsWorld, "when you have a subsidy, do youpay for converters in cable households for second or third sets, or do youpay for only houses that are unwired to cable and satellite?"
With probably less than a month left in this Congressional session, passageof the bill — dubbed the Public Safety Spectrum Act — is questionable."There's only a few days left in this session of Congress and it's uncertainwhether this will actually become law," Wharton said.