Disney on Thursday introduced EPSN+, an all-in-one, direct-to-consumer premium streaming service that offers thousands of live sporting events as well as original series and films. It also will provide access to the vast ESPN on-demand library.
ESPN+ is the first such premium service from The Walt Disney Company'sDirect-To-Consumer and International Group through a partnership withESPN.
The release of ESPN+ coincides with the release of the free ESPN App, which features five primary navigation menus.Viewers can catch live events; check scores; watch news and analysis; view video clips; or listen to ESPN Radio content.
In addition, the new ESPN app provides authenticated live and on-demandaccess for TV subscribers to the U.S. linear and digital networks,including ESPN, ESPN2, ESPN3 and other ESPN TV properties.
ESPN+ is akin to overtime play or extra innings for serious sports fans. It includes coverage notcarried on the ESPN channels or much more in-depth coverage than programming found there.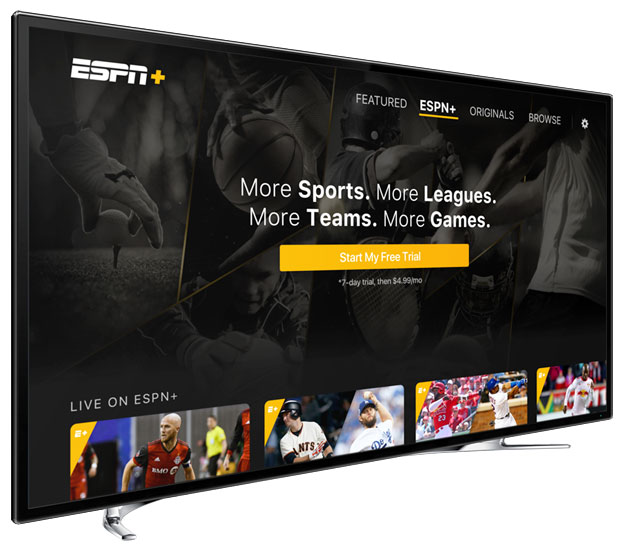 Among its offerings are MLB, NHL and MLS games not already covered, as well as Grand Slam tennis, Top Rank boxing, the PGA Tour golf, and many college sports. International sports such as rugby and cricket also are featured.
The premium service offers the same functionality as the ESPN app, including theability to pause, rewind and restart live programming. It featureslimited advertising. There are no display ads and no pre-roll ads with ESPN+ exclusive content; however ads will appear in the natural advertising breaks of live events.
The ESPN app is available for Android, iOS, Apple TV, Chromecast,Fire TV and via the Web. No separate ESPN+ app is needed — thecontent is accessible on the current ESPN app to viewerswho sign up for the premium service, which is availablefor US$4.99 a month or $49.99 for a year.
A seven-day free trial is now available; those who sign up for it by April18 will have the trial period extended for 30 days.
Bonus Content as Gateway
Part of the draw of ESPN+ could be original content, beyond thesporting events, including documentaries and other ESPN exclusives.
The short-term strategy is similar to CBS All Access, which includes exclusive content as well as content from the broadcast network. This approach signals an effort bymedia companies to change the delivery method while following thetraditional TV content model.
"The strategy that Disney is pursuing is more like carving up theaudience than what Netflix and Amazon have provided," said Dan Cryan,senior director of digital media for IHS Markit.
"Right now, ESPN+ is really a collection of less valuable content, andit may need to move the more valuable content to bring over morecustomers," he told TechNewsWorld.
However, "this is just the first step in Disney's longer journeytowards direct-to-consumer services," added Joel Espelien, senioranalyst at TDG Research.
"It is a learning exercise in every respect, and I would expecteverything from the price to the content and even the name to evolve,"he told TechNewsWorld.
Addressing an Audience Shift
Disney's move with the new ESPN app and ESPN+ will allow thetargeting of content directly to cord cutters and cord nevers– and that could be an unsettling portent of the future oftraditional pay-TV platforms.
Content is the key, and ESPN+ initially may not deliverenough to grab mass audience attention.
"The services that are doing really well and leading the market arethose who provide a far fuller bundle of content than traditionalchannels — they are fat channels and include players like Netflix andAmazon," noted IHS' Cryan.
It is unlikely that individuals will subscribe to everyoffering from Disney/ESPN, HBO, CBS and others — or it couldresult in their paying even more than the cost to subscribe to a cable orsatellite service. However, Disney could include content from its otherprogramming channels — Disney, ABC and others — in one offering.
"Over time, it means that a linear bundle will be one way — but not theonly way — to go," added TDG's Espelien. "A la carte willappeal to some but certainly not all."
Play Ball
One possible future scenario is that the major sports leagues won't needESPN — instead, they will provide content directly to fans via streaming services.
Major League Baseball already offers content to fans, noted Cryan, but it may be an exception rather than a trendsetter.
"There is simply more baseball than can fit on a traditional TVschedule, but when you get to other sports there just aren't that manygames," he pointed out.
"Fast-forward five years, and we could see more games from the proleague that are offered directly to the consumer — but the challenge isthat there aren't enough mass market sports fans," Cryan said.
"There are those who watch some sports and a few games, but it is hard to seemost people signing up for sport-specific apps, when so much isbundled in a basic cable package," he added. "As for the leagues, the high carriagefees they're charging also work out quite well."