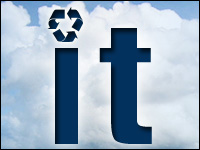 Although the ultimate definition of "the cloud" remains elusive to vendors and end users alike, the cloud represents the next major paradigm shift in the IT industry and business computing.
Coinciding with the emergence of cloud computing, green IT and sustainability are becoming integral components of corporate strategies in top-performing organizations.
Businesses are looking at green IT solutions to reduce costs, energy consumption and carbon emissions.
For businesses of all sizes, cloud computing can deliver operational efficiencies while establishing the building blocks for the next major wave of IT innovation and business architectures.
Cloud solution providers can range from developers of cloud-specific enabling technologies to large solution providers offering cloud computing with infrastructure, platform or applications capability.
Defining Categories
For purposes of Aberdeen's research studies, we have defined the vendor landscape in three major categories:
Cloud consulting and integration: consulting and integration firms, and the services division of cloud solution providers that provide assessment tools, consulting expertise and integration services for cloud computing
Cloud infrastructure providers: Infrastructure to enable cloud computing, including computing, networking, security, software and storage
Cloud service providers: Providers of cloud platforms and cloud services for business use, including Software as a Service (SaaS), Platform as a Service (PaaS), and Infrastructure as a Service (IaaS)
Aberdeen Cloud Vendor Landscape (Partial List)
Company
Cloud Consulting & Integration Providers
Cloud Infrastructure Providers
Cloud Service Providers
3PAR
*
3Tera
*
Accenture
*
*
Akamai
*
Amazon
*
Appistry
*
AT&T
*
*
BMC Software
*
CA
*
*
*
Cisco
*
*
*
Citrix
*
*
CSC
*
*
Dell
*
EMC/VMware
*
*
Enomaly
*
GoGrid/ServPath
*
*
Google
*
*
HP
*
*
*
IBM
*
*
*
Intuit/Quickbase
*
*
JuniperNetworks
*
Microsoft
*
*
Navisite
*
NetSuite
*
Nexsan Technologies
*
Oracle
*
Rackspace/Mosso
*
Rightscale
*
Salesforce.com
*
Savvis
*
Sun Microsystems(Oracle)
*
Sungard
*
*
*
Symantec
*
*
Terremark
*
Tibco
*
Verizon Business
*
*
Wipro
*
*
Yahoo
*
Zoho
*
While not all cloud service providers have located their data centers at renewable-energy sites, cloud computing is paving the way toward more energy-efficient IT services.
Whether or not cloud computing deployment decisions by businesses are tied directly to green IT and sustainability goals, cloud and green share a common foundation in many respects. A major first step in the implementation of green IT strategies includes the virtualization of IT infrastructure, including server, storage, networks and security. Virtualization is also the foundation of cloud computing. Virtualization allows for the abstraction of the hardware from the computing environment, which is exponentially more powerful than traditional hosting, which simply moves hardware from one location to another.
As the next major wave of IT innovation, the adoption of cloud computing requires top-down senior management commitment and oversight. The implementation of green IT initiatives and cloud computing solutions share a common goal of reducing the cost and complexity of IT infrastructure. Further, organizations are embracing virtualization as the common foundation for green IT and cloud computing.
Know Your Environment
From a process and knowledge perspective, the implementation of green IT and cloud initiatives both require a comprehensive understanding of the baseline IT environment, including technology, energy and operating costs.
From a technology standpoint, virtualization of IT infrastructure represents the first major step in the implementation of green IT initiatives and also provides the foundation for a business moving toward a cloud-based computing environment. Best-in-Class companies are embracing virtualization and building a knowledge base around the cloud computing model.
For smaller companies, cloud services provide immediate benefits of cost reduction and improved time to market. As the next major wave of IT innovation, cloud services is eliminating technological and financial barriers for smaller companies in terms of value creation and ability to scale. For the large enterprise, cloud computing is providing unprecedented opportunities to virtualize complex data center functions and abstract hardware management from business applications.
Common key actions by end users in the evaluation and implementation of cloud and green IT initiatives include:
identify the cost benefit of cloud platforms and cloud services through an assessment process
align green IT initiatives as a building block for moving toward a cloud-based business architecture
measure and monitor ROI and end-user satisfaction of cloud services
Establish a baseline of the "as is" environment as the first step in identifying the cost of cloud platforms and cloud services
The results of Aberdeen's upcoming study, "Does Your Cloud Have a Green Lining?" will focus on the key business drivers for adoption of cloud platforms and cloud services, and how key green IT initiatives are providing a foundation for the transformation of business computing environments to a cloud-based model.
---
Bill Lesieur
is the director of green IT and sustainability at the Aberdeen Group.
Click here
to join Aberdeen's new LinkedIn Group, Green IT & Sustainability Research. End user organizations can also contact us for additional information, discussion or to join our survey community via:
[email protected]
---