Verizon on Thursday marched out its latest Android smartphone, the Droid 3 from Motorola.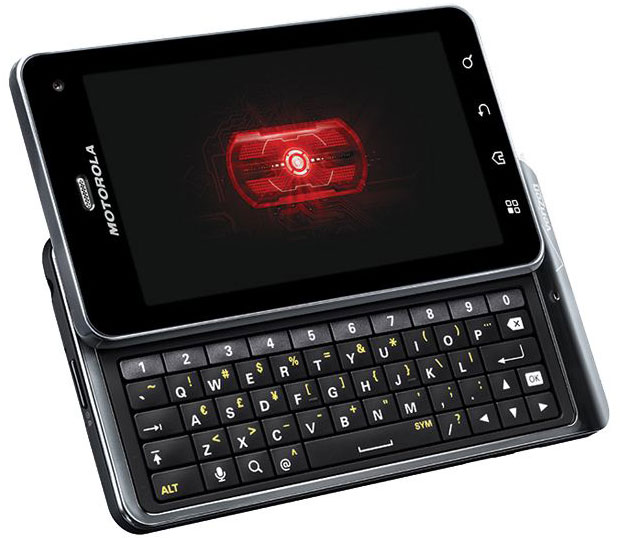 The Verizon Droid 3 by Motorola
The release marks the latest in a line of phones often credited with helping to revive Motorola's strength in cellphones and giving Verizon a heavy-hitting rival to AT&T's iPhone — before Verizon started carrying Apple's phone as well, that is.
Unlike previous devices in the Droid line, though, relatively little fanfare accompanied the release of this new smartphone.
"Where's the marketing support behind the Droid 3?" asked Ramon Llamas, a senior analyst at IDC.
Hardware-wise, the Droid 3 appears to offer only incremental improvements over its predecessor, the Droid 2.
It has an 8MP rear-facing camera that takes 1080p HD video, a 4-inch qHD display, a front-facing VGA camera for video chat, a five-row QWERTY keyboard, 3G mobile hotspot capabilities and HDMI output capability. It incorporates Motorola's ESP smart dock technology, first seen in the Motorola Atrix.
"You have the Smart Dock technology, so that's a new piece," IDC's Llamas said. "You'll pretty much find the rest of the specs on just about any other smartphone," he told TechNewsWorld.
"Droid represents the best of the best in the Android lineup from Verizon Wireless," Verizon spokesperson Brenda Boyd Raney told TechNewsWorld.
Tech Specs for the Droid 3
The Droid 3 runs on Android 2.3 Gingerbread. It's global-ready, meaning it can be used in more than 200 countries with the appropriate services. Of these, 125 offer 3G connectivity.
Taking enterprise IT's nervousness about the security threats posed by the consumerization of IT into account, the Droid 3 has advanced security policies, device and SD card encryption, remote data wipe capabilities for both the device and SD cards in it, and it supports complex passwords.
The Droid 3 also has other enterprise capabilities. One is support for document and presentation viewing and editing with Quickoffice.
Further, the device incorporates Citrix GoToMeeting webconferencing for Android application and the Citrix Receiver for Android software clients. The latter lets enterprises deliver corporate apps, desktops and data to any device.
The Droid 3 is available online now from Verizon Wireless's website. It will be on the shelves of Verizon stores July 14. Price is US$200 with a new two-year contract.
Technology Isn't Everything
Motorola is focusing on the Droid 3's technical capabilities.
"With Droid 3, you're able to leave the camera at home and still capture memories in sharp detail with the 8MP camera with LED flash and digital zoom," Motorola spokesperson Danielle McNally told TechNewsWorld.
"Use the front-facing VGA camera to video chat with friends and co-workers," McNally added. "The Droid 3 also lets you capture crisp and clear 1080p HD video, share content on other HD-enabled devices via HDMI, and … its display boasts 30 percent faster graphics and 26 percent sharper definition than its predecessor."
The Missing G
Perhaps the most conspicuously absent detail on the Droid 3's spec sheet is support for 4G networks.
"Where's the LTE capability?" IDC's Llamas asked. "Verizon is clearly pushing LTE, and the Droid 3 doesn't support LTE."
It's possible Motorola pushed out the Droid 3 in order to remain on the radar screen in a fast-changing market where device manufacturers seem to bring out new smartphones weekly.
"I think Motorola's trying to keep something out there at all times to maintain its presence," Llamas speculated. "One of the easiest ways to do this is to just take an existing device and update it," he added.
Why Get the Droid 3?
There may be yet another dimension to what the Droid 3 lacks.
When a new product is put out on the market, its sellers have to talk about what it has and where it's going and its core theme, ABI Research senior analyst Michael Morgan told TechNewsWorld.
"You have to know what is your core theme," Morgan said.
"Apple has a lifestyle, that's its core theme," Morgan elaborated. "Motorola is trying to build something like that with its Droid line but it doesn't have something that ties all its devices together except the name and the fact that they have the latest in technology."
The keyboard is a differentiator among devices that generally don't have one, but "that makes the Droid a niche device, so it can't be the universal phone," Morgan stated.