Motorola announced six new smartphones running the Android operating system on Tuesday at the CTIA conference and show in San Francisco.
These include the Droid Pro, an Android-based business smartphone that will run on Verizon's network.
Verizon will also carry the basic Citrus smartphone, which is another of the six announced.
AT&T will carry another three of the six — the Bravo, Flipout and Flipside. No carrier has been announced for the last Android smartphone announced Tuesday — the Spice.
Motorola also announced three new hands-free devices in its Elite Series — the Finiti, the CommandOne and the Roadster.
The Power of the Droid
Smartphone sales in the U.S. are growing. Comscore's August 2010 U.S. mobile subscriber market share report says 55.7 million Americans owned smartphones in the three months leading up to August. This was 14 percent higher than the May period.
Research In Motion was the leading mobile smartphone platform in the U.S., with 37.6 percent of the market; Apple was second, with 24.2 percent; and Google's Android was third, with 19.6 percent. However, Android continues to rack up the gains — it picked up 6.6 percentage points in the period leading up to August, while every other platform lost ground, comScore said.

Droid Pro
"The Android operating system is really hot right now," Maribel Lopez, founder of and principal analyst at Lopez Research, told TechNewsWorld. Motorola is leveraging that popularity, as it has said all along that it would.
Motorola's timing was critical. "Motorola needed to announce anything they had in the pipeline by October, and it's just getting under the wire with the Droid phones," Lopez pointed out.
Brief Details About the New Motorola Lineup
The Citrus is touted as "highly affordable" by Motorola. It has Backtrack, a touch panel on the back that lets owners use it with one hand. It also has a touchscreen, a full HTML Web browser that offers the standard stuff — access to email and social networking — and seven home screen panels. It has an on-screen QWERTY keyboard.
The Spice has a full QWERTY keyboard, a multitouch screen and Backtrack. It also has Motorola's Flashback application. This lets users view and manage content from one application.
The Bravo has a 3.7-inch full WGVA touch screen and a 3MP camera with digital zoom and autofocus, as well as access to email and social networking sites. It's got an 800MHz processor. The Bravo is a Digital Living Network Alliance-enabled device, which means users can stream, store and share content with PCs, TVs and other mobile devices over WiFi.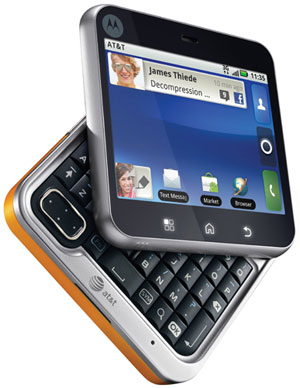 Flipout
The FlipOut has a pivot design and a 720 MHz processor. It also has MotoBlur, Motorola's own Android smartphone user interface. The FlipOut has a full keyboard with a dedicated fifth row for numbers.
The remaining two Android smartphones announced Tuesday — the FlipSide and the Droid Pro — are aimed at enterprise users.
For the Business User
The FlipSide has a full slide-out QWERTY keyboard, a 3.1-inch high-resolution HGVA touchscreen, and a laptop-like track pad. It supports Microsoft Exchange, a unified inbox, and push corporate email. The FlipSide also has enhanced features such as remote wipe and password enforcement for IT compliance.
The big dog in the lineup is the Droid Pro, which is focused strongly on enterprise users. This device has a 1 GHz processor, a QWERTY keyboard; and a 3.1-inch multitouch display.
Citrus
The Droid Pro supports Adobe Flash Player 10.1, has Motorola security features including AuthenTec IPSec multi-headed virtual private network integration, remote wipe capabilities for both the device and SD cards, and complex password support. Device and SD card encryption will be added in early 2011.
The Droid Pro also has a 5 MP camera with autofocus and dual LED flash that supports DVD-quality video. It can also serve as a 3G mobile hotspot for up to five other WiFi-enabled devices. Further, the Droid Pro can be used as a global smartphone.
"I think the Droid Pro may be the first of several versions Motorola will offer," Lopez said. "Maybe people will want more features such as a bigger screen so Motorola will incorporate these into the next version."
Neither Motorola nor Verizon responded to requests for comment by press time.
Gunning for the Enterprise
Motorola made a smart strategic move in targeting the enterprise market, Lopez remarked.

Spice
"All the enterprises I've talked to are thinking of whether they will have or should have Android devices in the enterprise," Lopez pointed out. "They're looking at Android because employees are bringing Android devices into the company and they have to figure out how to support these."
The Droid Pro may increase pressure on the BlackBerry, which is losing ground in the smartphone operating systems market. Comscore's August 2010 U.S. mobile subscriber market share report showed that the BlackBerry lost 4.1 percent of market share between May and August.
"RIM should be worried, because there really wasn't an alternative to its global phone before the Droid Pro," Lopez said.
No Droid Power for AT&T?
The Droid Pro, which will run on Verizon's network, is the latest in the premium Droid family to be placed with that carrier. Granted, that series has been made exclusively for Verizon by Motorola, but shouldn't AT&T try to get a similar high-end Android smartphone from Motorola?
AT&T doesn't need to, Ramon Llamas, a senior research analyst at IDC, told TechNewsWorld.
"It all comes down to segmentation," Llamas explained. "AT&T's portfolio includes the iPhone; the Samsung Captivate, which runs Android; and the BlackBerry Torch. To add another high-end phone from Motorola will cause crowding at the high end."