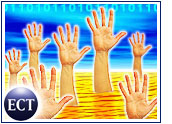 For the first time ever, the major providers of DSL broadband services garnered more new subscribers in a calendar quarter than their cable television competitors.
According to figures released by the Leichtman Research Group (LRG) in Durham, New Hampshire, the top DSL providers added 895,336 net new broadband subscribers to their rolls in this year's second quarter, almost eight percent more than the major cable companies, which corralled 830,791 new subscribers during the period.
What DSL providers have done in the past year is make the technology more available and marketed it much more aggressively and at a lower price point, explained LRG President and Principal Analyst Bruce Leichtman. "That's really been their niche," he told TechNewsWorld.
Leaning Toward DSL
"With broadband in 30 million households, we're well beyond the early adopter and price becomes very important," he added.
And its a factor that will bolster DSL's market share, according to a report released last December by Forrester in Cambridge, Massachusetts.
"Today's and tomorrow's broadband adopters will lean more toward DSL," Forrester maintained.
It asserted that today's broadband subscribers care more about price and less about speed than their early-adopter counterparts did. This priority shift by mainstream consumers is a win for DSL providers that consistently offer less expensive broadband packages than cable providers do.
"Mainstream consumers of broadband are more price-sensitive, lower-income and less technology-optimistic than early adopters of broadband were," Forrester analyst Jed Kolko said in a statement.
"Because the importance of price will only become more pronounced over the next several years," he noted. "DSL is poised to grab more consumers with price points of $30 per month versus cable's $40 to $50 per month."
Good Value
When compared with prior LRG reports, second quarter new DSL subscribers increased 43 percent over the same period a year ago.
Total DSL subscribers at the end of the period increased 50 percent on a year-to-year basis, to 11.1 million from 7.4 million in 2003.
The second-quarter numbers are indicative of current growth trends in the broadband market, according to Verizon spokesperson Briana Gowing in Dallas, Texas. "During the last two quarters of 2003 and the first two quarters of 2004, DSL grew faster than cable," she told TechNewsWorld.
She said that DSL is growing more quickly than cable because "we offer really good value."
Cable Growth Slows
According to LRG, while DSL new subscriber growth grew during the second quarter, for the cable companies it declined 11 percent from the same period a year ago when they added 930,461 subscribers to their rolls.
Still, total subscribers increased by 32 percent to 17.5 million at the end of the second quarter this year from 13.2 million at the finish of the same period last year.
"I don't think we should make any grand statements off of one quarter," Leichtman warned.
He noted that the second quarter is traditionally a slow one for the broadband cable providers. However, net new subscribers in this year's second quarter were the lowest since the last quarter of 2001.
"What we're seeing is the first step in a scaleback, a little leveling off," he said.
That growth slowdown is being caused by increased penetration into households that subscribe to Internet service, he maintained. About 45 percent of those households now use broadband, he said.
Until now, cable companies have been able to capture the lion's share of growth in the broadband market because they sold their services aggressively, Leichtman explained, while the DSL providers dragged their heels.
"They [the cable companies] got out there earlier and that's how they were able to build a two-to-one lead," he said. "But now that DSL is in the game — because they realize they have to be — now the growth is being split 50-50."