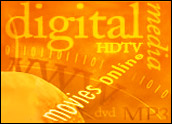 Unlimited, uncensored access to video featuring Howard Stern may or may not be the epitome of the new era of digital television. Nevertheless the pay television service "Howard TV" and similar offerings are emerging rapidly as the government's deadline requiring conversion from analog to digital TV broadcasting approaches.
The deadline — three years hence — is expected to result in a financial windfall for American pay TV providers, according to a new report from Boston-based Strategy Analytics. The report, "Digital TV in the US: 2009 Deadline Creates Windfall for Cable and Competitors," forecasts that the February, 2009 switch-off date will inspire millions of households served only by free analog broadcasts to finally sign up for multi-channel service from cable, satellite and telecom providers.
What is more, the report forecasts that the number of American households using some form of digital TV will grow from 57 million today to 77 million by the end of 2008, just months before the new deadline.
Growing Market Penetration
Cable operators are most likely to benefit from this transition, which will drive adoption of digital cable services. "Penetration of digital service will grow from less than half of all cable customers today to nearly three-quarters by 2010," said James Penhune, author of the report and director of the Strategy Analytics broadband media & communications research program. "Having a firm DTV deadline in place will sharply accelerate the industry's migration to an all-digital platform," he said.
Typical of the new era of niche offerings is the Howard Stern subscription video on demand service, Howard TV, from Cablevision Systems and In Demand Networks. Debuting this month, the service will be available to iO: Interactive Optimum digital cable customers throughout the New York metropolitan area. The SVOD service gives cable customers unlimited and uncensored access to in-studio footage filmed during Howard Stern's popular morning satellite radio program, including the ability to pause, fast-forward and rewind, the company said.
"We're happy to give our customers more of what they want — Howard, on demand and uncensored," said Patricia Gottesman, Cablevision's executive vice president of product management and marketing. "The success of our Optimum family of products is built on giving our customers what they want when they want it."
To subscribe to Howard TV, the fee is US$9.95 per month. Consumers access the raunchy content directly through their television set on channel 513 by simply using the remote control and following on-screen prompts. Customers may also purchase Howard TV online, or by calling their local customer service representative. There are some 2 million customers in suburban New York City who can access the show from In Demand Networks, one of the world's leading PPV and VOD providers, which already produces niche content, like "MLB Extra Innings," "NBA League Pass," "NHL Center Ice," and other shows.
Satellite, Telecom, TV Too
The pending deadline for digital TV will also boost adoption of satellite and telco-delivered TV, but not on the same scale as cable, which will draw upon its huge base of analog customers, as demonstrated by the Howard Stern show launch. To bolster its subscriber base, cable's strategy and pricing structure for digital cable is probably going to target customers who have not previously used pay TV. That could mean digital service pricing at much lower rates than those available today, as well as bundled service package offerings of TV, broadband Internet access and Internet telephony, Penhune said.
While digital TV is just catching on in the U.S., nearly two-thirds of U.K. households now have access to digital television. That compares to 55 percent at the beginning of 2005, according to figures released by the Institute of Practitioners of Advertising (IPA), a trade group based in London. There, 65 percent of households now have digital television. The fastest-growing platform is digital terrestrial television, used by 25 percent of the digital TV population.
In the fourth quarter of 2005, the two biggest terrestrial stations increased their share of viewers, with BBC One up from 22.2 percent in the third quarter of 2005 to 23.3 percent, and ITV1 up from 20.5 percent to 22.3 percent. Channel 4 fell from 11 percent to 8.7 percent.
Nearly two-thirds of all television households can now receive digital television — a growth of 10 percent during 2005. "Digital's share of viewing has also increased to around 30 percent — a growth of 2.5 percentage points over 2005," said Lynne Robinson, research director of IPA.
Amidst all this, surprisingly, the amount of time people spend watching television has fallen on average, down from 3.71 hours a day in 2004 to 3.65 hours a day in 2005.