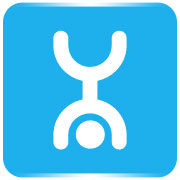 Yota Devices, based in Russia, aims to shake up the smartphone market with the entry of its YotaPhone.
The smartphone, which goes on sale Wednesday, first emerged in Dec. 2012. It was featured at the Consumer Electronics Show earlier this year, and its intriguing form factor earned it Best of CES awards from CNET, PC Mag and TIME. Now, the YotaPhone is hitting the market.
E-Ink Screen
The YotaPhone utilizes dual screens, one on the front of the device and the other on the back. The front-facing display is 4.3-inch, 720×1280 LCD multitouch screen capable of displaying 16.7 million colors. The back of the device is a different story. There the YotaPhone sports a 4.3-inch e-ink display.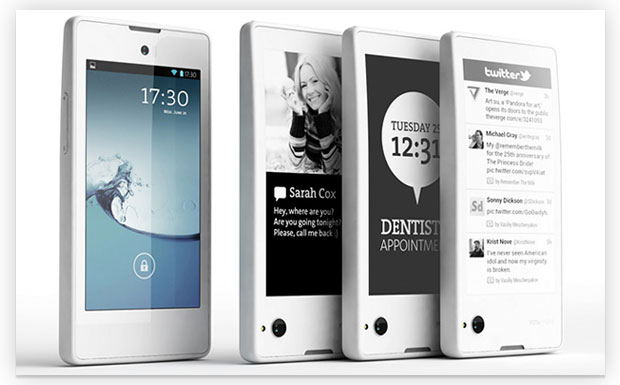 YotaPhone
The e-ink screen, which is always on, saves battery life. Consumers can see notifications, tweets, emails, and other information in real-time without having to pick up or switch on the main screen, according to Yota.
The e-ink screen is viewable even when the battery is empty, as it retains the most recent information it displayed. Users can save travel routes, boarding passes or other tickets on the display to save time, the company suggested.
Subtle Notifications
"The second screen is a differentiating factor," Ramon Llamas, research manager of mobile phones at IDC Research, told TechNewsWorld.
"If you look at just about any smartphone platform, nobody does a really good job in terms of notifications," he said. "This one's a little more subtle. It all takes place on the back screen. It's a new, innovative approach. I think the screen could be used for a lot more. As soon as Yota opens up the doors to third-party developers, I think that's where you're going to start seeing some magic happen."
The screen also functions as an e-reader, offering what Yota calls a long-lasting, comfortable reading experience even if you're sitting in bright sunlight. The firm worked with Bookmate to optimize the book-reading experience. Below the screen, the phone includes a capacitive touch zone for gesture controls.
Replicating Smartwatches?
"This is essentially the same thing as what vendors are trying to do with the smartwatches," Jim McGregor, principal analyst at Tirias Research, told TechNewsWorld.
"However, it is most similar to the Qualcomm ToQ," he continued. "Personally, I would rather have the ToQ watch so that I don't even have to take the phone from my pocket — or even an eye piece with the same benefits and features. So I think there are better solutions than making a more expensive and less durable phone."
Among its features is a "smile for the camera" message to photo subjects and fun reminders like birthday cakes on the e-ink screen.
The YotaPhone displays your RSS news feed after your alarm rings in the morning, and helps keep track of your exercise regime. It also offers dynamic wallpapers based on your location, featuring, time, weather and location updates.
Runs on Jelly Bean
The YotaPhone runs Android Jelly Bean 4.2.2 and includes a dual-core 1.7 GHz Krait Snapdragon processor. It includes 2 GB of RAM and 32 GB of storage. It operates on LTE, UMTS and GSM networks through a micro-SIM card, with connectivity for WiFi 802.11 a/b/g/n, Bluetooth 4.0 and GPS.
The main camera is a 13-megapixel autofocus with LED flash, and the front-facing camera is 1 megapixel. The device measures 133.6 x 67 x 9.99 millimeters and weighs 146 grams. Battery capacity is 1800mAh.
European Debut
The YotaPhone includes an accelerometer, compass, gyroscope, proximity sensor, ambient light sensor and FM radio. It is available in black or white.
Yota started selling the phone in Russia and four European markets — Germany, Austria, France, and Spain. It intend to reach 15 other Commonwealth of Independent States, European and Middle East markets by the end of Q1 2014. The phone retails for 19,990 RUB (US$600) in Russia and 499 Euros ($678) everywhere else.
It is not clear if or when the YotaPhone will be available in the North American market.
Market Impact
Questions remain about the YotaPhone's potential market impact.
"I think it will likely be a niche device with a limited lifespan as better wearable solutions are introduced," Tirias' McGregor suggested. "I think it will be seen more as a gimmick. Consumers have certain expectations from past experiences. If they see a smartphone screen, they expect it to be a color screen.
"This is a new idea. It will find its market," telecommunications analyst Jeff Kagan told TechNewsWorld. The question is will that be sizable enough? Smartphones are getting better and stronger and more important. This idea may work but the question is simply is this the right time yet?"
Brand Recognition
"This is a very difficult market to break into. Right now, the market really belongs to Samsung and Apple. After that, there's a lot of other followers. You're looking at a market of around 100 vendors, a lot of whom are competing for fractions of a percentage of market share," IDC's Llamas added.
"I don't think it's going to be moving up the ranks to compete with Samsung and Apple," he said.
The YotaPhone "has some brand recognition within its home country, and that'll help move the needle," Llamas observed. "You've got to start off small, but in the process of doing that you also have to continuously develop your phone. I'm hoping within a few months — maybe this time next year — we will see a larger screen device or a slicker user interface. What we have right now is OK, but there's definitely room for improvement."