The prelaunch reviews of the Apple Watch are out, and though they're generally favorable, they include a few niggling complaints.
A select group of reviewers were loaned an Apple Watch for a week. Overall, their consensus is that it's a fine device for tracking health and fitness, it's great for making digital payments, and it has excellent battery life. Also, taking phone calls on the Apple Watch was easier than they expected.
However, there's a dearth of third-party apps, the icons are too small, it's slow to respond, the screen takes a while to light up, and it took reviewers some time to figure out what to do with the device and how to do it.
Other complaints:
It works only within the Apple ecosystem — so unless you're an all-Apple person, you're out of luck.
Even if you are all-Apple, you need the iPhone 5 or later running the latest version of iOS.
Users have to think carefully which iPhone notifications they want mirrored to the watch.
There aren't enough preprogrammed default responses — the three built-in emojis are "creepy."
Outbound email is restricted.
Another thing — Siri doesn't have as many capabilities on the Apple Watch as it does on the iPhone, Re/code's Lauren Goode pointed out.
"I don't want to knock Apple too hard on features and functionality at this point — because, first, the devices aren't generally open to the public," said 451 Research analyst Ryan Martin.
"Second, Apple has the wherewithal and the technical capability to roll out improvements to the product through software and firmware updates before shipping," he told TechNewsWorld.
What Needs Improvement
Mirroring notifications doesn't always make sense because of the lack of third-party apps, The New York Times' Farhad Manjoo noted.
Further, it takes time to figure out which types of actions are available on which screens, he found. Users can't swipe left on notifications about email messages to archive them, because that feature is available only in the Mail app. They can't move the map around if they've called up glance for the Maps app — they have to go to the full Maps app instead.
Siri on the Apple Watch sent Re/code's Lauren Goode back to the iPhone when asked specific questions.
The battery life is longer than expected, but recharging it to 100 percent takes too long — two and a half hours — The Verge's Nilay Patel found.
The watch sometimes stutters loading notifications; also, pulling location information and data from the iPhone over Bluetooth and WiFi takes a long time, he observed. Also, apps take a long time to load and some third-party apps don't load at all.
"I think the Apple Watch is imperfect at this point but it is by far one of the best smartwatches out there," said Susan Schreiner, senior editor and analyst at C4 Trends.
Within the next 30 days, there likely will be "a significant uptick in the number of third-party apps that will be available," she told TechNewsWorld.
The Coming of the Apple Watch
The Apple Watch goes on sale on April 24. However, consumers in the United States, the UK, Canada, Australia, China, France, Germany, Hong Kong and Japan can preorder it online starting at 12:01 a.m. PT on Friday. They can have it shipped or choose their model online and reserve it for pickup at a store.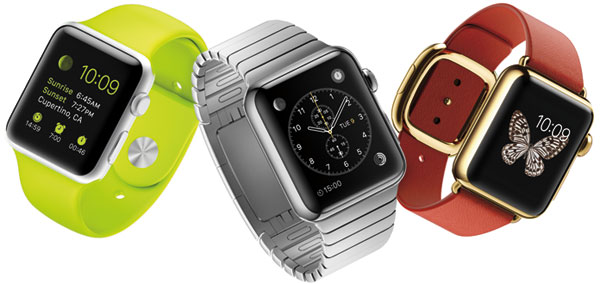 The Apple Watch will be rolled out in other countries later.
The prevailing wisdom for consumer products, especially high-tech devices, is that consumers want to touch and feel them before making up their minds. However, Apple apparently is going the other way: Potential buyers who want to touch and feel the Apple Watch before making a decision will have to schedule an appointment to do so, starting April 10.
Apple retail head Angela Ahrendts sent a memo telling staff to encourage customers to go online, Business Insider reported.
"Apple's introducing a different aspect to the smartwatch ecosystem in terms of styling and price point," Schreiner said. "I think it shows they're aiming to make this a lifestyle product."