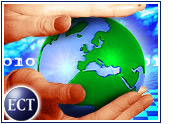 The European Commission's finding that Microsoft has abused its monopoly market presence and the penalties stemming from that finding won't have a dramatic short-term impact on the operations of the Redmond, Washington-based software giant, according to one analyst.
"The short-term impact is going to be minimal," Matt Rosoff, an analyst with Directions on Microsoft in Kirkland, Washington, told TechNewsWorld.
"Maybe in the long term, if this sets a legal precedent and paves the way for more antitrust lawsuits or for future investigations, then that could prevent Microsoft from adding other functionality to Windows that is provided by other companies," he said.
Appeal Vowed
"I don't think we'll have any real sense of what will happen until at the least the Court of First Instance rules, and that's probably going to take six to eight months," Rosoff added.
At a press conference held in Washington, D.C., Wednesday, Microsoft vowed to appeal the EC's decision to the Court of First Instance, a judicial forum for settling EU disputes.
"We will file our appeal in accordance with the timetable set by the European Court of First Instance, and we will ask the court to suspend many or perhaps all of the sanctions that the European Commission ordered today," Microsoft senior vice president, general counsel and corporate secretary Brad Smith told reporters.
"We will definitely ask the court to suspend a number of the sanctions, including the code-removal sanction that was addressed in the Media Player decision today," he said.
In addition to a US$613 million fine, the EC, which governs antitrust matters for the European Union, has given Microsoft 90 days to begin shipping versions of its Windows operating system without Media Player, the company's software for playing digital media such as movies and music.
"I don't think that order is going to have any significant effect on the state of the market," Rosoff maintained.
Exposed Protocols
"I can't imagine many OEMs choosing to ship a version of Windows without the media player," he said. "It costs more money to ship multiple versions. They prefer to do as little customization and variation as possible. And they don't want the support headaches when someone who buys one of these stripped versions of Windows tries to play a media file."
The EC also rapped Microsoft for hoarding computer code, including protocols, that would allow its competitors to more smoothly integrate their servers with desktop systems. It gave the software giant 120 days to make that code available to its rivals.
Many of those protocols are already shared by Microsoft under its settlement with the U.S. Department of Justice, Rosoff noted, although a few more may have to be revealed under the EC order.
No Giveaway
"But it isn't like Microsoft will have to give them away for free," he said. "They are entitled to remuneration and will be able to charge people for licenses to the information, and Microsoft isn't going to give away its source code or anything like that."
In attacking the EC's decision, Microsoft's Smith maintained that it amounted to "the broadest compulsory licensing of intellectual-property rights since the European Community was founded."
"We think that there's a very compelling logic to ask the Court of First Instance to suspend all of the remedies that amount to a compulsory license," he contended.
Raising the bloody shirt of compulsory licensing will resonate in some quarters, according to Eric A. Prager, an intellectual-property attorney in the Seattle offices of Darby & Darby.
"There's a general discomfort in the United States with requiring intellectual-property rights owners to license their property to others," he explained. "We value the right to choose as an incentive to invention and development.
"When Microsoft says that this is a compulsory license," he continued, "they're trying to conjure up a reaction among people who hear them say that compulsory licenses are bad."
Triumph of the Few
According to Microsoft's Smith, the EC's decision will result in hurting the many to help the few.
"[T]he remedy that the commission has embarked on today seeks to help a small number of competitors by punishing a large number of consumers," he said. "It requires us to produce a new version of our software that offers fewer features and less capabilities for consumers."
If Windows Media Player is removed from the operating system, he noted, there will remain more than 20 features in Windows that will not function; many European Web sites will not function properly; and some European software developers will have products on the market that will not work.
"Microsoft is understandably overstating the effect of this," Greg Chiemingo, vice president for corporate communications at Seattle-based RealNetworks, which makes a rival media player, told TechNewsWorld.
"They have a version of the Windows operating system called Windows Embedded XP that is a componentized version of the operating system. It is very easy to remove the Windows Media Player from that operating system and still have a lot of the functionality that Microsoft is claiming doesn't work."