Advancements in education technology, or EdTech, come from changes of approach in the wake of shortcomings. Innovative educational technology can adapt existing tools or create new ones to help people navigate learning obstacles.
King of the Curve (KOTC) is a disruptive EdTech startup with its sights set on helping to ease the looming doctor shortage. KOTC combines game and social strategies to assist science students in scoring better on medical school entrance exams and related challenges. The company is also developing productivity-style apps to help health care workers in the field manage the challenges of dispensing medical treatments better.
Heath Rutledge-Jukes founded the company while eyeing a career in psychology before focusing on becoming a surgeon. He is now a medical student at Washington University School of Medicine.
Before entering medical school, though, he took an unanticipated detour to put his science skills to use as a software developer. Rutledge-Jukes transitioned from designing instructional strategies for people with dyslexia to creating a series of examination preparation apps for medical school applicants.
KOTC does not mimic other self-study products and is not based on typical learning app thinking.
"People have their own individual learning paths. That is what education should be based on. It is not just a cookie-cutter template for everyone," Rutledge-Jukes told TechNewsWorld.
App Adapts To User Performance
That philosophy is evident in his educational pathway. As a psychology major, Rutledge-Jukes researched different learning methods. His research primarily used video games to learn legitimate skills such as eye-hand coordination, strategizing, critical thinking, and much more.
After graduating college, he designed tools for children with dyslexia to learn. That endeavor involved creating tactile instruments for young students to comprehend and retain information better.
Unlike other learning tools, KOTC does not become routine or less useful to users due to over-familiarity. Instead, the app adapts to a user's performance so they can improve, not just memorize pre-set answers.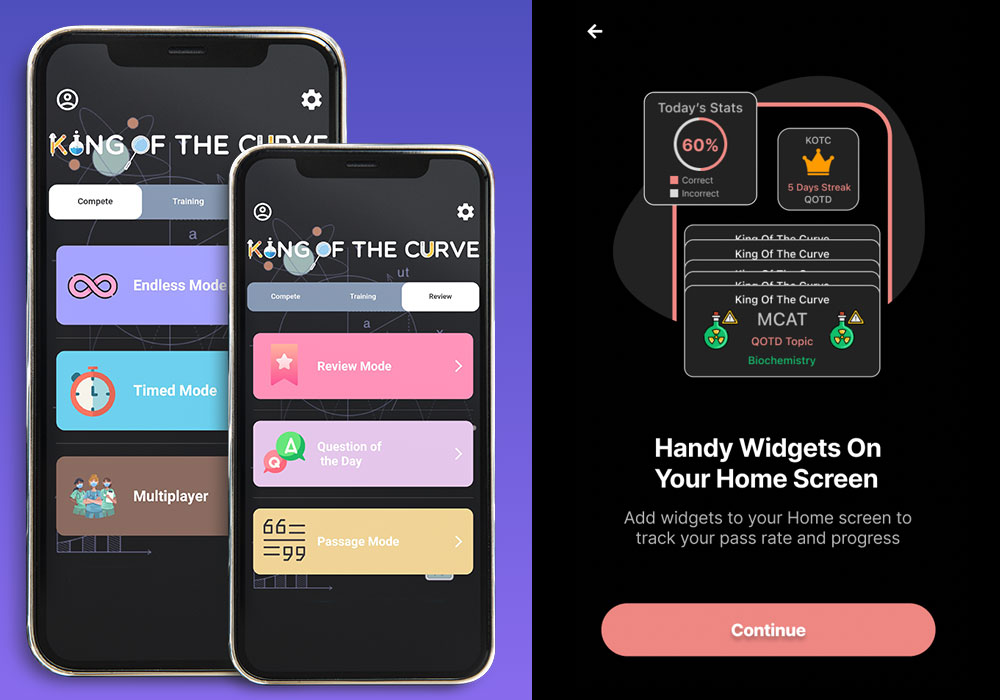 The King of the Curve app uses game-based elements to help students study for medical school entrance exams. Its features include Adaptive Question Bank, Review Mode, Endless Mode, Timed Mode, and Multiplayer Mode. (Images Courtesy of King of the Curve)
---
Educational apps can linger without updates for extended periods. Or they rely on rote learning tactics, which limit progress to the confines of teaching to the test. "That makes users more desperate to try something else," Rutledge-Jukes noted.
Building a Better Mousetrap
Rutledge-Jukes started KOTC in 2020 with a focus on preparing students for the medical school entrance test known as the Medical College Admission Test or MCAT. Test prep for getting into medical schools was a logical starting point for his company's first educational app. The developer was already well-versed in its content.
---
 Related: DiagnosUs App Uses Gamification To Fill Gaps in Medical Education | Oct. 5, 2023
---
"That is how we started. That was a seed for putting this app together to help people qualify for the various tests," he said.
KOTC's mission, as its founder sees it, is simple: transform students' stress into success. That way, the student of today becomes the professional of tomorrow.
Solving a National Medical Crisis
In its own way, KOTC's unique strategy for prepping students for the MCAT is helping to get more applicants accepted. Training competent physicians can take as long as 10 years, according to the 2022 AMA President Gerald E. Harmon, M.D., in a Leadership Viewpoints column.
The Association of American Medical Colleges (AAMC) projected the U.S. faces a shortage of 37,800 physicians — and 124,000 within 12 years — in its report released in June 2021. In the wake of this pending physician shortage, KOTC's gamified techniques go a long way to preventing "Game Over" for doctor hopefuls.
Rutledge-Jukes stated that 60% of the people who apply to medical school are not accepted. Applicants are three times more likely to attend medical school if they score above 510 on the MCAT, and it is the only part of the med school application that is standardized.
KOTC's success rate in helping applicants score higher is impressive. The MCAT's score range for the four-part written exam is from 472 to 528. Scores for the four sections are combined to create a total score. The midpoint is 500.
The KOTC development team is staffed by people who know the MCAT testing process well. In order to be hired, they must have scored in the 99th percentile.
Expansion Plans
The app developer also met that standard, which makes sense from an app user's perspective. Rutledge-Jukes took the MCAT and scored well "above the curve," so he is well versed in its content. Starting out, he handled most of the question silos and app construction tasks himself.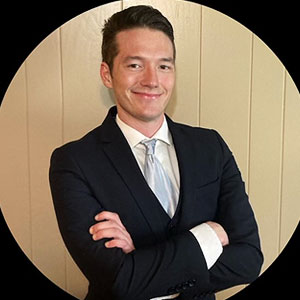 "I consider myself a technical founder in that sense as well. Not just technical on the content side, but technical on the kind of development side," he offered.
He built most of the initial apps and taught himself app programming over the pandemic shutdown. He started the KOTC project with the help of two co-founders and an angel investor. One of his primary jobs now, even while attending medical school, is leading the team.
Since generating more revenue from monetizing in-app feature additions, he has been able to onboard more workers. Once users get into the app, they can purchase customization and additional upgrades.
His company employees vacillate between two-to-10 full-time and part-time employees who excel in either test content areas or app building. That includes four interns, two content specialists, and two developers.
"We definitely are expanding the team as we grow. Right now, we are about to open a round for investment to expand the team even more," Rutledge-Jukes said.
Test Prep Course Inventory
KOTC's learning lineup now offers test prep apps for a series of professional admissions tests with more updates on the way. The staff is comprised of students and researchers in each of the test prep areas. They maintain high-level content.
The primary course inventory includes medical school admissions tests for the nursing exam (NCLEX), the Exam Master's Physician Assistant College Admission Test (PA-CAT), and the Registered Dietitian Exam (RDE).
According to Rutledge-Jukes, the company plans to expand into two other high-pressure academic test prep areas: the LSAT for law school hopefuls and the Bachelor of Accounting (BAcc) entrance exam.
To provide another all-inclusive option for future users, the company plans to expand its existing website as a home base for online learning separate from offering test prep through mobile apps, confided Rutledge-Jukes.
The apps are now available for Android, iPhone, and iPad devices. Some are not available on all three platforms, however.
For Established Medical Professionals
KOTC's ongoing purpose is to help students and entry-level health care professionals hone their knowledge. It also is now addressing the needs of already established physicians. These other app categories address a more comprehensive range of content and target specific professional areas that are mostly medical-science related.
For instance, Current Procedural Terminology (CPT) targets improving the patient experience with medical providers at the bedside. A team of pre-medical students designed its intuitive technology to limit barriers for patients in discussing the finances involved in critical medical decisions.
One of the latest that Rutledge-Jukes initiated in March 2022 is Telecatalyst. This app specifically fills the needs of medical personnel in Tanzania who need a data collection and telehealth app.
Also under development for medical assistance is the Regenerative Pain and Spine app. Anesthetists will use it to generate reports regarding their patients during surgery to record blood pressure, machine checks, and patient information.
Serious Learning While Gamifying the Process
According to the developer, med school hopefuls have few options besides paying the high tuition attached to taking the industry-standard test or hiring tutors.
"We've crafted our app to promote a sports and social element because all these students are going through the same process. They should be on the same team as they move forward," said Rutledge-Jukes.
Built into this all-in-one MCAT study game are some 7,000 questions divided into six categories: biology, biochemistry, general chemistry, organic chemistry, physics, and the behavioral sciences.
"We just basically dump all the questions on the user at the beginning. We are able to provide the product to people if they absolutely cannot afford a subscription. They can still use it and could still prepare effectively," he said.
But the add-ons let students maximize their effectiveness by zeroing in on specific parts of the test, he added. The app recommends videos to watch and points students to particular parts of the study guide based on the accuracy of answers.
Another advantage to KOTC is the comment sections on individual questions where people can explain their rationale. The test prep lets students challenge other users to compare scores section-by-section as they go through the program.
"This is more of the gamification, but we also have monthly competitions between schools. For instance, every March, we imitate March Madness, but we do it with schools from around the United States, and their users will improve with them," the developer explained.
Covering All Bases
KOTC is built on the overall picture of EdTech, including elements from adaptive learning fields. Competency-based learning is also a significant element.
"I think competency-based learning is the future of education," said Rutledge-Jukes. "Once you have the foundations, it hits these checkboxes."
King of the Curve is available at Google Play and the App Store.