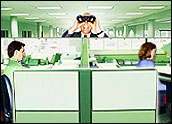 Las Vegas based FBM Software has announced on March 14 the release of ZeroSpyware 2005, designed to target consumers and small businesses with what company officials say is the most comprehensive and easy-to-use anti-spyware software available.
Among the highlights of the software is a first-in-the-industry service to provide round the clock access to live diagnostics and repair personnel.
"In effect we are delivering a new concept of software as a service, where customers are connected back to the software provider for a complete solution to their problems," FBM Software CEO David Foote explained.
Changing Marketplace
The product is a spyware protection system that delivers up-to-the-minute threat levels and mutation rates for the latest spyware attacks from a community-based Spyware Net database of more than 3 million reports per day.
Foote told TechNewsWorld that the marketplace standards for intrusion-protection products are not very clear. Users can apply various software solutions and get different results with each one.
"It's become an integrity issue," he said.
Foote said ZeroSpyware 2005 is the third major revision of the product. It is filled with features designed to handle the latest tactics used by hackers and would-be intruders.
The product introduces dozens of features designed to prevent spyware infections and repair damaged systems, including vulnerability scanning, intrusion detection, interactive diagnostic and system repair tools, and Automated Discovery.
Aimed at User Complaints
ZeroSpyware 2005 fits the needs of consumers who have been using more than one anti-spyware product but still get infected. It works on multiple platforms, so users who haven't upgraded to Windows XP can still use this product. It does not run on Windows 95.
"Many of our customers have run multiple security products, but ultimately come to us because they require direct personal assistance in removing spyware and repairing their systems when other approaches fail," according to Shiella Gamat, director of FBM Software's Customer Service Center.
Foote pointed out that computer users continue to be victimized by freeware sources and P2P file exchanges.
He explained that "Spyware today is a matrix of internal computer complexities. Once it invades a system, the programs mutate quickly." For non-enterprise users, the spyware problem is out of control, Gamat noted.
"PC users are continuing to suffer from spyware and malware related issues despite running multiple anti-spyware and antivirus applications on their systems. Evolving spyware, browser hijackers, difficult-to-remove spyware and recurring pests are amongst consumers' top complaints," Gamat explained.
Online Help Lacking
FBM Software is trying to fill a void that non-enterprise users face in removing spyware and preventing intrusion.
Foote said that Internet help forums are populated with advanced users who are posting detailed diagnostics, trying to get help on debilitating spyware related problems. However, he said, none of the current anti-spyware applications are capable of addressing these problems.
"What excites me most is that we are bringing the tools, support services, and easy interface required to solve these problems directly within the reach of the average user," Foote said.
Threat Centered
ZeroSpyware finds and eliminates threats that are relevant to specific user needs. At the same time, it reduces the "false positives" and false reporting common in other anti-spyware products. Those false positives end up removing applications that users actually want to keep.
To drastically reduce such cases of false positives, ZeroSpyware 2005 verifies the signature of known spyware footprints for all running processes. Live assistants help users manually remove spyware traces.
Another innovation that thwarts stubborn spyware is the remote restore feature. This process, Foote said, helps subscribers root out spyware that the software didn't find. It provides a one-of-a-kind remote diagnostics based on the specific criteria of a user's computer and threat profile.
Enterprise Strength Features
Vulnerability scanning and intrusion detection systems have been used in enterprise applications for some time. ZeroSpyware 2005 is the first consumer anti-spyware application to incorporate these features in a unique preventive environment.
One way FBM Software incorporates enterprise security strategy is to lock down areas vulnerable to file-changing attempts, Foote said. That effectively locks down key areas of a computer's operating system against attacks.
ZeroSpyware 2005 also includes a highly intuitive and attractive interface that eases the complexities of spyware management through automated tasks that cover all threats along with the ability to address threats on an individual basis.
Pricing Counts
The yearly subscription price of $29.95 for ZeroSpyware 2005 includes weekly spyware definition updates and access to the ZeroSpyware Remote Restore service.
FBM Software offers its entire suite of security and Internet privacy software, including ZeroNetHistory, ZeroAds and ZeroSpam, online at www.fbmsoftware.com. The product is also available at major retailers.