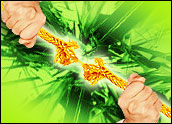 Facing a battle between smartphone vendors over a proposed standard for nano-SIM cards, the European Telecommunications Standards Institute (ETSI) has held off deciding on the issue until it can achieve a broad industry consensus.
Opposing proposals have been tabled by a consortium consisting of Nokia, Motorola Mobility and Research In Motion on the one hand, and Apple on the other. The skirmishing has become down and dirty, with Apple's rivals leveling accusations against it claiming it's not quite playing by the rules.
SIM cards are used in mobile devices to store their owners' identification information. Newer, smaller SIM cards allow phone makers to design slimmer phones. The side whose proposal is picked as the standard could gain a significant advantage in the mobile market.
"Nokia is pleased that ETSI's Smart Card Platform Technical Committee has decided to take time out and postponed the decision on nano-SIM," company spokesperson Mark Durrant told TechNewsWorld.