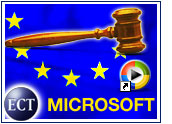 The five-year antitrust probe of Microsoft in Europe appears to be drawing to a close, and there are indications that punitive action will be recommended against the Redmond, Washington-based software colossus.
Although lots of unnamed sources have been talking freely to the press about a draft of a decision in the case, the European Commission, Europe's chief antitrust authority, is officially remaining tight-lipped on the subject.
"We're reaching an end in this case after completing a thorough investigation of it," Anthony Gooch, spokesperson for the European Commission Delegation to the United States in Washington, D.C., told TechNewsWorld.
$3 Billion Fine
According to published reports, the draft decision finds that Microsoft has broken European competition law by using its dominant market position to choke off competition in the software market. Remedies on the table, the reports say, include a hefty fine — as much as US$3 billion, by some accounts — unbundling Microsoft's Media Player from its Windows operating system, and requiring the software giant to reveal proprietary code to its competitors.
"We remain committed to finding an amicable resolution to these matters," Microsoft spokesperson Jim Desler told TechNewsWorld.
"We still contend that there has been no violation, but we have been actively engaged in discussing ways to address the European Commission's concerns and to resolve this in a constructive and positive manner," he added.
Inherent Advantage
Two companies that testified last year before the EC against Microsoft were RealNetworks, a Seattle-based maker of a media player, and Sun Microsystems, a hardware and software maker based in Palo Alto, California.
RealNetworks complained to the commission that bundling Media Player with Windows gave Microsoft's product an advantage over rival players.
"Any application that's bundled with the operating system has an inherent advantage over anything that it would compete with that people would need to acquire on an individual basis," RealNetworks vice president Greg Chiemingo told TechNewsWorld. "There's just an inherent advantage to already being part of something."
Illegal Use of Monopoly
Media Player is also bundled with Windows in such a way as to make it appear to users that it is the only way to view and play multimedia files on a computer, Chiemingo asserted. "That's what we see as another unfair advantage and an illegal use of a monopoly," he said. "The European Commission, at least as we understand it, seems to agree with that position."
Asked why companies like RealNetworks couldn't cut deals with hardware makers so their software could achieve first-presence status like Media Player, Chiemingo contended that Microsoft prohibits such action in its agreements with hardware makers. "We can talk to the same people, but their operating system monopoly has already created an advantage for them through deal negotiations that they undertake," he said.
"Unbundling Media Player would not be good for consumers and would not be good for the industry," Microsoft spokesperson Desler countered.
Secret Interfaces
Sun's peeve with Microsoft is that the Redmond-based giant is using its operating system to bolster its position in the low-end server market by making it difficult for Windows desktop computers to work with anything but Microsoft servers.
"Microsoft uses its unique awareness and expertise in the Windows desktop product to create server products that are optimized for those desktop products in a way that no one else can compete with," Sun spokesperson Lisa Poulson told TechNewsWorld. "There are interfaces that they keep secret that are part of what helps make their products perform much better for Microsoft than they do for competitors."
Appeal Expected
EC spokesperson Gooch would not speculate on how much time could elapse before the antitrust panel finalizes its decision in the case, but some reports predicted definitive action could be taken as soon as March.
If that action is to the dislike of Microsoft, however, the case likely will drag out further. "If there is a negative finding and we are unable to reach a settlement in these matters, one of our options, which I'm sure we will take up, is to appeal the decision to the European Court of First Instance," Desler said.