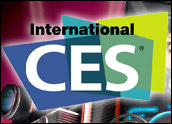 You'll see the weird, the wacky and the wonderful at this week's CES 2011, in addition to the standard array of bread-and-butter high-tech consumer electronics advances.
One of the items to be displayed is what's claimed to be the world's first consumer 3D camera that can recognize gesture-based applications.
There may well be several show-stoppers, including tablet PCs running Android (did we expect anything else?), superphones with dual cores, and the resurgence of the 3D TV.
Tablets Front and Center
It seems as if everywhere you look right now, someone's announcing their intentions to demo a tablet at CES 2011. Android tablet manufacturers may be seeking to make up for lost time.
"They couldn't get it together in 2010 and gave all the market to Apple, which I'm sure will announce a great holiday season with the sale of millions of iPads. But with Gingerbread and sneak peeks at Honeycomb, which is Android 3.0, things might change," Andrew Eisner, director of community and content at Retrevo, pointed out.
"I think we'll see a solid showing of Android tablets," Maribel Lopez, founder and principal analyst at Lopez Research, told TechNewsWorld.
Asus may unveil three tablets, two running Android and the third Windows 7. Microsoft CEO Steve Ballmer is expected to demo Windows 7 tablets from Samsung and Dell. Verizon Wireless also could announce a number of Android tablets and smartphones.
One of the most anticipated Android tablets is the Notion Ink Adam.
The Adam is "the most aggressive of the showcased iPad alternatives," Rob Enderle, principal analyst at the Enderle Group, told TechNewsWorld. CES 2011 "could be the coming-out party for it," he added.
Questions still loom over whether HP will demo a webOS-based tablet at CES 2011.
"The wild card is whether we see a webOS device," Lopez stated.
Perhaps HP will give a preview of a webOS-based tablet at the show even if the device may not yet be ready for prime time, Enderle speculated.
Apple May Play the Spoiler
Apple may seek to take the wind out of the sails of CES 2011 by announcing its new iPad, Retrevo's Eisner told TechNewsWorld.
"A few years ago, Apple stole CES by announcing the iPhone in San Francisco at around the same time," Eisner pointed out. "Everyone in Las Vegas was looking at what was going on in San Francisco."
If Cupertino intends to play the spoiler once again, it will likely unveil the iPad 2, Eisner speculated. "They have got to start shipping the iPad 2 because there have been enough leaks now that people will probably be reluctant to buy an iPad 1," he explained.
In any event, Apple must offer the iPhone on additional carriers in the United States because of the Android onslaught, Al Hilwa, a program director at IDC, told TechNewsWorld.
"Everyone's anticipating Apple will add other carriers for the iPhone, and this is really a must for it to keep up with the growth of Android smartphones in the U.S. over time," Hilwa
It's a Bird; It's a Plane; It's a Superphone!
"We'll see the first batch of superphones like the LG Optimus 2x, which was announced in Asia this month," Enderle suggested.
This device has an Nvidia Tegra 2 dual-core 1GHz system on a chip and offers HDMI (High Definition Multimedia Interface) mirroring. It can handle 1080p HD video playback, has front and back cameras, and can connect to any Digital Living Network Alliance (DLNA)-approved device.
A few other so-called superphones may be unveiled at CES 2011. However, most smartphone vendors will probably hold off until the Mobile World Congress, which is held in February, to display their products, Retrevo's Eisner remarked.
Behold the 3D Camera
Belgian company Optrima will unveil a consumer three-dimensional camera that can take high-definition videos and audio input.
Owners will be able to use the device for gesture-based applications such as video games and will be able to conduct videoconferences with it.
"It will be another step towards the acceptance of 3D when you see reasonably priced 3D cameras and camcorders," Eisner said.
Resuscitating 3D TV
Vendors may promote 3D TV heavily again this year, just as they did at last year's show.
"Last year we saw a deluge of e-readers and 3D TVs that no one bought," Lopez Research's Lopez said. "We'll see this repeated with tablets and TVs this year."
The problem with 3D TV has been a lack of content as well as a high price of entry — not only must users buy a new TV, but they must also buy a pair of special glasses for each viewer and sometimes a new Blu-ray player.
"People like ESPN and Disney have indicated a strong level of commitment, but 3D programming is scarce," Retrevo's Eisner stated. "This year it will be pushed more as a standard must-have feature without a price premium, and you'll see special events broadcast in 3D," he added.