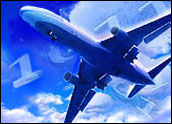 Travelers on domestic flights in the U.S. will soon face far fewer restrictions on their in-flight use of mobile gadgets thanks to new rules announced Thursday by the Federal Aviation Administration.
Previously, travelers were required to shut off all devices with an on/off switch until the aircraft reached 10,000 feet, which typically was about 10 minutes into the flight. Travelers also had to power down the devices for landing.
After months of study by aviation experts, however, the FAA announced that portable electronic devices including tablets, laptop computers, e-readers and mobile handsets in airplane mode can be used throughout the entire flight, albeit with some remaining restrictions.
Most notable among those restrictions is that devices that can transmit, such as phones, will still not be permitted during the flight.
"We believe today's decision honors both our commitment to safety and consumers' increasing desire to use their electronic devices during all phases of their flights," said Transportation Secretary Anthony Foxx. "These guidelines reflect input from passengers, pilots, manufacturers and flight attendants, and I look forward to seeing airlines implement these much anticipated guidelines in the near future."
'This Will Get Interesting'
Delta Airlines and JetBlue both sent out press releases on Thursday morning announcing that they were in the process of submitting plans to allow customers to use portable devices as early as this week. However, there could be delays before any of this actually takes flight.
"The decision, while handed down by the FAA today, looks to not truly be 'complete' until all of the airlines have submitted their plan for how they'll implement the new ruling," Chris Silva, principal analyst at High Rock Strategy, told TechNewsWorld. "That is where this will get interesting."
How liberally the various airlines interpret the rules could be a slight differentiator, "though there's not too much wiggle room other than when and what type of devices can be used," Silva added.
'Sick and Tired of the Stupidity'
Many seasoned road warriors will admit to "accidentally" leaving a phone or other device on during a flight, thereby furthering the notion that the ban on devices during takeoff and landing was unnecessary. With so many customers now carrying devices, it isn't surprising that the FAA has decided to address the issue.
"People are sick and tired of the stupidity of it," Alan Webber, principal analyst at Asymmetric Insights, told TechNewsWorld. "Give me proof of one crash or near miss that was caused by a device. Perhaps it could happen, but the reality is, as long as it isn't transmitting, it shouldn't have an impact at all."
In fact, "the likelihood that anything you could carry on plane would knock out the signal is pretty slim," Webber said. "There is frankly a bigger chance of your house being hit by a block of the blue ice released from a plane as waste."
Phone Use on Hold
One thing that won't change is that fliers won't be allowed to make calls during a flight as a result of Federal Communications Commission rules.
"The two issues are not related," Roger Entner, principal analyst at Recon Analytics, told TechNewsWorld. "The FCC doesn't allow phones and tablets to be on below 10,000 feet due to the potential of overloading the terrestrial mobile networks by active devices being handed from one cell to the next in a rapid succession."
A plane flying 600 miles an hour travels 10 miles a minute, Entner noted.
"With a cell being less than two miles, that's a cell transfer every 12 seconds," he explained. "This is not a significant problem if it's done by a few people in private planes, but a potentially significant problem if it's done by dozens and dozens of people in commercial airlines, and it could impact wireless networks."
'Security Is Reactive'
Beyond those concerns, there is also the fact that few people would choose to sit next to someone who decides to talk — loudly — on their phones during the entire flight.
To that end, "the FAA would face a huge backlash if they allowed people to use phones on planes," Webber pointed out.
Looking ahead, there's nothing to say the decision to ban mobile devices won't be reconsidered — especially over security concerns.
"Security is reactive, not proactive, so if anything happens it will shut this down," said Webber. "We do need to remember it was within the year that small pocket knives were allowed on planes and — again — just look at how quickly that was turned around."