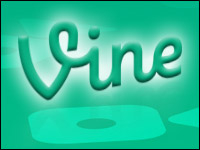 Vine users who attempted to find Facebook friends on Friday received an error message stating that Twitter's new mobile app is not authorized to make the request. This is the latest apparent rift between the two social media rivals.
Earlier this week, Twitter launched Vine, a free iOS app that allows iPhone and iPad users to create and post very short videos. Twitter hinted that an Android version could be in the works.
Twitter, which is primarily known for its 140-characters tweets, has supported embedded YouTube videos since 2008, but its launch of Vine marks the first time it will host video content directly. As with tweets, the videos will need to be short — a mere 6 seconds.
"Six seconds is too short for anything truly substantive," said Greg Sterling, principal analyst at Sterling Market Research, "but there's more information that can be conveyed by video, even in that short time frame, vs. a still photograph."
Twitter did not respond to our request for further details.
Face-off Over Vine
The relationship between Twitter and Facebook has become strained since last April, when Facebook bought Instagram for US$1 billion. Twitter reportedly had also sought to purchase Instagram. In December, Facebook restricted users from properly displaying Instagram photos on Twitter. Apparently, dealings between the two social media giants have only worsened since then.
"Facebook bought Instagram in part because it was starting to become an alternative to Facebook for many younger users," Sterling told TechNewsWorld. "Perhaps the concern is that Vine could build a huge following in part on Facebook's data, and that might draw away usage or engagement from Facebook."
While it would seem that Facebook and Twitter could and even should cooperate, it seems that the social network is very much worried about the threat the micro-blogging site poses going forward. This is also why Vine fits so well with Twitter, and why Facebook could feel all the more threatened.
"Twitter is designed for short bursts, but Facebook is not," said Billy Pidgeon, senior analyst at Inside Network. "Twitter has had a huge head start with mobile, and adding video gets them closer to the micro-blog model that fits so well in markets like China, where it is spreading like wildfire."
Old Tech Made New
One thing that is surprising about Vine is that it is based on older technology — namely GIF-like animations, which have been around since 1987 and supported online since Netscape 2.0 back in the early 1990s!
"GIFs are retro now," added Pidgeon, "but for those who want to show more than a photo, a couple of seconds might be all you need. It could be the amount of video that could really go viral."
"It is also ideal for mobile," Pidgeon told TechNewsWorld. "It can be taken with a phone, uploaded quickly with no editing, and it takes up less bandwidth."
Vine also suggests that while a picture may tell a thousand words, a few seconds of video can do much, much more.
"It demonstrates the growing impact of multimedia technologies in people's lives, mainly enabled by increasingly sophisticated smartphones," said Charles King, principal analyst at Pund-IT. "The 6-second length doesn't seem like a serious impediment to me — [it is] the visual equivalent of Twitter's 140-character maximum, and I assume that — similar to tweeting — users will use wit and imagination to overcome any sense of limitation."
Of course, 6 seconds could be enough to make trouble for celebrities and politicians — and just about anyone else, really — who post without thinking. Although it could stir users' wit and imagination, it also could mean a lot more cringe-worthy content out there.
"Six-second videos are hard to make well, and Vine has a long way to go to prove it will make a difference in the market," said Josh Crandall, principal analyst at NetPop Research.
"How many bad loops will people accept in their stream before turning off video all together?" he wondered.
"Sure, there's the chance you'll miss a cat doing something silly — but again, it seems like Twitter will still have a hard time breaking out of its niche through this avenue," Crandall added.
Facebook's Response
The most likely scenario to play out will be that Facebook will turn its attention to finding a way to incorporate video, possibly even longer-form content, on its site — video that would be as easy to produce and post as that available with Vine.
"Facebook will likely grab something similar," said Pidgeon, suggesting that other video app makers should get cracking if they want a chance to become instant millionaires in the near future.
In the meantime, could the situation be resolved? Could Facebook and Twitter find common ground? That isn't likely, especially as neither Facebook nor Twitter have even officially addressed this week's error messages.
"It's unclear whether the issue is a simple technical glitch or if Facebook is locking out Vine users," said King. "That said, given the company's plans to block Google and other search engines from collecting data generated by its new Graph Search feature, the latter point wouldn't be surprising. But if that's the case, this may simply be a proprietary line in the sand Facebook is betting its users won't be willing to cross."