Facebook last week announced that it had rolled out group calling worldwide in its Messenger app. Members engaged in a group conversation can tap the phone icon on their screen to initiate a group call. They can manage individual participants on the next screen.
Members of a group who miss the initial call can tap the phone icon in the group chat to join the call while it's in progress.
The feature allows up to 50 participants and is available only in the latest version of Messenger.
Move Over, Phone Carriers
The announcement likely will cause concern among telecommunications companies because "if you consider that social media's a form of asynchronous communication, then Facebook is the largest telecom on the planet, with about 1.3 billion subscribers," observed Michael Jude, program manager at Stratecast/Frost & Sullivan.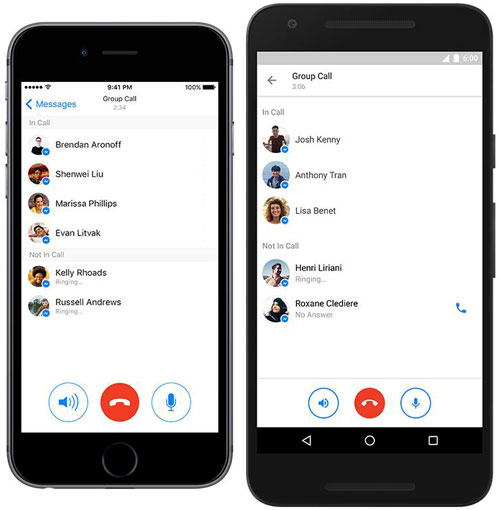 "Now add synchronous communications — that is, communications in real time — and Facebook's beginning to come into focus as the next paradigm of communications: async and sync combined," he told TechNewsWorld. "This could be a game changer."
Messaging appsViber andLine already offer group calling for up to 200 people.
However, "Facebook is different — it's a social media site with a huge following that now offers direct communication to groups of people," Jude said. "Viber and Line are much smaller pools of people and don't have the rich social media capabilities that Facebook does."
The calling feature is in software, so "if Facebook sees a need to expand the scope of the service, they could probably do it by flipping a switch," he noted.
Facebook stands to gain "a substantial portion of the millennial telecom business," Jude suggested.
Further, the company launched a beta of its Messenger Platform with bots and its Send/Receive API, as well as bots for the Messenger Platform. How those features will play into group calling remains to be seen.
Killing Off Telcos
Facebook's move highlights the threat that new technologies pose to telecom companies.
"As we move farther and farther from traditional PBXs and wired phone lines to VoIP services, many of which are either very cheap or free, telecom companies are going to lose this revenue," noted Rob Enderle, principal analyst at the Enderle Group.
"They've had plenty of warning," he told TechNewsWorld. "This is just another one of those services that will make it easier for small companies and individuals to cut their phone cord."
Facebookbegan offering VoIP in 2013. A year later, it fully rolled out audio calls and had 10 percent of the global VoIP phone call market.
Facebook "is a much bigger threat" than chat apps "because far more people are likely to try and like it, due to its visibility," Enderle said.
Facebook Messenger has more than 900 million monthly active users.
"The overall trend is making traditional telephones obsolete," Enderle said. "This is just another indicator that trend is reaching critical mass, putting traditional telecom services increasingly on death watch."
Wireless carriers won't be hit as hard, because data charges apply to calls made through Facebook and other apps, unless WiFi is used.
What About Video?
Skype in February began supporting group video calls on iOS and Android for up to 25 people,ooVoo lets users make free high-quality video calls to groups of up to 12 people on any device, andTango supports video calls to groups of up to 50 people.
Facebook reportedly is working on a group video calling feature, but "video introduces some issues associated with bandwidth, both in the network and on the end device," Frost's Jude pointed out.
Still, he said, "I expect Facebook will do something like that eventually."