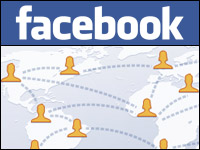 Facebook on Tuesday introduced a new messaging app for Android smartphones that can be used by members and non-Facebookers alike, a move aimed at building an alternative to SMS text messaging.
Initially, the distribution of the Messenger app will be limited to Australia, India, Indonesia, South Africa and Venezuela.
The Facebook app joins offerings like iMessage from Apple and Skype from Microsoft as an alternative to traditional SMS, which reached the ripe old age of 20 this week.
The Messenger app is meant to challenge existing carrier-based messaging protocols, which get in the way of true communication, Peter Deng, Facebook's product manager for Messenger, said at the Le Web conference in Paris.
"We have to give people more than the types of messaging they have on their phones. With the SMS protocol, it's been around for about 20 years. It's designed for these old phones that we used to have," Deng said. "They don't take advantage of all of the location features, the touchscreen, the rich kind of communication, the picture-taking."
A Facebook spokesperson was not immediately available to comment for this story.
Over the Top
While SMS usage continues to grow, there are signs that alternatives are eating into the revenues telecommunication companies are making from the technology.
"Even with the increased use of instant messaging, SMS remains the workhorse of mobile — with a 14 percent increase in the number of SMS messages sent in 2011 compared to 2010," Forrester analyst Michael O'Grady wrote in his blog in June.
Two trillion SMS messages were sent in the United States in 2011, and users send and receive an average of 35 messages a day.
"Although by 2017, SMS will dominate mobile content spend less than it does today, it will still remain significant," he predicted.
Despite the increase in SMS usage, revenues for wireless carriers from that growth have been blunted by social-messaging services, according to UK marketing research firm Ovum. Telecom operators lost US$8.7 billion in 2010 and $13.9 billion in 2011 due to IP-based social messaging, the firm estimated.
"Social messaging has disrupted traditional services, and operators' revenues in this area will come under increasing pressure," the author of the report, Neha Dharia, said.
No Escaping SMS
To characterize Messenger as a weapon against SMS is too simplistic, according to Thorsten Trapp, cofounder and CTO of Tyntec, an SMS service company based in Germany.
"The new Facebook Messenger, which is functional without a Facebook account or email address, lets non-Facebook users sign up with just a name and phone number," he explained to TechNewsWorld. "This is actually good news for many operators, as it means that the phone number — an asset which carriers control — becomes important again."
Moreover, the application is aimed at international audiences without smartphones, which means the software will have to play nice with SMS if it expects people to use it.
"The countries which they are targeting are emerging markets with patchy data connectivity, which means to ensure full messaging capabilities, SMS integration will be required," he observed.
SMS integration means that if a message can't be delivered over an IP connection, then it will be delivered via SMS.
"Considering that one can expect an expansion of Facebook Messenger to significantly increase the volume of messaging traffic … then in this scenario, we can expect SMS to have a very decent slice of the pie," Trapp asserted.
Not Your Dad's SMS
What many observers ignore about SMS is it's not just the consumer tool it started out as 20 years ago. Not only is it used to deliver person-to-person messages, but it's also used by a variety of applications to deliver everything from account certifications the calendar alerts to appointment reminders.
"There is massive growth in this field as — perhaps ironically — Facebook and Google are leading a wave of Internet companies that use huge volumes of SMS in a variety of ways," Trapp said.
"Even if Facebook is responsible for a decline in person-to-person traffic, it can simply not be viewed as bad news for SMS," he continued. "On the contrary, due to its heavy reliance on application-to-person SMS in emerging markets, it is uniquely placed to understand the value of including SMS in its communication chain."
There's another irony in Facebook trying to expand into application-based messaging, according to Rob Enderle, principal analyst at the Enderle Group. "Social media has displaced messenger apps," he told TechNewsWorld.
One of the reasons for that is interoperability, he added. "The problem with instant messaging historically is that the apps don't work with each other," he noted. "I have a hard time believing Facebook is going to get people back into instant messaging."