Facebook on Thursday announced its new Sports Stadium — built with no taxpayer dollars or city leases required.
About 650 million sports fans already make Facebook the world's largest stadium, the company reasoned.
The new hub will compile and chronologize game-related content in real time so that "you can get the feeling you're watching the game with your friends even when you aren't together," said Steve Kafka, a product manager at Facebook.
The hub itself is organized by tabs labeled "Matchup," "Friends," "Experts" and "Stats."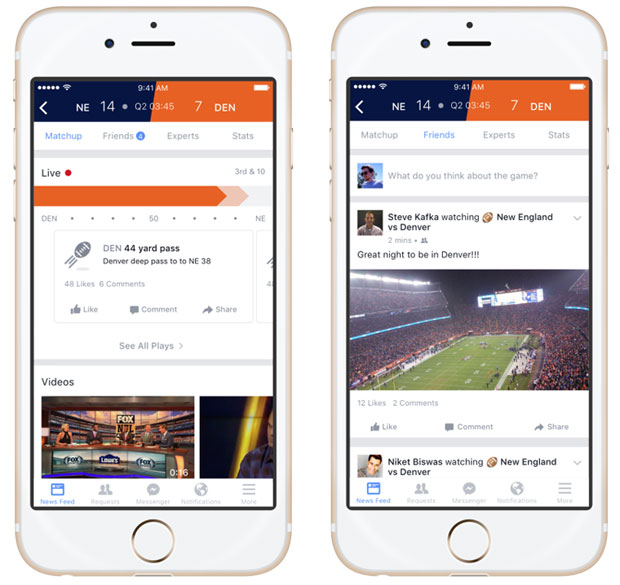 Matchup offers an overview of the action, highlighting the latest big plays and fan reactions to go with them. Novel here is the ability to share plays from the hub to a timeline.
Remarks from paid and unpaid experts are funneled into either the Friends or Experts categories. The Experts tab is reserved for individuals discussing the game from verified accounts — people such as sports analysts, journalists and chatty celebrities.
As for the Stats tab, it's dedicated to the facts and statistics related to a given game.
The Facebook Sports Hub is available via iOS, but it isn't a standalone app. It's a feature that lives inside the core Facebook app, and it will be available on other platforms in the coming weeks, according to Facebook.
While starting with U.S. football, Facebook plans to add other sports soon.
The 12th Man
With just two more NFL games left before its season finale, Facebook Sports Stadium has arrived at a good time to interest people in trying out the new hub, suggested Justin Garrity, President of Postano.
"The Super Bowl is one of the most watched global sporting events, so it will be a great first introduction for Sports Stadium to a huge audience that will hopefully use it again watching their local sports teams," he told TechNewsWorld.
While the timing may help with adoption, Facebook will have to battle user behavior to get people to break away from what they relied on before Sports Stadium was a thing, said Ben Hordell, a partner atDXagency.
"That being said, I think the stadium will be visited by those who are already on Facebook while watching the game," he told TechNewsWorld. "Facebook has been integrating an 'I'm watching' feature based on your tastes, to start the process leading up to the stadium reveal."
A Sporting Chance
For the most part, social networks have been timid in plunging into sports, because leagues tend to try to control their online media, observed Andy Abramson, CEO of Comunicano.
Facebook Sports Stadium takes on a news role and avoids royalties, while the voice of the fans get stronger and more compelling, he told TechNewsWorld.
"The ease with which content can be put onto the Facebook platform, the speed with which fans and journalists alike can publish and share in an era of declining metropolitan media, and the rise of social media and influencer led journalism, means sports properties have to view influencers and what they are covering with a much wider view of the impact a local blogger could have on team, league or event news," Abramson explained.
Twitter stepped up its sports presence in 2014, when it launched the NFL on Twitter. The ongoing campaign has brought fans unique insights into the NFL, but it now faces serious competition on another front.
"I think Facebook's gain will be Twitter's loss," said Hordell, "as Facebook steals some [share of voice] in being the preferred social second screen to accompany live sports viewing."