Facebook on Tuesday revealed it's experimenting with making video clips easier for users to find in its mobile and desktop applications.
In coming days, a limited number of users will see the additions, which include a video button at the bottom of its iPhone app and in the Favorites menu of its website.
"We'll be testing this with a small number of people now, so this isn't something most people will see on Facebook right away," said Will Cathcart, vice president of product management at Facebook.
"We look forward to seeing how people use it to discover, watch and share videos with their friends," he added.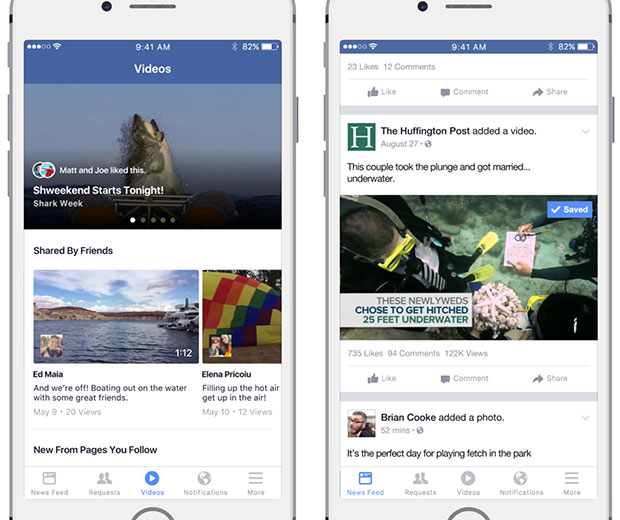 Floating Video
Another feature Facebook is testing on its iPhone app is "suggested videos," Cathcart said. When test users tap a video in their news feed, a row of related videos will appear on the screen.
"We've now rolled out suggested videos to most people on iPhone globally, and are starting to test ads within the experience," he noted. "We are also starting to test this on the Web, and plan to test on Android phones in the coming months."
The company also is testing video displayed in a floating window — so a user can watch a video while multitasking — and bookmarking videos for later viewing.
Facebook is rolling out new features to help publishers better manage video, including a matching technology that it hopes will be the basis for a comprehensive video management system for creators and new video tools for its Pages feature.
Attracting Video Creators
Facebook is becoming an attractive medium for video creators, observed Jan Dawson, chief analyst for Jackdaw Research.
"Google is increasingly controlling the experience on YouTube and the ways you can monetize it. On Facebook, you still have a lot more options in terms of sponsorship and product placement, which YouTube has been clamping down on," he told TechNewsWorld.
"Facebook is a freer, less restrictive, more open place to share video," he continued. "If you're a creator who wants to monetize your video, Facebook is looking more and more attractive all the time."
Video Battleground
Video has become a battleground between Google and Facebook, noted Andreas Scherer, managing partner with Salto Partners.
"With YouTube, Google is certainly the incumbent leader with a billion global users that spend hours on the site simply watching videos," he told TechNewsWorld
"As of today, Facebook has about 1.5 billion monthly active users. It wants to get in on the action," he continued. "By providing a powerful video platform, Facebook has the opportunity to very quickly create a target-rich marketing platform that has the ability to create substantial revenues quickly."
Facebook also sees video as a way to keep eyeballs glued to its universe.
"This is Facebook's attempt to make their experience stickier so that people stay on site longer so they can serve more ads to them," said Patrick Moorhead, principal analyst at Moor Insights & Strategy.
"Facebook can add videos that are more in context than Google, as Facebook has better real-time data," he told TechNewsWorld. "Google has good context through email and Web cookies, but Facebook sees what you and your friends are doing in real time."
Keep Them Coming Back
Video also is a way for Facebook to separate itself from others, said Erna Alfred Liousas, an analyst with Forrester Research.
"These new elements provide more video capability, allowing Facebook to learn what consumers like. This can help them determine more ways of differentiating their video experience from other platforms. As a result, Facebook doesn't get stale," she told TechNewsWorld.
"Consumers use YouTube and Facebook differently," she continued. "At the end of the day, both platforms want an active user base creating lots of content. This isn't Facebook versus YouTube. It is seeking to answer the age-old question, 'How do I keep them coming back for more?'"
The additions to Facebook's video repertoire are needed if the company wants to emerge as a video destination, noted Jackdaw's Dawson.
"Right now, video is incidental on Facebook. You see them as you go through your feed, but there's no way to say that's what you want to see," he said.
"If you just want to see videos, you have to work fairly hard at the moment in the news feed to find them," Dawson added. "Having a place to find them in the Facebook interface makes it easier to go to Facebook rather than YouTube if video is what you want to see."