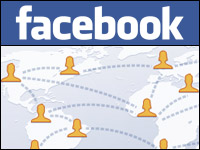 Facebook is planning to build a massive new data center in the industrial town of Lulea in Swedish Lapland, about 70 miles from the Arctic Circle.
The data center will consist of three buildings, the first of which will cover about 33,000 square yards, Facebook spokesperson Alex Kirschner told TechNewsWorld.
That will make the building almost seven times the size of a football field.
The data center will be powered "almost exclusively" by hydroelectricity, Kirschner said.
The combination of hydropower and Lulea's cool weather, which will let the data center use outside air for cooling for eight to 10 months of the year, will make the installation "significantly more efficient than the industry standard," Kirschner stated.
Construction of the first building will begin this year and is scheduled for completion in 2012.
Greenpeace, which has criticized Facebook strongly over the years for consuming electricity produced by coal-burning power stations, has applauded Facebook's plan, on the whole.
"Going to a place like they did in Sweden where they can power their entire data center by renewable energy is good, but we think there's a few more things they should do to be a leader in this space in the IT world," Greenpeace international campaigner Casey Harrell told TechNewsWorld.
More Data on Facebook's Planned Data Center
Facebook's planned data center will have dual redundant substations fed from two independent sources that are directly connected to Sweden's "robust" national grid, company spokesperson Kirschner said.
This will let the firm reduce the number of generators installed by about 70 percent and minimize the data center's impact on the environment, he added.
The Lulea data center will achieve a power usage effectiveness ratio of 1.07, Kirschner disclosed. "That compares to our target of 1.15, an EPA-defined industry state-of-the-art rating of 1.5, and 1.5 in our leased facilities," he added.
The Environmental Protection Agency (EPA) uses the power usage effectiveness (PUE) metric developed by The Green Grid, an association of IT professionals.
PUE compares a facility's total power usage to the amount of power actually used by the IT equipment. This shows how much power is lost in distribution and conversion. An average PUE of 2.0 indicates that the IT equipment uses about 50 percent of the total power drawn.
Companies "can capture a fairly significant amount of cost back by tapping into the natural air temperature," Charles King, principal analyst at Pund-IT, told TechNewsWorld.
Facebook will begin hiring staff in 2012, and said Buildings 1 and 2 will be staffed by at least 30 full-time employees.
The Trend Toward Green Data Centers
Data centers are increasingly going green, driven by a combination of environmental considerations and concerns about available electricity.
"It's critical where data centers are located and how they're run because they have a huge impact on whether or not coal plants are kept online or retired," Greenpeace's Harrell said.
"Facebook's Lulea plans are a part of the general movement in the data center industry toward reducing energy usage and environmental impact," said Tom O'Rourke, vice president of global data center strategy at iTracs.
The Lulea center "will streamline centralized management of Facebook's infrastructure and reduce the need for many smaller regional data centers in Europe," O'Rourke told TechNewsWorld.
Why Lulea?
Facebook settled on Lulea after reportedly looking at 100 or so sites, because it "provides a combination of an extremely stable electricity infrastructure and access to natural cooling and renewable hydropower," spokesperson Kirschner said.
Infrastructure won't be a problem because Sweden is ranked first in Europe in terms of technology readiness, broadband quality and broadband penetration, and it has "well developed" coverage of fiber optic networks, Kirschner pointed out.
The city of Lulea is a regional center in Sweden, with a technical university and steelworks. The population of the city and surrounding communities total about 70,000.
It's at the mouth of the Lule River and is readily accessible by air, road and rail. It's the easternmost point in the Swedish rail network.
Europe's first and largest indoor shopping mall is in the town center.