I'll show you mine if you'll show me yours.
That's the idea behind a new photo-sharing app Facebook released Tuesday for Android and iOS devices.
Slingshot lets you send an image or video to a group of friends. However, they can't view what you've sent until they first send you something. After that, they can view what you sent them and either respond to it or swipe it into oblivion.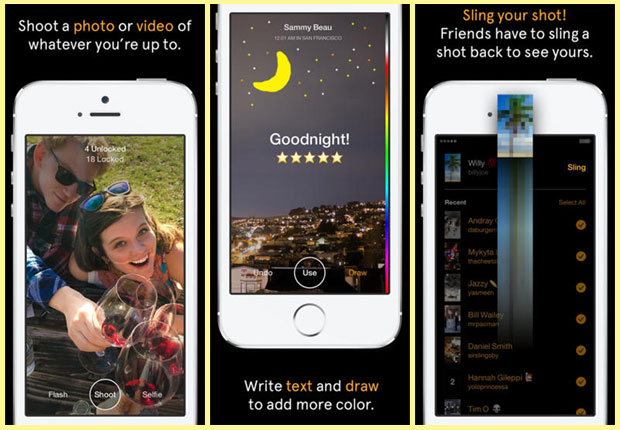 Targeting Snapchat
Slingshot appears to be targeting one of the most popular image-sharing apps in the market.
"This is just taking another shot at Snapchat," Michael Morgan, an independentmobile devices analyst, told TechNewsWorld.
Snapchat is a sort of "Mission Impossible" app that allows you to send images to your friends that will self-destruct in a few seconds. Facebook tried to buy Snapchat for US$3 billion, but was spurned by the app's creators.
Though it bears similarities, Slingshot differs somewhat from Snapchat in that it can be used to broadcast to a lot of people at the same time.
That sharing with lots of people at once is done through a "Select All" button — something that Snapchat has avoided because it dilutes the response to a photo that's shared.
With Slingshot, instead of receiving a single response to a photo sent to a friend, a user may receive a deluge of responses from many friends.
Bucking Barrier Trend
The idea underlying Slingshot is puzzling, because rather than decreasing barriers to sharing images, it increases them.
"The reciprocity in the app inserts an amazing amount of friction in the photo-sharing process," Jan Dawson, chief analyst at Jackdaw Research, told TechNewsWorld.
That approach runs against current industry trends. For example, at its developers conference in June, Apple introduced a number of new features for the next version of iOS that are designed to make it easier for users to share media.
"What Facebook is doing here is making it harder and increasing friction, rather than reducing friction," Dawson said.
"That makes Slingshot unique and interesting. People may want to try it, but I suspect it's going to be really frustrating," he added.
"A notification is going to pop up on your phone saying you have a picture or video. You go to open it — you can't watch it, and you have to figure out some picture or video to share so I can see this thing," he continued. "You're quickly going to get frustrated with that."
1 Percent Problem
Nevertheless, Slingshot may address a problem plaguing all social media.
"Facebook is trying to get over the 1 percent problem," Dawson said. It's been estimated that on any content creation service, 90 percent of the people only view content, 9 percent will respond to it in some way, and 1 percent will engage with it in any meaningful way.
"Facebook wants to change that. It wants to make its social network more reciprocal so there's more sharing in both ways. "It's going back to the phone call mentality. A phone call is not one-way communication. You've got stuff going both ways all the time," he pointed out.
"That's not really how sharing works in an asynchronous world, so it feels like Facebook is trying to force a change that no one really wants to make," Dawson added.
Slingshot is entering a teeming photo-sharing app market that includes a number of other Facebook offerings.
"It's getting to be a pretty crowded and competitive field," Ross Rubin, principal analyst at Reticle Research, told TechNewsWorld, "and that's just with Facebook's own products."