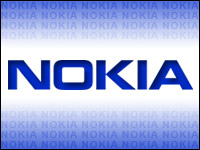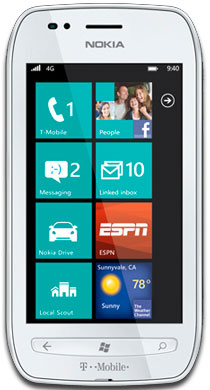 The T-Mobile Lumia
Nokia and T-Mobile jointly announced on Wednesday the coming of the first Nokia Windows Phone smartphone in the United States.
The Nokia Lumia 710 will be available starting Jan. 11 at for US$50 with a two-year contract after a mail-in rebate. It will run on T-Mobile's 4G network.
"It looks to me like they're targeting the feature phone users who are looking to move up to a smartphone rather than today's smartphone owners," Carl Howe, a director at the Yankee Group, remarked.
"We expect that the Nokia Lumia will be popular for consumers looking to purchase their first 4G smartphone," T-Mobile spokesperson Jon Eliav told TechNewsWorld.
Some of the Lumia 710's Specs
The Lumia 710 has a 5MP autofocus camera with LED flash and 4x digital zoom that can record video at 720p. It has a removable rechargeable lithium-ion battery and runs Windows Phone 7.5, aka "Mango," on a 1.4 GHz Qualcomm Snapdragon processor.
The Lumia 710 has a 3.7-inch 800 by 480 pixel capacitive touchscreen with ClearBlack technology.
Nokia's ClearBlack Display technology adds a reflection-blocking polarizer layer between the touch layer and the display panel to improve screen visibility under direct sunlight.
The Lumia 710 runs Internet Explorer 9 Mobile with desktop rendering, and it has built-in GPS technology. It will be available in black or white.
The device has a Windows Phone Office Hub and offers interactive mobile gaming through Xbox Live.
The Lumia 710 offers voice-activated local search. It comes preloaded with various apps including Netflix, Slacker radio, ESPN, the Weather Channel and T-Mobile TV.
Coming In Like a Lamb?
The Lumia 710's $50 price point "keeps [it] out of having to compete with the hot in-demand phones such as the iPhone 4S and the Samsung Galaxy S II and lets them do more of a soft U.S. launch of the Nokia Windows phones," the Yankee Group's Howe told TechNewsWorld.
However that might rebound in Nokia's face,warned Allen Nogee, a research director at NPD In-Stat.
"Typically, we've seen operators price their new high-end smartphones high and work to lower prices as time goes by," Nogee told TechNewsWorld. This strategy "attracts the techie early adopters, and lower-end phones catch other groups to fill out the mix."
Offering the low-cost versions first instead "is very risky" because low-cost devices can attract buyers, but "don't always send the message that the company has a high-value product," Nogee remarked.
Only the Strong Will Survive
The Lumia 710 will face stiff competition in the low end of the market from inexpensive Android smartphones offered by Huawei, ZTE and other companies, NPD In-Stat's Nogee said.
These Android devices can run the large variety of Android applications that exist, while the number of applications for Windows phones is "still quite limited," Nogee pointed out.
Aiming for the Stars
Nokia will release a variety of smartphones at different price points next year, and it plans a big showing at January's Consumer and Electronics Show, company executives have said.
"The Lumia 710 is the first in a full portfolio of devices that Nokia will launch in the U.S.," Chris Hollis, device communications manager of Nokia North America, told TechNewsWorld. However, he declined to elaborate.
The company is likely to approach other carriers in the United States to carry its Windows Phone devices.
However, "whether those carriers decide to work with them depends a lot on the business terms and consumer demand for the platform," the Yankee Group's Howe said.
The Impossible Dream?
Nokia's not likely to do too well in the U.S. over the next six months, the Yankee Group's Howe predicted.
"When we ask consumers in our U.S. consumer survey about their buying plans for the next six months, both Windows Phone and Nokia have lower buying intent than their installed bases, implying that they are losing ground against market-leading Android phones and the iPhone," Howe explained.
"We expect that even [Research In Motion's] BlackBerry phones will do better than Windows phones over the next six months," Howe added.
"I'm not sure if [Nokia] ever fully understood the U.S. market," NPD In-Stat's Nogee remarked. "With Microsoft helping them, they are attempting to go at it again, but they are late to the market and Microsoft, while a well-known U.S. company, doesn't have a good track record in mobile devices."