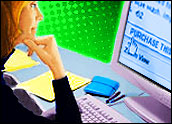 The Amazons and Wal-Marts of the Web understand the importance of a good on-site search engine, but for smaller concerns the technology can be problematic. Oftentimes those businesses don't make the connection between site search and customer satisfaction and even if they do, they don't have the money to develop a robust technology for themselves.
That's where SLI Systems believes it can make some hay.
The Cupertino, Calif. company makes a hosted solution targeted at small and mid-sized businesses that can give their Web sites a sophisticated search component designed to improve itself with every query posed by a customer.
Called Learning Search, the technology uses the behavior of its users to improve its behavior.
Observation Becomes Smarts
"We watch for what people search for, we watch what they click on and we put the results that they click on the most on top," SLI CEO Shaun Ryan told TechNewsWorld. "We're using the intelligence of the people searching on the site to improve the relevancy of the search for the next people who are visiting."
Moreover, that behavioral analysis can be used to identify the best words to buy at outfits like Google and Yahoo and drive more traffic to the retailer's site.
"It can be used to help them rank well in the search engines," Ryan explained. "If they can rank well in Google for terms that are relevant to the content they've got, that turns into sales for them."
Really Bad Searching
Although one might assume that the tremendous desire for people to find stuff — either on the Web, through search engines like Google and Yahoo, or on their own computers, as evidenced by the rash of desktop search programs released last year — that's not the case, according to Ryan.
"Site search is typically really bad," he said. "It's still a common experience for people to go to a Web site, do a search and not find what they're looking for, even though they know the site has what they're looking for."
That certainly was the case with Chiasso, an US$11 million home furnishings store headquartered in Chicago, when it revamped and relaunched its Net storefront last fall.
Rigid Search Tool
"During the design phase, we really didn't put a lot of thinking or effort into internal search," Chiasso COO Greg Kadens told TechNewsWorld.
"We were so focused on other parts of the shopping experience that internal search wasn't part of our consciousness," he admitted. "And it should have been because it was poor at our old site."
He explained that the new search function the company had built for the site was very rigid — it didn't recognize the context of queries — and it required more maintenance than its developers anticipated.
Nevertheless, the company's Web programmers were initially skeptical of the SLI solution. "At first, they said they could duplicate it pretty easily," Kadens noted. "Then when they started looking at it some more they said that it was fairly sophisticated and not something they would want to bite off."
Increased Sales
Since implementing Learning Search, Chiasso has seen improvements in some key site metrics.
Sales from the site have gone up significantly. "A year ago, the Web was 35 to 40 percent of sales, now it's almost 60 percent of our sales," Kadens said.
While sales have increased, he noted, traffic to the site has increased only slightly.
"That tells us that customers are able to find what they're looking for on our site much faster and with a much higher degree of predictability," he said.
Big Guys Understand
Since the site was redesigned and the SLI engine added, he continued, its conversion rate — the ratio of visitors to buyers at the site — has increased about 25 percent.
Is the importance of site search escaping the purview of many e-commerce sites?
"The big guys do understand it, and they've invested a lot of time and effort into it," Kadens responded. "I would guess that your smaller sites like ours haven't put a lot thinking into their search solutions.
"If there's a sweet spot for SLI, it's not with the Wal-Marts of the world," he added, "it's with the mid- to small-market players who don't have the resources or thinking to put into their own internal search engine."